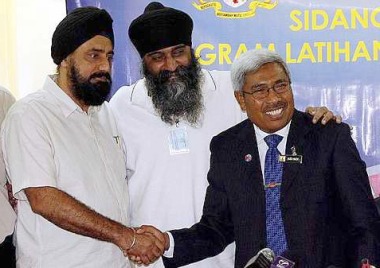 On the mend: Abdul Hadi meeting Sikh Welfare Society Malaysia president Harbans Singh Gill (left) and Jaspal Singh, at the department's office at Wangsa Maju in Kuala Lumpur yesterday.
On Basant's case, Abdul Hadi said the teenager could either go back to the Sungai Bakap camp in Penang to continue his training, change camp or defer his training to another intake.
KUALA LUMPUR, Jan 24 (Bernama) -- The National Service Training Department (JLKN) welcomes Sikh individuals to apply as trainers at any national service training camps nationwide.
Its Director-General, Datuk Abdul Hadi Awang Kechik said JLKN was open to having Sikhs with potential and qualification as trainers to join the national service (NS) training program.
"This is part of our efforts to increase the participation of Sikhs in NS program. Prior to this, we only have trainers from the three major races in Malaysia, so when other races join in the program, it will further promote the true spirit of 1Malaysia."
He said this to reporters after meeting representatives of the Union of Perak Sikh Organization, Sikh Welfare Society and Malaysia Sikh Union, here Monday.
Abdul Hadi said by having Sikh trainers on board, Sikh trainees would have someone to talk to pertaining to their religious issues or even lead their prayers, just like their Malay, Indian and Chinese counterparts.
On the meeting with the three Sikh associations today, Abdul Hadi said apart from discussing the participation of the Sikh community in the NS program, the department had also agreed to allow the associations to visit NS camps of their choice.
He said that way the associations could personally meet with Sikh trainees and ask them about their problems while undergoing the NS training and thus, change any negative perceptions they might have about the program.
"We want to avoid negative perception and we don't want anything bad to happen to our trainees like the recent hair-cut issue involving a Sikh trainee in Sungai Bakap camp in Penang" he said.
The trainee, Basant Singh, 18, claimed that his hair was cut while he was sleeping last Sunday.
The case is now being investigated by the police.
-- BERNAMA
---------------------------------
More Sikh trainers for National Service
KUALA LUMPUR: More Sikh representatives will be roped in as trainers for the National Service (NS) program.
NS Training Department director-general Datuk Abdul Hadi Awang Kechil said the Malaysian Sikh Union would also be visiting NS camps that have Sikh trainees to get feedback from them about any problems they may have.
"In NS training, there is a module on integration which educates trainees on the different practices and cultures of various races.
"Sikh culture is also taught in the module but Sikh trainers can offer a better understanding to the trainees," he said, adding that other races were also welcome to conduct visits and enlist as trainers.
Abdul Hadi was speaking to the press after meeting with representatives from the Union of Perak Sikh Organisations, Malaysian Sikh Union and Sikh Welfare Society Malaysia to discuss the case of Basant Singh, a 17-year-old Sikh trainee, whose hair was cut off while he was asleep in the Sungai Bakap camp.
Abdul Hadi said the department also agreed to meet with former Sikh NS trainees to see if follow-up action could be carried out to uphold the 1Malaysia spirit promoted by the programme.
On Basant's case, Abdul Hadi said the teenager could either go back to the Sungai Bakap camp in Penang to continue his training, change camp or defer his training to another intake.
He, however, cannot be exempted from NS, he said.
"We hope that no party will play up this incident and manipulate it as it is a serious issue," Abdul Hadi said.
Union of Perak Sikh Organizations media liaison officer Jaspal Singh urged the Sikh community to be patient and wait for the results of the police investigation into Basant's case.
"This case (Basant's case) is the first of its kind that we have come to know of.
"We understand that there is no guarantee that it won't happen again but at least we have taken steps and discussed with the department to prevent similar situations," Jaspal added.
http://thestar.com.my/news/story.asp?file=/2011/1/25/nation/7865230&sec=nation