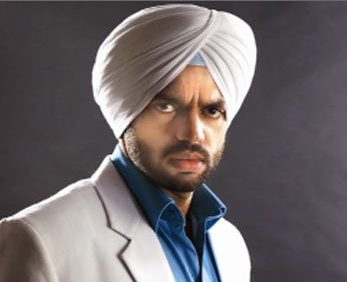 Gulzar Chahal in
I Am Singh
Dec 1, 2011:
It has become fashionable to play a Sardar on screen. Akshay Kumar did it in Singh Is Kinng.
Ajay Devgn in The Legend of Bhagat Singh. Saif Ali Khan in Love Aaj Kal and Ranbir Kapoor in Rocket Singh Salesman Of The Year. And the latest actor to cash in on the trend of playing a Sikh character on screen is debutant Gulzar Chahal, who takes pride playing a Sardar in his very first venture - I Am Singh.
Says the actor, "I am a Jat Sardar and thus the character's portryal in I Am Singh came very naturally to me. It takes immense guts to play this kind of character that too in your very first film because the turban and the beard make your looks go through a complete transformation. The audience has accepted our main actors in Sardar roles and I hope to make a mark, too."
He adds, "I Am Singh was just the apt platform for me to represent my community. I hope the film does away with all the misconceptions about Sikhs especially after the 9/11 attacks." Interestingly, the Sardar character has appealed to the NRI audience, too.
Trade analyst Vajir Singh says, "The demand for Akshay Kumar's film zoomed up overseas after playing a Sardar in Singh Is Kinng. His character went down very well with the community living abroad. If you have the personality - the height and the build - and the character syncs well in the plot I think it is cool to play a Sardar on the big screen."