Press Release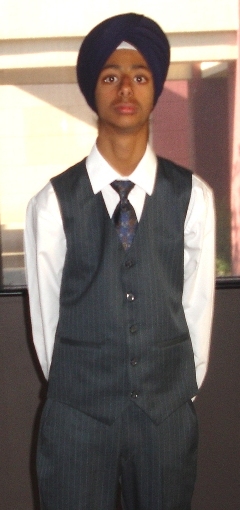 Book : "Introduction To Sikhism"

Authored by :   13 Year Old Bikramjeet Singh Bains

Released by :   Honorable Minister, Tim Uppal
The book titled, "Introduction to Sikhism" written by 13 year old boy Bikramjeet Singh Bains was released by Honorable Tim Uppal, the Federal Minister of Democratic Reforms Canada in the presence of an elite and exceptional gathering in Surrey, BC. The book includes episodes on Sikh history, the Sikh way of life, truthful living, interfaith tolerance, universal brotherhood, peace and prosperity, respecting diversity, and doing selfless service to the needy. It emphasizes on human liberty, equality and fraternity to serve Canada in a better way with mutual understanding. The colored pictorial book is meant for free distribution.
From experiences in schools, playgrounds, and the streets of Surrey, Bikramjeet Singh Bains thought out to write the book on fostering altruism, mutual love, the motto of tolerance, compassion, and the dictum of understanding peace for all so that people born in different racio-ethnic backgrounds live in harmony to make Canada and this globe a peaceful haven to live in.
Addressing the gathering, Bikramjeet Singh Bains hoped that his small contribution will go towards helping the younger generation to preserve the values of truthful living as well as stopping the decline of human life in today's society arising out of social evils like menace of drugs, bullying, gangs, murders and racial discrimination.
The chief guest, honorable Tim Uppal appreciated the efforts of Bikramjeet Singh Bains of being a writer at a very young age to create awareness about Sikh faith and its tenets that will unfold the universal doctrines of Sikhism to the outside world. He emphasized that he has gone through the book which was very informative and well written. It will definitely help to educate the younger as well as older generation to live a healthy life for the betterment of Canada. He further said, "All of us have a duty to serve the national mosaic of Canada by honoring its cultural diversity that has been handed over to us by our veterans for enriching integration into country's multicultural system."
Dr. Raghbir Singh Bains, grandfather of the author who himself is a well known encyclopaedist and museologist said that such young writers and community thinkers should be encouraged by the community and governments to enhance the spirit of mutual understanding amongst multi-dimensional citizens of the country. Publishing of educational literature for multicultural communities must be considered as one of our top priorities for reaching out to global communities for happy living." He further said, "Many of the volunteers have done yeoman's efforts to spread the universal message to promote interfaith understanding and humanistic beliefs on multiculturalism but they got burnt because of the scarcity of funds that resulted in identity crises for the Sikhs at many places." The authoring of such informative books in different languages at school levels to sensitize multiculturalism must be encouraged. All efforts made by different organizations to understand and celebrate diversity should be lauded by everyone to make Canada a peaceful and well informed country in the world. Community must establish common financial pool and think tank to provide guidelines to the youth for serving humanity." He added, "I wished my lifelong volunteer work to be part of the future. Now I am happy that my grandson has taken over the legacy of the family to serve humanity."
MP Nina Grewal, MP Jinny Sims, MLA Jagrup Singh Brar, and MLA Harry Bains appreciated the young author. All of them expressed their feelings that future of the country would be safe in the hands of blooming generation like Bikramjeet Singh Bains who has become the rising star in the world to pen down his book for creating interfaith awareness amongst our future generation. A letter of appreciation from Jasbir Singh Sandhu MP who could not reach the event was also delivered to the writer.
The gathering was also addressed by, former Mental Health Minister, Dr. Gulzar Singh Cheema, former MP Sukh Dhaliwal, Principal Jasbir Singh Bhatia of Khalsa School, Dr. Pargat Singh Bhurji, Bhai Jasbir Singh head Granthi Akali Singh Sikh Society, Bhai Narinder Singh Head Granthi Dukhniwaran Gurdwara, Bhupinder Malhi Virasat Foundation, Celica Sandhu USA, Ajit Singh Badh 1550 AM Radio and Balwant Singh Sanghera OBC. All speakers shared their views to make emphasis on the point that parents and youngsters of the community should undertake responsibility to outreach and expose the ethno-cultural and identity issues to the outside world so that everybody enjoys a peaceful life in a multicultural country like Canada.
Other dignitaries including teachers, preachers, Gurdwara Committees, leaders, role models, mentors, Punjabi Press Club, Seniors Centre, Radio and TV anchors, newspapers, media, writers, socio-political leaders, Taxi Operators and younger generation appreciated Bikramjeet Singh Bains and stressed upon the promotion of the principles of interfaith awareness and understanding of multiculturalism in Canada in the light of Sikh doctrines. Known volunteer Amrik Singh Nijjar, Gian Singh Kotli President Punjabi Press, Kulvinder Singh Kular from Omni TV, Nimmi Daula Radio Sher-e-Punjab, Anup Singh Jubbal President Canadian Eyesight, Sarbjit Singh Bains, Balwinder Singh Chahal, Hardial Singh Garcha, Parminder Singh Sandhu USA, Inderjit Singh Bains, Kamalpreet Kaur Baga Vice Principal Khalsa School, Dr Jasbir Kaur, Harpreet Singh Joy TV, Gurlal Singh Chief Editor Punjabi Tribune, JP Singh Family Outlook, Harmail Singh Seattle, Makhan Singh Sandhu Guru Gobind Singh Sikh Society, Resham Singh Narwal Seniors Center, Paul Dhillon The Link newspaper, Prof Gurvinder Singh Radio AM 1470, Rishi Nagar Radio Red FM, writer Santa Singh Tatley, Gian Singh Gill President Dasmesh Darbar Gurdwara, Satnam Singh Johal President Federation of Sikh Societies, Jarnail Singh Artist and Harbhajan Singh Atwal President Sukh Sagar Gurdwara were conspicuously in attendance on the book release ceremony to say "Thank You" to Bikramjeet Singh. Harpal Singh Nagra thanked the congregation.
The thirteen-year-old Bikramjeet Singh Bains of Surrey who has become the world's youngest writer to write this kind of book was presented a certificate of appreciation on behalf of the government of Canada by Minister Tim Uppal for his endeavors in academic discipline at this young age. The minister also presented an appreciation certificate to Dr Raghbir Singh Bains for his volunteer services.
Mota Singh Jheeta, a veteran social activist in the community said that it was no greater responsibility and no greater privilege of the parents than to raise the next generation in a healthy way. He conducted the stage successfully.
Free book is available at:Telephone 604-599-1314; 604-961-5753, [email protected]