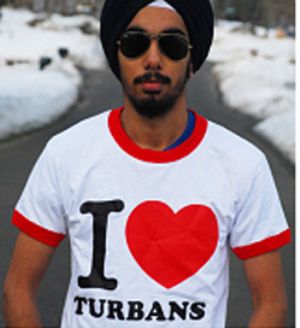 Mar 2, 2012: If the spheres of fashion and religion seem disparate and distant, it is 22-year-old Jagmeet Sethi's Connecticut-based apparel company TurbanInc that has brought the two seemingly distinct worlds together.
"The power of fashion is universal and when we dress ourselves, we often think," Sethi said, "What am I saying to the world when they look at me today." "With that in mind, we wanted to combine one of our most routine methods of expression with confidence, self-love and pride in being Sikh."
Born and raised in Queens, New York, Sethi, who was among the 500,000 Sikhs living in the United States during the 9/11 attacks, was consistently the mistaken target of discrimination stemming from the lack of knowledge and ensuing confusion of Sikhs with Muslims or Arabs. That confusion was what ultimately led to the death of Balbir Singh Sodhi, a Sikh who was the first person believed to have been murdered in retaliation for the 9/11 attacks. More than a decade later, in December, another bloody assault on a 56-year-old Sikh preacher in Fresno confirmed that the group remains a mistaken target of anti-Muslim sentiment in the United States.
"Kids who were once best friends of mine, all of a sudden stopped talking to me right after the attacks took place," said Sethi. "There was a period of time when I was getting into physical fights with classmates of mine almost every week."
Much of the prejudice settled when Sethi's family moved to Connecticut in 2004. One day, Sethi conceived the idea of wearing a self-made T-shirt with slogan "I Heart Turbans" around the campus in Connecticut. Designed to invite classmates to engage with his appearance, Sethi spent much of that day explaining his religious background, practices and rituals to friends, professors and hallway strangers.
"I wanted to create something that would invite kids to start a discussion about my religion with me," said Sethi, who has since designed more than 25 T-shirts and dozens of accessories with similar statements, aimed at sparking a much-needed dialogue about Sikhism. "When I saw what kind of reaction this one T-shirt was able to elicit, I knew I had hit something," Sethi said. In 2008, Sethi took one of his designs to the annual New York City Sikh Parade and sold 250 shirts within a couple of hours, suggesting a real demand for his product, and more broadly his message. Last year, the 3-person company turned its first profit.
But Sethi's message was too little, too late for some American-Sikhs who succumbed to pressure of blending in rather than standing out. Even in the multicultural city of Los Angeles, some like 56-year-old Sarinder Singh, the owner of the popular mid-city East India Grill, feel more at ease without the identifiable turban and beard.
"It just became easier for me to live my day-to-day life without fear of judgment, without the fear of something much worse than judgment that some have had to endure," said Sarinder Singh. "The adjustment may have taken some time, but I think, in the end, it was the right choice."
That choice is also being made in India, where Sethi discovered that the majority of his Sikh friends and relatives had not only stopped donning many of their objects of faith, but had grown unaware of the practices and rituals associated with Sikhism.
"It's such a huge culture shock each time I go back to India to visit my friends and family, because I expect Sikhs living in India to be more educated about our religion," he said. "Instead, I feel like I know more and in some ways have an easier time preserving my identity and background, which is strange to admit considering my teenage experiences of being Sikh in the States." Sethi hopes that his company will help young Sikhs in the States and eventually also those in India to embrace their religious background and engage openly with Sikhism.
Talking about future goals for the company, Sethi said, "One of my dreams is to run into someone I don't know, outside of Connecticut, who isn't Indian or Punjabi, wearing one of my designs. I'll know I've really contributed to efforts around religious tolerance once I see that."