July 18, 2012 : I can't stop crying.
I just called India to wish my aunt a happy birthday. She was not home. She had gone to the Gurdwara to seek blessings.
Talked to my uncle. My aunt and uncle are not too much older than I, consequently their son and mine are about the same age.
He asked about mine.
I told him that he will be going to college soon. Before starting in fall, he is in Punjab volunteering his time, teaching high school students and college girls in rural areas on organizing against the social evils grappling Punjab today. Thus, trying to give back to the community that has given so much to him.
I asked about his.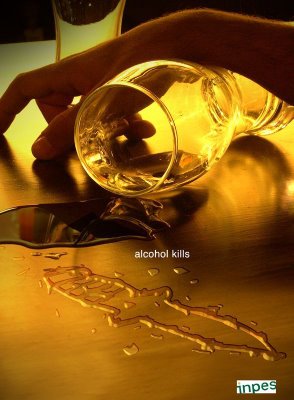 He told me that their son was coming back soon from his summer internship of three months. His voice was full of pride.
"From where?" I asked with enthusiasm. It was exciting to know that they are placing value on his education.
"He was in Bangalore."
"Technology, IT ?" I got inquisitive.
"Brewery". He replied. "He is completing his placement as a brewer. That's where the future is."
My jaw dropped. My heart sank. My voice became heavy. Words choked as they somehow managed to squeeze out of my aching chest.
My cousin is only 19 years old. A saabat soorat sardar. My uncle already owns many liquor contracts in town. Money flows in their presence … well, just like alcohol!
"Chacha, there are many other trades in the world. Why this? You have made enough money for several generations. Why are you setting a stage for your son in this area? We have talked about how unsikh this is."
My questions were rhetorical. I have been asking this question of my extended family for years.
I know the answer. But I always hope that my saying something will one day make them think. I have tried the Sikh aspect from all angles.
They are addicted to easy money and nothing I have said in the past has made a difference. I fear nothing ever will.
Yes, this is my family.
And that makes me cry.
My son is in Punjab telling the youth how to fight this monster that has ruined us.
My uncles and cousins are helping make this monster bigger everyday.
We spend our daswandh in projects that empower our youth to think for themselves.
My relatives are making money off the youth by getting them to not think at all.
My son is awake till 2 am every day preparing workshops on empowering women who will potentially become victims of violence because of this monster.
Shops owned by my loved ones are open all night long selling more of it to men who will go home and make many more victims of their own loved ones.
And this is not just one family member.
I am single-handedly up against dozens of them. Each of my father's siblings (and some of my mother's) and their families have invested in this business.
While I'm talking to my uncle, his other phone rings. I can hear him answer it: "Gurmeet is on the phone on the other line, lecturing! ... Let me call you back."
They laugh at me. They probably laugh at my son, wasting his time. They often ask me what is he going to study? What will he become? How much money will he make?
Or will he be like me? Driving an old car. Living in a small house which has not been fixed in many years.
The last time my uncle was here, he found so many issues with my house and pointed out that I didn't achieve anything in the USA while my Indian counterparts have many times more.
Last year one of my cousins (a daughter of another liquor king) decided she was going to do something other than make a living in alcohol. So she opened a business as an agent trying to send youth from Punjab to colleges in the West. I flipped out again. I explained to her the ground reality. Precious rural farm land was being sold to afford education that yielded no jobs.
"United Sikhs" (an NGO I volunteer with) helps sends many young people that are stranded in the gurdwaras in Europe without money, jobs and valid visas –- back home.
She de-friended me on Face book … and in real life.
I was at a gathering at my family's this past weekend. They tried and tried for the nth time to get me to drink. My brother said, "Look around you. How many people will you make happy?" Every eye was waiting for me to accept that one sip.
One of my cousins commented on a sweet home-made dessert liquor: "It is so good; it should replace kacchi lassi in chhabeels on Gurpurab Day".
I was stunned. This is my family.
My talks haven't worked. My life as an example hasn't worked. My young son's dedication hasn't worked.
I guess the only person one can influence is oneself and their children. And sometimes not even that. I am thankful for the grace my son and I have received and will to not turn our faces away from our Guru for the glitter that shines and sparkles all around us, luring us to be one of them, to chill out, to 'enjoy' life, to be a 'part of the family'.
I can't stop crying.