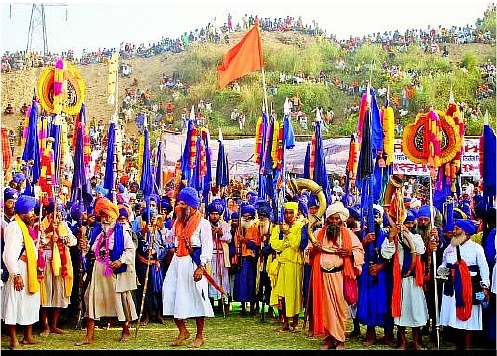 The testosterone level during the Hola Mohalla festival at Anandpur Sahib in Punjab, is so high, even the beasts of burden twirl their moustache. TOI-Crest gives you a ringside view of the high-octane mock battle fest.
It's the thundering hooves that do it really. As dozens of horses charge down a corridor of jostling spectators, carrying riders fiercely intent on spearing small clumps of hay a few feet away, atavistic memories flicker into life in my head. So that's what facing a cavalry charge feels like, I note, before I'm elbowed aside by fierce-looking Sikhs armed to the teeth with scimitars, spears and hatchets. Carl Jung would have been delighted.
Sikh warriors charging imaginary targets is the penultimate act at the Hola Mohalla festival, celebrated every Holi at Anandpur Sahib, a small town by the Sutlej in north-east Punjab. Nestled in an oddly dusty plain beneath gently rolling hills, Anandpur is famous for its many gurudwaras. And for Hola Mohalla.
In an extraordinary coda to three days' of worship and festivity, the Mohalla celebrations conclude with displays of traditional Sikh martial prowess on a grassy plain by the Charan Ganga River.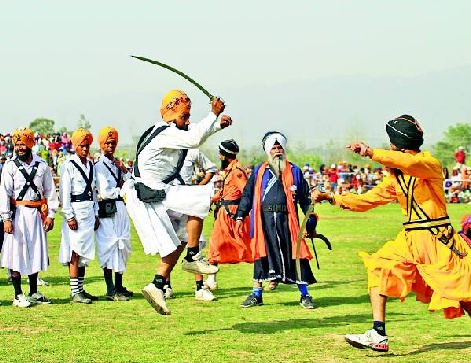 Festivities begin at noon with gathka exponents carrying an array of traditional weapons onto the field. Gathka is a Sikh martial art that uses a variety of weapons and strangely balletic movements. Eager young fighters are supervised by older instructors as they stage mock battles with sticks, knives, axes and swords. Gathka schools from across Punjab send teams to compete in the event. No prizes though, shrugs Gurmeet Singh, as he awaits his turn and swats another noisy apprentice with his rhino hide shield. A teenage gathkabaaz from Patiala, he's been training since he was nine.
It's clearly carnival time for the hundreds gathered. A Punjab police band with its bagpipes and kilts adds a surreal hue to an already special afternoon. Other teenagers next to me begin tittering as the band strikes up its next tune. It's the title song of the Bollywood hit Singh is Kinng — a popular memory in these parts. Obviously.
Hola Mohalla is a 300-year-old tradition. Greatly irked by rising Mughal intolerance in the 17th century, Guru Gobind Singh, the tenth Sikh Guru, raised the Khalsa, a fighting force of warrior monks and bade them to prepare for combat here at Anandpur. Defending Sikh honour was made essential to the faith, as was the need to sport distinctive symbols of Sikh attire from then on. Elements of language were toughened up too. Several words were converted to the masculine. Holi became Hola.
It is a proud martial tradition that is celebrated on Hola Mohalla. One that saw various jathas and missals — Sikh legions — take on fading Mughals forcefully, slap down pesky invaders from Nadir Shah to Ahmad Shah Abdali, and — under Maharaja Ranjit Singh — finally conquer large parts of Afghanistan. No mean achievement that.
Not surprisingly, the British Raj, inspired in large part by Sikh prowess, and its own obsession with classification, came up with the curious concept of 'martial races'. At Anandpur on Hola Mohalla, there's little doubt what the burra sahibs meant. Martial is firmly welded to race, with large dollops of testosterone thrown in.
But that part of the party only kicks into high gear when the Nihangs (from the Persian for crocodile) come marching in. Camped all around town in 'chhaawnis' (armed camps), they pay obeisance at Anandgarh, an old fort and gurudwara complex, before ritually marching to Charan Ganga in the early evening.
Despite being told to watch out for them, nothing prepares you for the sapphire sea of humanity that pours in. Hordes of Nihangs in electric blue gowns flood the ground, many mounted on every sort of beast domesticated for combat: horses, elephants, decorated mules, even the odd camel. A dragon or two dropping in wouldn't make much of a difference. Other Sikhs — brandishing rifles, sunglasses and manicured moustaches — arrive in SUVs, jeeps, tractors and trucks.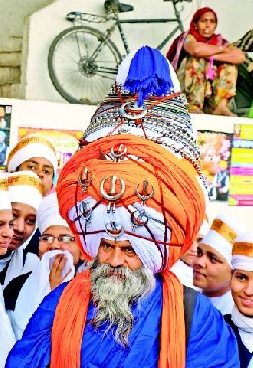 Splendidly turbaned and bearded, sporting saffron sashes and motley regalia on their blue chogas (robes), the Nihangs carry banners, ornamented spears, ceremonial fans and, of course, swords. Lots of swords. Sects and clans converge at a central spot. This is as much annual conclave as it is martial display. Various Sants, Babas and Jathedhars are honoured; old acquaintances are renewed. The ceremonial fighting and charging soon follow.
That's when the ground shifts to Planet Testosterone. Hola Mohalla is machismo on overdrive. Even the dust soon appears redolent of traditions of martyrdom and honour. Loudspeakers recall Sikh history. The martial mien is everywhere. There aren't too many women, I notice, even in the audience.
The animals appear to sense the testosterone too. Tetchy looking horses keep snorting and eyeballing my camera ominously , as do some of their masters. I'm left impressed again — even the beasts appear warlike, though bhang mixed with their animal feed, I'm later told, might probably be the reason.
But all is not about martial valour alone. Equality and service to fellow men are important credos in Sikh tradition. Walking around Anandpur at night offers ample evidence.
At one of the many camps, Karnal Singh, farmer and volunteer, sword dangling by his side, is stirring something in a dek big enough to boil a couple of Mughal foot soldiers. Dal for tomorrow's langar, he tells me, to be served with rotis and a subzi or two. Langars, communal kitchens integral to all gurudwaras and Sikh festivals, are the principal means of feeding pilgrims.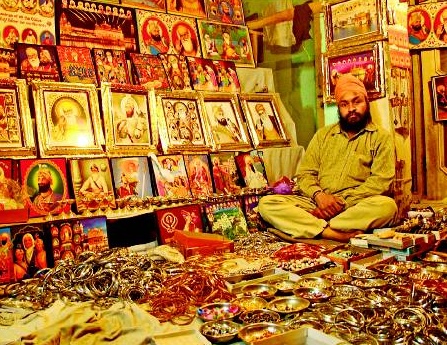 Over 20 lakh people come to Anandpur Sahib for Hola Mohalla, says the manager at the main shrine, the Takht Sri Keshgarh Sahib. Preparing for them is quite a task. The Punjab government makes special arrangements to cope with the rush. Many pilgrims appear to cope by themselves.
Billeted in large tents everywhere, asleep inside and underneath vehicles, and in makeshift trailers attached to tractors, most appear intent on worship at the gurudwaras. And in attending the many melas that have sprung up everywhere.
From Ferris wheels to Walls of Death — one with a Maruti 800 complementing the usual motorcycle — Hola Mohalla is one big party: an extraordinary funfair for the faithful like few others. Even in India.
As cries of 'Wahe Guru Da Khalsa, Wahe Guru Di Fateh' echo around the Charan Ganga ground at dusk, no visitor would disagree that for one day every spring in Punjab's dusty plains, Singh is truly King.