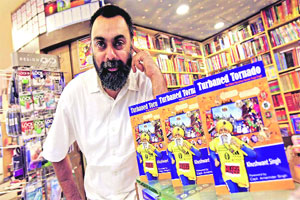 Sun Jun 26 2011:Chandigarh-based author, Khushwant Singh, captures the grit and spirit of Fauja Singh, the oldest marathon runner, in a biography. (pic at right)
Fauja Singh either walks or sleeps. He doesn't sit. The 100-year-old oldest marathon runner from Jalandhar, believes he'll die if he sits. For a child who could not walk till the age of five and barely managed till the age of 15, Singh holds the record for being the oldest half marathon runner, when he competed in last year's Luxembourg Interfaith Marathon. It is this zest for life, and indomitable spirit that Chandigarh-based author, Khushwant Singh, strives to capture in his recently released biography, Turbaned Tornado (Rupa, Rs 250).
Khushwant, also the author of Sikhs Unlimited, traces the journey of the British Sikh who is also Adidas' poster boy. The author begins the narrative from Singh's hometown, Bias Pind near Jalandhar, where he moved from "Britain to be with his son". No doubt, it was tough to document all the elements of his life. Having met Singh in 2005, while working on Sikhs Unlimited, Khushwant holds fond memories of that interaction. "He was 94 then. Although he was illiterate, the meeting was inspirational."
It was Singh's coach, Harmander Singh, who requested the author if he could write a biography to commemorate 100-years of the legend, on the condition that there would be no exploitation of the sale proceeds from the book. "Since every penny that Fauja earns from running is given to charity, I promised to use the royalty from the book for a cause," says Khushwant. Spending more than a month with Fauja Singh, his family and trainer in the UK, to write the book, Khushwant manages to trace the runner's roots, capture his life's journey and its impact. "Fauja has a shoe fetish, sometimes running in a Hugo Boss, the next time in a Tommy Hilfiger with his 100 pound long-toed Gurgabis, his current favourite," he smiles.
Covering various elements of Singh's life, including his childhood, his marriage, five children & the death of his son, Kuldip and getting displaced from his village, were a life changing experience for Fauja. "It was on television while watching a marathon that Fauja decided to take part in a 20 mile run, which he completed with ease and then there was no stopping him. Harmander came into his life as a trainer and it was the beginning of a long, eventful journey,'' says Khushwant, adding that all his interviews with Fauja happened on London's streets. "He refused to sit and talk to me. I've never walked so much in my life,'' he smiles.
Khushwant's biography includes absorbing accounts of Fauja's grueling training sessions, his stubbornness to win, his humility and how at 89, he ran the London Marathon and beat a veteran runner by an hour's margin. There are interesting conversations with Fauja about his diet, exercise routine and of course, secret to his success. Besides personal anecdotes, he incorporates views of doctors, quotes of marathon runners, a schedule and tips for those who want to start running. "He will be one of the torch-bearers for the London Olympics 2012 and is now looking forward to run a full marathon at 100," he signs off. Khushwant's looking forward to the release of his next, The House of Lords, early July.