Also Free Camp on Gynaecology held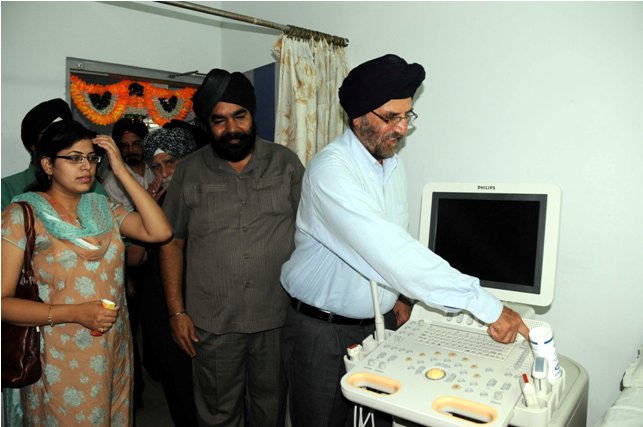 Hyderabad, Oct. 3, 2010 : Guru Nanak Medical Centre, Secunderabad which have been doing a yeomen service for the poor and down-trodden people in providing quality medical services at a highly subsidised costs since last three years, today added 'Colour Doppler' equipment, non-invasive technique, predominantly to study blood flow.
The latest 'Colour Doppler' equipment costing  `20 lakhs was dedicated to the benefit of the patients on Sunday. It was inaugurated by Lt. General Inderjeet Singh, Commandant, EME Centre, Secunderabad at a function held on Sunday at GNMC, Secunderabad. The centre entered into fourth year of its operations today.
Speaking on the occasion, Inderjeet Singh said that masses are not able to receive quality medicare services at affordable prices and wanted that these sections get quality medical service. He hailed the services of Guru Nanak Medical Centre for doing a yeomen service for economically disadvantageous and under-privileged for providing quality medical services at affordable cost. He wanted the centre to acquire more/other medical facilities for the benefit of poor patients.
GNMC Chairman, S.Baldev Singh Bagga said that the Guru Nanak Charitable Trust has spent `40 lakhs in its second year and over `50 lakhs in the third year for the noble cause in addition to `60 lakhs rent value of the establishment and wish to strive and spend more in the future programmes for medical care.
Last year, the number of beneficiaries were about 75,000 and next year it would cross six figure mark. To provide more facilities to the Centre, the Trust proposes to acquire state-of-the-art MRI and Dialysis next year, Bagga said.
Rajinder Singh Saluja, Convener said that centre is well equipped with modern equipment and is offering medical services for pathology, dental, ophthalmology, dermatology, ENT etc at the lowest cost. In the previous year, facilities like CT scan, TMT, EEG and U\S machine etc had been acquired by the Centre.
A Free Gynaecology and Obstetrics Camp for women was also organised at the centre. A team of specialist lady doctors examined the women.
S Avatar Singh, Secretary and Joginder Singh Chabra, Coordinator and others were also present on the occasion.