BIDAR: The 'Gur Ta Gaddi' programme which was attended by lakhs of Sikhs from all over the world concluded with the 'Sarva Dharma Sammelan' here on Sunday.
The programme assumed importance as it was 300 years ago, that Guru Gobind Singh Sahibji ended his life at Nanded and the Guru Granth Sahibji was declared the Guru of the Sikh religion. Bidar has a direct connection with Sikh religion. Guru Nanakji, the first Guru of the Sikhs, stayed here for a while, while returning from Sri Lanka.
Guru Sahib Singh, the fifth beloved disciple of Guru Gobind Singhji hailed from Bidar. Those who visited Nanded in Maharashtra also paid a visit to Bidar. In view of the 'Gur Ta Gaddi' event, the district administration had made elaborate arrangements.
Huge tents were erected near Guru Nanak Jhira here for accommodating pilgrims, spending Rs 2 crore.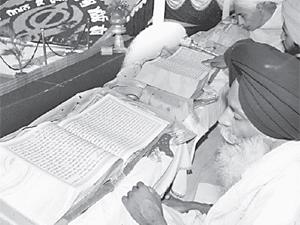 As part of the tri-centenary celebrations, the consecration of the Guru Granth Sahib as the eternal Guru of lakhs of Sikhs was read out by hundreds of Sikh scholars on all the days, and the programme ended on Sunday. Pilgrims stood in queues for darshan of the Gurudwara, collected holy water from 'amruth kund' and took a holy dip in 'amruth sarovar.' Free meals were provided to all the pilgrims irrespective of their caste and creed at the 'Guru ka Langar.' Delicious items like roti, jalebi, burfi and many more sweets and savouries were served in two langars.
According to Manpreeth Singh, member of the Guru Nanak Jhira Foundation, pilgrims came from across the world. The number of Sikhs who participated in the programmes on all the days was much more than that expected.
The 'Akhand Path' was another major event. The Guru Granth Sahib was read and taken out in a huge procession, in which lakhs of Sikhs participated.
Prez arrives today
President Prathibha Patil will participate in the concluding programme of the Gur Ta Gaddi at Nanded on Monday.
She will land at Nanded in a special plane. Later she will be given a civic reception.
Maharashtra Governor S C Jameer, Union Home Minister Shivaraj Patil, Maharashtra Chief Minister Vilasrao Deshmukh and Devisingh Shekhawat will accompany her.