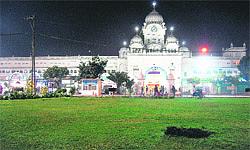 A view of the Golden Temple entrance from the green belt which will be a part of the plaza. Photo: Vishal Kumar
Amritsar, December 1 - Following over a month-long exercise, the Punjab Heritage and Tourism Promotion Board (PHTPB) has finally shortlisted three entries for the construction of the Golden Temple Entrance Plaza, a grand entrance to the temple itself.

Talking to The Tribune, Prof Sarbjot Behl and Karamjit Singh Chahal, Head of Architecture Department, GNDU, which conducted the competition, said out of a total of 21 entries received from India and abroad, three were shortlisted by the jury after a two-day brainstorming session in Amritsar on November 22-23.

The shortlisted firms are: Design Associates Inc, Noida; Design Cell, Gurgaon; and LND Studio, New Delhi. These three firms will now proceed to take part in the second stage of the competition. According to Prof Behl, all three firms had emphasised on spaciousness, good use of landscaping, and judicious distribution and articulation of functions in the underground area beneath the plaza. "Their scheme is also complimentary to the layout and the character of the Golden Temple Complex," he averred.

Chahal said these firms had submitted the basic concept about the project in the first stage, while they will come out with their detailed design in the second stage of the competition. The last date for submission in the second stage is January 3, which will be followed by an evaluation process on January 10. The final result will be out on January 17. The entries adjudged first, second and third will be rewarded with prizes of Rs 5 lakh, Rs 3 lakh and Rs 2 lakh, respectively.

The entrance plaza will come up over an area measuring 9,410 sq mtr, which will include the space in front of the SGPC's Information Office and the green belt in front of the main gate. The space underneath the plaza will have a VIP lounge, public lounge, and a multi-purpose hall, which will serve as an auditorium and include a press gallery as well. An interpretation centre will also be built for the visitors. Apart from it, the buildings surrounding the plaza will also be lent a visually appealing look.

The jury comprised SGPC chief Avtar Singh Makkar, Principal Secretary (Tourism) Geetika Kallah, GNDU Vice-Chancellor AS Brar, Amritsar DC KS Pannu, world- renowned architect Moshe Safdei, noted landscape architects Colin Franklin and Ravinder Bhan, and famous urban designer KT Ravindran. Bhan had also prepared the design of the 'galliara' around the Golden Temple earlier.