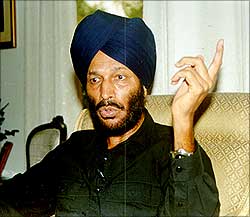 Oct 12, 2010: NEW DELHI: The Commonwealth Games Village might have come in for a lot of criticism for being 'filthy and unlivable', but legendary Milkha Singh said it's the best he had ever seen.
"I would proudly say the facilities the organizers have provided at the athletes' Village for Delhi 2010 are something that I haven't seen even in Olympics," the 'Flying Sikh' said.
"I had heard so many things about the Games village, so much negative publicity -- snakes, dogs, dirty sheets, broken tiles, etc. I don't mince my words and I am not scared of anyone. I would proudly say that these are exceptional facilities," the 81-year-old said.
Milkha Singh had earned India the first ever gold medal winning the 440 yards track event in the sixth edition of the Games in Cardiff 1958.
The Games Village at Akshardham had come under fire from all quarters for being filthy and unlivable before the start of the 12-day extravaganza.
However, Singh said these are minor things and should not be given importance. "I have gone around the Village now and I have seen the facilities. I have liked it a lot. All negative talk is no good," the former champion said.
He continued, "Minor hiccups happen everywhere and they should not be given too much of importance. Things should be looked upon in totality and these are super infrastructures created for athletes."
Father of renowned Indian golfer Jeev Milkha Singh, he also congratulated Indian athletes who have held on to the second spot in the Games medals tally.
"I am extremely happy with the way Indians are performing. A second spot in the medals tally shows great improvement," said the legendary athlete.