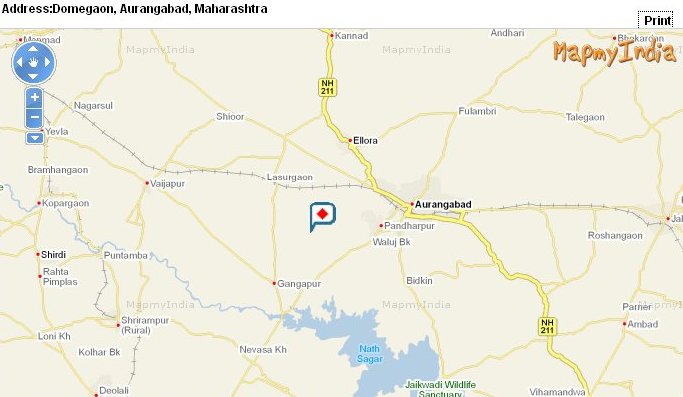 For all Sikhs, Nanded on the banks of Godavari River in Maharashtra, has special significance as the last resting place of Guru Gobind Singh, the Tenth Master. It is also revered as one of the five Takhts - thrones - of the Divine.

The extraordinary happenings concerning the holy volume of Guru Granth Sahib, worshiped by the people of Domegaon, district Ahmednagar, and recounted in this article were first narrated to us by the late Air Marshal Shiv Dev Singh, PVSM, who retired as Vice-Chief of India's Air Staff and had commanded the Ahmednagar area, some 25 years ago.
The miraculous phenomenon of the Godavari flood water receding as the people of Domegaon brought out the ancient hand-inscribed volume of Guru Granth Sahib for worship, without knowing its contents in Gurmukhi, has evidently been long a part of the folklore. This legend has now been personally verified by Col. D.S. Grewal who currently commands a Training Regiment Centre at Nasik, Maharashtra. (Ed. SR)
Domegaon, a village in the outlying Shrirampur Tehsil of Ahmednagar District, in Maharashtra, is located on the bank of River Godavari, 80 Kms from Ahmednagar, 22 Kms from Shrirampur, 7 kms away from Bhokar on the Shrirampur-Aurangabad road. It is equidistant from Nasik, Aurangabad and Manmad, some 100 kms, or 2.1/2 hours journey by bus. I would not have dreamt of going to this obscure village even a week before 21 June '94, but for my colleague, Capt. Hardev Singh's insistence. He appeared excited. We did not have much information except a hear-say report: "the villagers of Domegaon and neighbourhood have total faith in Guru Granth Sahib. Whenever River Godavari got flooded, they take out the holy Granth and touch the water, which then recedes without causing any damage to the village. This has been the practice for the last 150 years eversince an old saint meditated with this volume of the holy Granth".
On checking at Ahmednagar bus stand, we came to know that it takes two hours by bus to Shrirampur, from where a local bus goes to Domegaon. Going along the road marked by neem and keekar trees, through lush vegetarian and ripening sugar-cane, we reached Shrirampur at 11 AM.
With a view to gathering more details of the place and the route, we approached the first available residents. They took us on two scooters to Veena Saree Centre owned by Sardar Khem Singh Batra, President, Gurdwara Prabandhak Committee, Domegaon. We were told that the keys of the Gurdwara at Domegaon were with the caretaker (Sewadar) Sardar Gurcharan Singh Saluja who had gone for collection of stores and was due to return shortly.
As we waited for the caretaker, we were told by Sardar Prithipal Singh Sathi that, about 150 years ago, an old hand-written copy of Shri Guru Granth Sahib came to be preserved in Domegaon. Latter day Sikhs in Shrirampur came to know of it in 1979's through a Bijnori Sikh, Sardar Bedakar who used to visit these villages on business. The construction of a Gurudwara was initiated by Sardar Ahuja, a factory manager of Ganeshnagar Sugar Factory, under the supervision of a sant of Hazur Sahib of Nanded. The sewadar stays at Shrirampur because there is no Sikh family at Dome or around and the keys of Gurdwara remain with him. He collects the construction material and goes to Domegaon everyday.

We were told that a continuous recitation (Akhand Path) of Shri Guru Granth Sahib starts every year on the eve of Shri Guru Nanak Dev's birthday i.e., Kartik Poornima. Thereafter, the Sangat of Srirampur goes to Dome on every Pooranmashi. The villagers of the area take out a procession around the village with the holy man of the village carrying Guru Granth Sahib on his head on occasions like Holi and Dipawali. They celebrate all festivals in the compound of the Gurudwara after prayers before Shri Guru Granth Sahib, such is their devotion. We tried to bring the holy volume to Shrirampur as we felt that there was no caretaker. But the villagers refused to part with it, stating that it was their Chief Deity, Dev, which could not be taken away from Dome. If their Dev is taken away, they will surely be destroyed by floods.
Meanwhile, the sewadar arrived. We hired an autorikshaw to proceed to Domegaon. En route we halted at Shrirampur Gurdwara, a magnificent construction. There we met Sardar Trilok Singh Sethi, a respected and prosperous businessman of the area and special (honorary) Executive Magistrate. He offered to send his car to Domegaon which we could not refuse as he wanted the car to be blessed by "Baba Birdh Sahib" of Domegaon.
Our journey along Nasik-Shrirampur-Aurangabad road for 15 kms was comfortable. At village Bhokar, we found the road turning to "Birdh Baba", Domegaon (Kamalpur). At Domegaon, we stopped alongside River Godavari, close to a bridge in front of the imposing building of Gurudwara "Birdh Babaji". Just adjoining stand a Krishna temple, a mosque, a Buddhist Gompha, and Hanumanji Temple. A marble stone on the Gurudwara wall had the following inscription :
'The construction of Gurudwara Shri Birdh Baba, Domegaon was started at the hands of Sriman Baba Harnam Singh Maharaj of Nanded on 25 May 68. about 150 years ago, a Sikh saint of Punjab wrote Sri Guru Granth Sahib which is established in this Gurudwara. The village is situated at the bank of Godavari which often gets flooded, from the times of the Sikh saint (Birdh Baba), Sri Guru Granth Sahib was worshipped and taken on the head to Godavari and prayers were offered to Ganga Mai (Godavari) for receding of floods. The local people have full faith in Shri Guru Granth Sahib and Birdh Baba, and they have seen with their eyes that with the prayer, flood recedes and the village is saved from losses. This tradition continue till date. This year when floods came on 06-8-68, the village people repeated, the same thing and there was no damage to the village from flood water'.
We washed our faces, hands and feet and the sewadar uncovered the old volume (Birh) of Sri Guru Granth Sahib from its resting place to the main hall. After prayers, we were allowed to study it. Its size is more than double that of the normal printed Birh. It contains 1006 pages. It was apparent that it was written long back. It starts with a list of contents which is preceded with the dates of its writing. The date written is "Madh Sudi" 5 Savat 1901 (1844 A.D.). The list of contents has three parts; first list contains the names of all verses (Bani), the second is the list of all 'rags' and the third is the list of first lines of all couplets (Shabads) in the Birh. A few page numbers are also given for the contents. The Banis included are :-
Nisan Guruji Japu (P-1), Sodar, five Sabads (P-6), "so Purkh", four Sabads (7) Sohila Aarti, five Sabads (P-8) Magh (P-64) Gauri (P-105), Assa (P-239) Gujri, Dev-Gandhari, and other Rags Shlok Sahaskriti, Gatha, Funhe Chaubole, Salok Kabir-ji-ke, Shlok-Farid-ji-ke, Swaiye Kal - aur Bhatten-ke-shlok-Waran-teWadhik, Shlok-ta-the-Gost-Malar-nall hoi, Ratanmala, Hakikat-Raje-Sivnabh-ki, Ragmala, besides method of preparing ink, and Chalitar-Jyoti-jyot Samawne ke, being the record of the breathing last of the first nine Gurus, but has no such record of Guru Gobind Singh. It may be that this Birh was prepared during the time of Guru Gobind Singh. Writing is in black ink. Pages 1 to 20 are much older than the remaining pages. The sequence of Rag/Shabad/shlok after the shlok's of Guru Tegh Bahadur, is not as per Kartarpur Birh or 'Birh Bhai Banno'. One Shlok is attributed to Mahila 10 (Sri Guru Gobind Singh) in this Birh, as in the 'Golden Lettered Birh, at Burhanpur. Some page have come out of the binding and a few are becoming brittle. The holy hand-written volume needs urgent care and scientific archival preservation.
After having the darshan and a brief study of Shri Guru Granth Sahib, I contacted the local people, and interviewed a few of the villagers to know their views and details about "Birdh Baba" and the hand inscribed volume. Those interviewed include Baba Sahib Thorat, B.A., B.Ed,. aged 24 years, Uttam Dasanga, age about 30 and Mahatma Swaimbhu Chhedam, aged 82 years, the head priest of adjoining Sri Krishna Chakradhar Temple. I was unable to contact Sri Bendra Baba Murkute, who has been looking after Sri Guru Granth Sahib before it was handed over to the Sikh Sangat of Srirampur and considered as pious to take the Birh ceremoniously to River Godavari in the event of floods.
Both Baba Sahib Thorat and Shri Uttam Dasanga confirmed the age old tradition of taking Shri Guru Granth Sahib to Godavari River and of floods receding. They stated that Shri Guru Granth Sahib is their Chief Deity (Dev) which they cannot part with. If they part with it their village will surely be destroyed by floods. They also told of the boulder in the river where the holy Sant had meditated for 12 years. Baba Sahib Thorat stated that whatever Baba collected for food he gave one third to cows, one third to Godavari and ate the remaining one third. They also mentioned about wooden sandles of the Sant (Khadav) and a few idols in worn out condition. A story was narrated to me of how the Sant would "speak to the river". Once a person quietly went to hear as to what the Sant spoke. The river was silent whereupon the Sant cursed the hidden person, who died shortly afterwards.
None in the village knew Gurumukhi script, but the Holy Granth and Birdh Baba attracted a number of followers, Baba never lost his temper against anyone after the event. But whenever the Godavari was in flood, the Birdh Baba touched it and the water receded. After the death of Biradh Baba, the holy Granth was kept in a swing (Jhoola). Once the fury of the flood mounted and the water threatened the village. But the moment the waters reached the Jhoola with the holy volume, it speedily receded. Thereafter, whenever, the Godavari got flooded Baba Murkute took Sri Guru Granth Sahib on his head and touched the water, sending it back to mainstream. This occurred right upto 1968. Since then the river has not been in spate near the village. The people said that the younger generation could not describe Babaji as no one had seen him. However, the Mahant of Sri Krishna Chakradhar temple shed more light on this.
Aged 82 years, he first described the importance of the ancient temple associated with Sri Krishna Chakradhar a saint who stayed in Domegaon for 10 months. A Pandit of Sarlagaon, Mahim Bhatt composed verses in honour of saint Chakradhar, which are considered as one of the oldest sources of Marathi language. Describing the "Birdh Baba" he said, "Birdh Baba had died somewhere in 19th century, much before him. He had heard from his guru who had known that the "Birdh Baba" was a great Udasi Sant who had made a copy of Guru Granth Sahib while he lived with a Raja. When he became an Udasi, he came to Domegaon and started his meditation near this temple. He had this copy of Sri Guru Granth Sahib. He was given a hut close to the temple where he later died in late nineteenth century. Even during this time the village people used to take out a procession of Guru Granth Sahib on Falgun Ekadashi, a tradition they still maintain".
Telling about the people, he said, "the village has Chakradhar Temple, Hanuman Temple, a Gumpha, a Mosque and the Gurdwara, all around the same complex and are very close to each other. The village is known as Dome-Kamalpur. Name Kamalpur was given after Kamal Shah an important functionary of Emperor Aurangzeb. His mazar is close to the Mandir-Gurdwara-Gumpha complex. Though the population consisted of Hindus, Muslims and Neo-Buddhists, yet they had no religious or caste barriers in marriage ceremonies or social dealings. They have days marked for different religious functions which they all celebrate together."
He told me that those who had gone to the temple on that day with me were a Hindu, a Muslim and a Buddhist. There were no restrictions in any religious place for anyone. Later I found record of a statement of Shri Vishvanath Korpe and his mother, aged 100 years, in local Marathi weekly, 'Hind Mashal' dated 16 June 1994, which carried a detailed version of the statement by Baba Thorat, concerning the incident of Birdh Baba's curse. I left the place with genuine respect for a village community united in its veneration for the ancient hand-written volume of Sri Guru Granth Sahib.