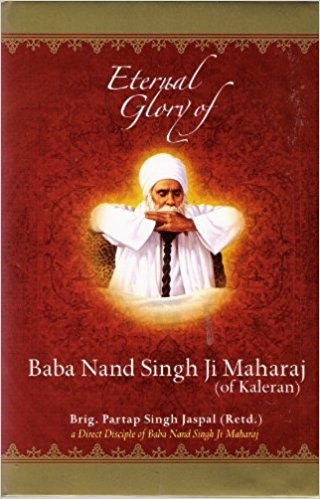 Eternal Glory of Baba Nand Singh Ji Maharaj
By Brig. Partap Singh Jaspal
Hardcover: 309 pages
Publisher: Punjabi History Board
Language: English
ISBN-10: 817510144X
ISBN-13: 978-8175101449
Book Review by Gurdhyan Singh & Amolak Singh
The author, Brig. Partap Singh Ji Jaspal, wrote this book as a beautiful gesture of love and respect to his father Baba Narinder Singh Ji, who for all his life remained spiritually dedicated to Sikhi, under the guidance of Baba Nand Singh Ji Maharaj Nanaksar Kaleran. He writes, in the first sentence of his preface, "I offer this labour of love at the feet of my father Baba Narinder Singh Ji, who had directly led me directly into the holy presence of Baba Nand Singh Ji Maharaj."
This serious spiritual work lays out rare glimpses into the life of Baba Nand Singh Ji Maharaj and his message in a catechistic and approachable way. Brig. Jaspal Ji, himself a spiritually practicing Sikh, wove Baba Ji's mystic journey in this well-organized and powerful book, which highlights his and his father's experiences and interactions with Baba Ji.
This book is atypical, rather than classical, because it does not narrate a standardized life from an intellectual point of view but is a powerful rendition of exegeses on paper based on Brig Jaspal Ji's family's long standing sangat of Baba Nand Singh Ji.
The author draws primarily on his father's personal experiences such as face-to-face dialogues with Baba Ji during Baba Ji's life time as well as after Baba Ji's physical disappearance, followed by his own divine, blessed and ecstatic experiences. These experiences, detailed in his book, lead to spiritual breakthroughs and transform hearts and characters.
He narrates Baba Ji's story from beginning to the end, within the context of Baba Ji's relationship to a simple, fundamental, and familiar Sikh spiritual tenet: the supremacy of premabhagti (pure devotional love) to Satguru Sache Patshah Sri Guru Nanak Dev Ji Maharaj.
The book is written with utmost reverence and respect. Instead of criticizing or ridiculing others for not being Sikhs or for being imperfect Sikhs, the author maps out Sikhi's path through Gurbani that is practical and accessible in everyday life. Although every small act of devotion is worthy and appreciable, however, experiential spirituality is the most tallest in establishing relationship with Satguru Ji Maharaj.
This book's content, length and thoroughness reflects the author's dedication to his Sikhi, Baba ji, and his sincere desire to share Baba Ji's life with others. Drawing directly from Sri Guru Granth Sahib Ji Maharaj, as a Living Guru, the book provides a no-nonsense catechism that is grounded in existing Sikh spiritual tradition and aims to deepen the reader's understanding of the relevance of experiential Sikhi in today's world.
The reader's will be delighted to read personal stories that fill each chapter. The book makes it clear that the author is someone who lives by Sikhi's spirit, rather than just writing about it. His own generous and loving life is apparent on every page. Only someone who's lives life with Satguru Sache Patsah Ji Maharaj's divine blessings can unpack Sikhi so well by explaining difficult topics simply and profoundly.
If one begins such a journey, while living everyday life, and if authentic transformation of heart and character does not happen, deep cynicism tends to grow within. A Sikh may store tremendous knowledge of Sikhi in his mind based on ego-centered intellect, but if he or she lacks spiritual experiences, then he or she can tend to feel lost. But the book affirms the necessity of these experiences. The devotion reflected in these experiences emphasizes the need for sustained and continued pure devotion and love towards the Guru.
Brig. Jaspal Ji, with devotion, accurately sums up the eternal existence of Baba Nand Singh Ji Maharaj as: "The world has not witnessed a sage so rich in desirelessness, so rich in non-possessiveness, so rich in total non-involvement in anything called wordily. And the Divine maryada established by Him was the riches in these divine excellences." He further adds that "whereas for others Sri Guru Granth Sahib Ji Maharaj represents a mere holy scripture, for Baba Nand Singh ji Maharaj, Sri Guru Granth Sahib stands for all powerful, luminous, omnipresent God."
We certainly cannot do the book justice as we cannot put the ocean into any large pot, so we recommend that those striving for the Sikhi way of life must read this book. The spell bound divine wisdom inscribed on its pages will bring clarity and practicality to one's own journey into spiritual development, through premabhagati - pure devotional love.
________________________________________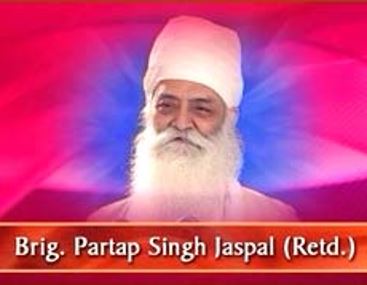 About Brigadier Partap Singh Jaspal (Retd.)
Brig. Partap Singh Ji Jaspal Ji (Retd.), founder of Guru Nanak Daata Baksh Lai Mission, is a direct and lifelong disciple of Baba Nand Singh Ji Maharaj Nanaksar Kaleran. He was blessed to have darshans of Baba Ji on numerous occasions and was in Baba Ji's sangat. He wrote the book in two parts in 1993 and 1996, but revised both into one in 2006 in tune with his continuously evolving spiritual state. Brig. Jaspal Ji was blessed by his father the service and worship Sri Guru Granth Sahib Ji Maharaj as per Nanaksar's Maryada. The spiritual renditions of Brig Jaspal's are broadcast globally through satellite and cable television, and available in both video and audio format.
Guru Nanak Data Baksh Lai Mission is operating under the one key principle of Baba Nand Singh Ji Maharaj's Maryada: Maya, in any form, does not enter His Holy Place. The Mission similarly does not accept any donations in any form.