'Elfins in San Francisco' ~ sights and sounds of a fanciful San Francisco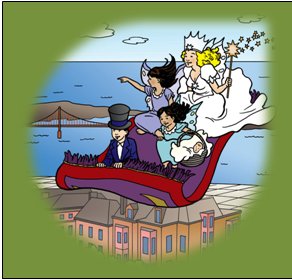 Experience the sights and sounds of a fanciful San Francisco through the adventures of two young elfin girls - Amrin and Jaya - who live in a parallel fairytale world that co-exists alongside modern day San Francisco!
About the Author
Sarbjit Kaur wrote 'Elfins in San Francisco' for her nieces and nephews as a way to introduce them to this magical city. She decided to create a parallel fantasy world and included some of the more famous landmarks and traditions so that they would also learn about the real San Francisco!
Sarbjit plans to donate the royalties from this book to Room to Read a global childrens non-profit that promotes literacy in developing countries.
To learn more please go to www.roomtoread.org
Sarbjit is also a member of the Womens National Book Association a nonprofit which promotes literacy and has a San Francisco Chapter http://www.wnba-sfchapter.org
Inside the Book:
Did you know...?

* There are over 750 million illiterate people in the world with at least two thirds of these being women and girls.
* Asia and sub-sahara Africa have more children not enrolled in school than any other place on earth.
* Room to Read has established over 9000 libraries and awarded long term scholarships to over 9000 girls!
* Click on the link http://blog.roomtoread.org/ to find out more about what they do!
TO BUY THIS BOOK

Please visit the following stores:
* The Book Passage bookstore inside the Ferry Building, SF
* San Francisco Museum of Modern Art, 151 Third Street, SF
* Borders online - to order your book click here
To buy on Amazon: go to the USA or UK link.
To order direct from the publisher click on Authorhouse
All royalties from the sale of this book will benefit Room to Read a global childrens non-profit based in SF - to learn more about them click here
Testimonials:
See What People Are Saying!
From Parents...
"If you're looking for a modern take on the traditional fairy tale -- Elfins in San Francisco hits the mark beautifully. This sweet story is a must for boys and girls who have ever lived, visited or wanted to visit San Francisco. Our 4-year-old, in particular, reads it when he wants to remember the many magical locals of his birth city. A plus for tired parents: Elfins' amusing illustrations and story line are just the right length and tone for a toddler's bed time."-Angelica Pence, Arizona
"My sons really enjoyed the story. It was an imaginative, cute, entertaining, and educational story that will no doubt serve as a guide for future weekend daytrips to The City."-Cheryl Jones, San Francisco
"Looking forward to your next book"-Afi Valizadeh, San Francisco
"Love the book, and of course the characters :-) Very well written, surely recommend for a good read."-Sangeeta Tandon, Singapore
"This is a great book and everyone should read it!!!!"-Amarjit Gill, Singapore.
Others in the Bay Area..
"A fun, educational journey with a good message -- all in the heart of San Francisco. What more could kids ask for?"-Brian Crawford, San Francisco, CA http://theleafblower.blogspot.com
"Elfins in San Francisco is a joy of a read that educates as well as entertains. I gave a copy to my neice and nephew who live on the East Coast in the hopes of educating them about San Francisco and they love it!"-Meghan Sullivan, Piedmont, CA. http://spartanqueen.blogspot.com/
"The Elfins adventures in San Francisco is a delightful story filled with fun and surprises. I enjoy giving this book as a gift to the little ones I know to enhance their learning and reading experiences!"-Amy Krymkowski, Oakland, CA.
Read reviews from Amazon readers by clicking here