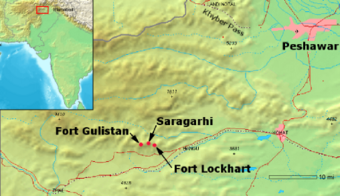 Amritsar, Thu Apr 19 2012: If things fall in line, the historical battle of Saragarhi, where 21 Sikhs of 4th Battalion (then the 36th Sikhs) of the Sikh Regiment of British India died fighting 10,000 Afghan and Orakzai tribesmen while defending an army post, may be presented in a Bollywood film.
Actor Sanjay Dutt on Wednesday said that the concept for the movie based on the battle that took place on September 12, 1897 is ready he has spoken to Deputy Chief Minister Sukhbir Badal for assistance in start its production. He said a major portion of the film will be shot in Punjab.
Dutt said that he and Ajay Devgn would jointly produce the film, which would take a year for pre-production preparations, 10 months for shooting and as much time for post production.
"I feel that the battle of Saragarhi was a very important historical event and people should be made aware of it. The country should know about the unsung heroes, who fought against 10,000 men for more than 10 hours to defend a post. The importance of the battle could be gauged from the fact that it has been recognised by the British Parliament," Dutt said.
The film was initially planned some three years ago after producer Bunty Walia had shown willingness to produce it along with Sanjay Dutt, who was to play the lead role of Havildar Ishar Singh. The film, to be made on a budget of Rs 200 crore, could not be launched then. Dutt has now decided to produce the film with Ajay Devgn.
"Ajay and I would jointly produce the film," Dutt said.
Meanwhile, the state government has promised to extend all possible to the actor. "Yes, Sanjay Dutt has spoken to me in connection with the movie (on Battle of Saragarhi). I have promised that the state government would extend every kind of help," Sukhbir Badal said when contacted over phone.