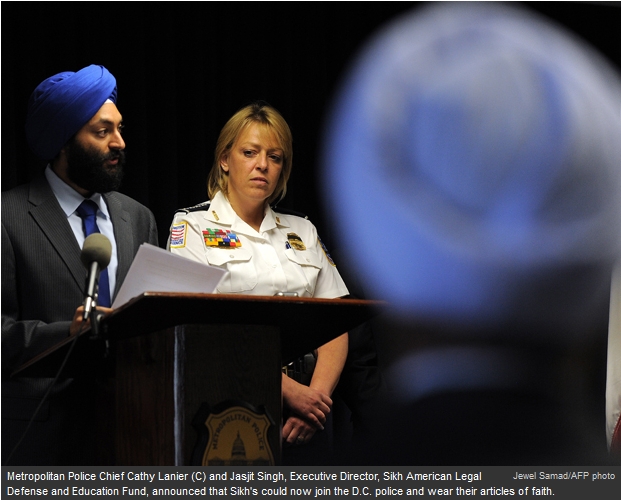 May 17, 2012: The D.C. police force on Wednesday became the first major metropolitan police department in the country to proactively allow Sikh officers to wear beards and religious items such as turbans while on the job.
The policy change was announced by Police Chief Cathy L. Lanier, who compared Sikhs to other groups that have struggled for parity in law enforcement.
"I have to remind myself sometimes that in my lifetime women were not allowed to ride in patrol cars along with men, and now I'm chief," she said at a news conference that was attended by members of the local Sikh community.
Lanier said law enforcement works better when members of the public see themselves mirrored in their local police department, adding: "To me this is a common-sense decision. It is important that we have representation from all of our communities across Washington, D.C."
The policy change, which requires that turbans match police uniforms and that beards be neatly tied back, also allows Sikhs to carry other "articles of faith" such as steel bracelets around their wrists and small decorative swords under their clothes.
It came about as a Sikh reserve officer prepares to graduate from the police academy. He declined to be interviewed. There are no active-duty Sikh officers working for the D.C. police.
The reserve officer, who was born in Vermont, had previously worked in the Los Angeles County Sheriff's Department, where he and another reserve officer lobbied unsuccessfully to change its dress code policy to allow Sikh articles of faith, said Jasjit Singh, executive director of the Washington-based Sikh American Legal Defense and Education Fund (SALDEF).
Singh hailed the policy change in the District and said he hoped other cities would follow.
"The beauty of this country is it really is founded on the idea of religious liberty," he said, adding that, with the new rule, Sikhs will no longer have to make a "false choice" between their faith and their livelihood.
In 2004, two Sikh traffic officers in New York City were allowed to wear their articles of faith after filing lawsuits against the police department, according to the New York-based Sikh Coalition, which helped file one of the suits. Sikhs have also sued to serve in the U.S. military wearing their religious articles; three are currently serving, according to the coalition.
There are about 700,000 Sikhs in the United States, and about 25,000 live in the Washington metro area, according to SALDEF.
The Sikh religion originated in the Punjab region of India in the 15th century. Known for a long-standing tradition of military service, Sikhs historically made up a large percentage of the Indian army and have served in the British army and the Royal Canadian mounted police and as bodyguards for the Queen of England, Singh said.
In the United States, Sikhs have faced harassment since the September 2001 terrorist attacks, in part because some have mistaken them for Muslims. A Sikh gas station owner in Arizona was shot to death three days after the terrorist attacks.
In 2002, the Sikh community in Washington began doing cultural sensitivity training with the D.C. police.
The policy change is not the first dress code accommodation for religious reasons, Lanier said, adding that the department has made allowances for dreadlocks and beards. She said the public has supported such changes.
The department has also made accommodations for incarcerated people who wear religious head coverings, she said.
---------------------------
Related Article:

DC police: Sikh officers can wear beards, turbans
Associated Press
http://online.wsj.com/article/AP5b9030e006664bd2990cb6ca6df9e9e7.html
WASHINGTON — Sikh American police officers in the nation's capital can wear the turbans and beards associated with their religion under a policy announced Wednesday by the D.C. police department.
Sikh community leaders said they know of no other major metropolitan police department with a written policy ensuring that Sikhs can maintain turbans and full beards while serving as full-time officers, though other law enforcement agencies have made less formal accommodations.
The change will have minimal practical effect, at least initially. The department's only Sikh officer is a reserve who is scheduled to graduate from the police academy in August. But advocates for Sikh rights said the change was significant and could encourage other Sikhs, who have a long history in law enforcement, to join.
"I think it's a step forward not only for civil rights and religious freedom, I think it's a step forward for law enforcement," said Jasjit Singh, executive director of the Sikh American Legal Defense and Education Fund, which pushed for the change. He said the public benefits when police departments represent the diversity of the communities they serve.
The special order permits Sikh officers to tie their beard in a knot and tuck it beneath their chin and to wear a turban at all times unless it conflicts with an assigned duty — such as responding to a riot — that requires them to wear a helmet. The turbans are supposed to match the color of the department-issued caps — blue — and display the same badge or plate as seen on the caps.
Police departments routinely ban beards for safety reasons, such as the need to ensure that an officer can be fitted for a gas mask, though exemptions are made for medical conditions. Officers seeking to waive the grooming requirements would be expected to seek permission from the chief, who would decide on a case-by-case basis.
D.C. police officials described their new policy as a commonsense way to preserve religious freedom without compromising an officer's safety.
"If in fact they had to don, say, a helmet for a protest, then they could wear a smaller turban — so there are exemptions that could be made to that," Assistant Police Chief Patrick Burke said in an interview.
The special order took effect last December but was not announced until Wednesday because of scheduling issues and to give the policy some time to be in place, Singh said.
Sikhism, a monotheistic faith, was founded in South Asia more than 500 years ago and has roughly 25 million adherents worldwide. Observant Sikhs do not cut their hair — covering their heads with turbans — or shave their beards.
Sikh advocates say there are only a handful of Sikh police officers nationwide, though Sikhs are a much more visible presence in police forces in places including Canada and Great Britain.
"Sikhs are warriors. We always have volunteered ourselves into law enforcement, Army, anything you can think of," said Jagjit Singh, an observant Sikh and a reserve deputy sheriff in Los Angeles County who says he fought for the right to wear articles of faith on the job.
There are signs of a growing acceptance of Sikh personnel within law enforcement. Last year, the state of California settled a lawsuit from a Sikh man who said he was prevented from becoming a prison guard because he refused to shave his beard. The state did not change its grooming rules under the settlement but agreed to pay the man $295,000 in damages and gave him a position as a corrections department manager. The U.S. Army has also permitted observant Sikh officers to serve in recent years.
The New York Police Department permits the type of turban that can fit under a uniform hat, and full beards can be worn for religious reasons with permission from the Office of Equal Employment Opportunity, said NYPD spokesman Paul Browne.
"When somebody's being robbed, nobody cares whether the person who is helping them is wearing a turban or not. They just want help," said Amardeep Singh, program director of The Sikh Coalition, a Sikh civil rights organization. "We haven't reached a stage in our culture yet where people understand that it's the actual ability to do the job rather than the uniform that matters."
___
Associated Press writer Tom Hays in New York contributed to this report.

— © Copyright 2012 Associated Press