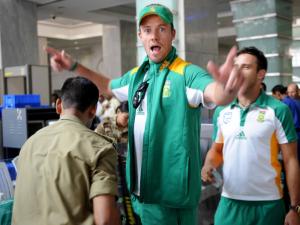 Gallo Images


There's no getting through an airport in India without being thoroughly searched.
Item number three on the sign above the departure gate at Chandigarh Airport was a bit of a worry: "Note: Sikh passengers have been permitted to carry a Kirpan (up to 6-inch blade and 3-inch handle) in domestic flights only."
A kirpan. A dagger carried by baptised Sikhs. By order of the Guru Gobind Singh, Sikhs must carry a kirpan with them at all times. It is a symbol of non-violence, which is good and confusing, but mostly good, as it should only be used to defend the defenceless from people with violence on their minds. No one, however, is allowed to carry "knives of any length, composition or description", listed the sign "Categories of Banned Items". This includes carpet knives, box cutters, ice picks and straight razors. Also on the list of goodies banned as hand luggage are baseball bats, hockey sticks, golf clubs, pool cues and ski poles.
When the South African team left shortly after lunch yesterday most of them had checked their bats and straight razors into their coffins for transport in the hold. One of the players' girlfriends found to her cost that they take the ban on bottles of fluids over 100ml quite seriously as they stopped her taking her 750ml bottle of wine on board.
Yesterday was a travelling day for the South African team as they left Chandigarh for Chennai. To get there, we had to fly to Mumbai and then catch a connecting flight to Chennai. A trip that should have been slightly longer than, say, flying from Cape Town to Joburg, meant some seven hours of flying and hanging around in airports. Our 12.25pm flight on Jet Airways was delayed by an hour. For some journalists that meant they would land in Mumbai after their flight from Mumbai had taken off and would have to catch the 8.15pm flight. Lesson number one in India – and, indeed, South Africa, where delays have become all too frequent – is to make sure that you give yourself at least two hours between flights. Expect a delay.
At Mumbai we walked to the transit area. A well-armed army officer (or a police officer in camo gear) waved myself and colleague Stuart Hess through, escorting us to an empty security check-point. It seems he thought we were with the team. We weren't going to tell him any different. The man who searched me for hidden straight razors and ski poles ("is that a kirpan in your pocket or are you just happy to see me?") asked where I was from. After Wednesday night's win by Ireland over England, I've been feeling particularly Irish and answered "Ireland". He smiled. "Please don't beat us like you did, England."
Our armed, camo-wearing friend pointed to some stairs and insisted we go up them to the Jet Airways business lounge. They wouldn't let us in, not even after we told them that a man with a semi-automatic rifle had told us to come up here. I think Hess may even have tried a little tear. We tried bargaining with her. She was Indian, after all. We're taking Jimmy Manyi seriously on this trip. Hess has made sure that at least one coloured has spread himself far by flying to India so he can bargain with Indian managers. I'm just waiting for Manyi to issue forth on Irish-South Africans and Afrikaners, and as for the English …
The last leg our of journey took off on time. Hess found a copy of the local paper and pointed out to me that the agony aunt column in the Mid Day, a Mumbai tabloid, is called "Diana will solve it". A headline on one letter caught the eye immediately: "Like girl-on-girl scenes but don't think am hay." Gosh, they even cater for bi-curious cut grass here, too. Chennai awaits.