CRISIS APPEAL: Europe stop deporting Afghans


ਅਫਗ਼ਾਨੀ ਇਸਤਰੀਆਂ ਅਤੇ ਬਚਿਆਂ ਨੂ

ਦੇਸ਼ ਨਿਕਾਲਾ ਨ ਦੇਣ ਦੀ ਮੰਗ ।

ک فاجعه بشری، از کشورهالیند، سه خانم و یک کودک به افغانستان اخراج میگردند

अफ्घानी स्त्री व बाल

शरणार्थीओं को देशनिकाला न

देने की मांग ।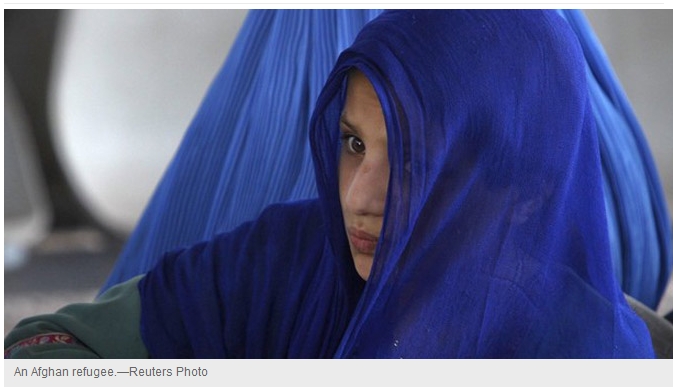 Afghan Sikh Community Leaders in Britain urging UK, Dutch and all European Governments to stop deportation of all Afghans - Sikhs, Hindus & Muslims.
An emergency crisis appeal made LIVE from Gurdwara Guru Nanak Darbar, Southall in West London on Sunday, 23rd June 2012 on a UK based satellite TV station Sikh Channel.
Gurdwara Guru Nanak Darbar
Afghan Ekta Cultural Religious/ Community Centre
65-75 King Street Southall UB2 4DQ United Kingdom www.gurunanakdarbar.org.uk
Fantastic News -- Joint action by Afghan family, all Dutch and UK Sikh Institutions. and of course by Waheguru's grace, the deportation an Afghan Sikh family (mother (36), daughter (19), son (13) and daughter (9) to Afghanistan has been stopped temporarily. We were informed late Friday afternoon, 22 June 2012 that this Sikh family would be deported on 25 June 2012 at 11.30 am. Through this joint effort, Ardas of Sangat and Media attention, we have prevented a humanitarian disaster and crisis as the Judge ruled Monday morning that the eviction had to be put on hold for the time being.


Input by:
Pritpal Singh
ਸਰਦਾਰ ਪ੍ਰਿਤਪਾਲ ਸਿੰਘ
---------------------------------
Related story:
Taliban attack on Kabul lakeside resort leaves at least two dozen dead
Tom Peter in Kabul | guardian.co.uk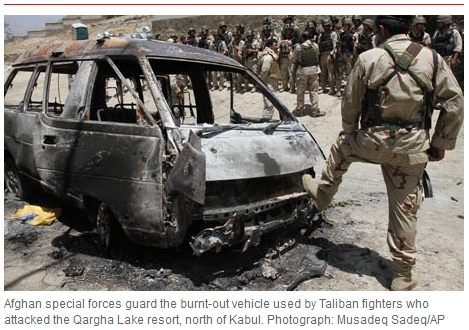 Eleven-hour gun battle to free hostages in hotel and restaurant at Qargha Lake targeted for serving alcohol to foreigners
At least two dozen people have been killed during a Taliban attack on Qargha Lake, a resort on the outskirts of Kabul. Seven insurgents, who were among the dead, stormed a lakeside hotel and restaurant with rocket-propelled grenades, AK-47s and machine guns on Thursday night.
The Taliban fighters took those inside hostage and began a battle lasting more than 11 hours against Afghan security forces. Afghan police said the presence of hostages made it difficult for them to bring the situation at the Spozhmai hotel to a quick end.
Claiming responsibility for the attack, the Taliban said the hotel and restaurant were frequented by foreigners and Afghan government officials. They also said the restaurant served alcohol.
"The mujahideen entered a small hotel and attacked a neighbouring hotel that was used by foreigners for their illicit fun and having parties. It was a special hotel for Afghan government officials and foreigners," said Zabiullah Mujahid, a Taliban spokesman.
Located about 30 minutes from Kabul city centre, Qargha Lake is a popular weekend retreat for Afghans. There are a number of hotels and a golf course. Though foreigners often visit Qargha, it is predominantly an Afghan attraction, particularly the Spozhmai restaurant.
Though Mujahid claimed the Taliban fighters only killed Afghan government workers and foreigners, the group have a history of exaggerating the effectiveness of their operations and claiming to have killed foreign soldiers when only Afghan civilians have died.
Source : for further reading
-----------------------------------
Related Article:
Afghans face mass deportation from Pakistan
AFP
Source:


KABUL: Hundreds of thousands of Afghans face the threat of deportation back to their war-torn country from Pakistan once a deadline expires Saturday, but Kabul is crying foul over the move.
Pakistan is home to 1.7 million refugees and hundreds of thousands more unregistered migrants from its neighbour, according to the UN High Commissioner for Refugees (UNHCR).
But Islamabad says it cannot be expected to tolerate illegal migrants, and 400,000 undocumented Afghans in Pakistan's northwest province of Khyber Pakhtunkhwa, where the bulk of the Afghan community live, face the imminent prospect of removal.
The UNHCR describes the situation of Afghans in Pakistan as the "largest and most protracted refugee crisis in the world" and warned that the question of how to deal with it was becoming "increasingly politicised".
....
for more
----------------------------------------
Related Article:
Detention of Afghans who cannot be deported is unlawful, say anti-deportation campaigners
Mass deportations to Afghanistan repeatedly cancelled amid worsening security in the country Detainees still being given tickets despite lack of prospect to remove them Campaigners say the prolonged detention of Afghan refugees is unlawful Yet the Home Office claims it is 'safe' to return refused asylum seekers to Afghanistan and many are still being held in detention having been told they will be removed from the UK 'soon'. According to campaigners, some detainees have been issued with tickets on seven consecutive occasions, only to have their flight cancelled at the last minute.
According to the law, immigration detainees facing removal may only be kept in detention so long as their removal is imminent. If it appears that removal cannot be effected within a reasonable time period, detention becomes unlawful and the detainees should be released.      ....more
-----------------------------------------
Stop Deportations to Afghanistan
Public Meeting, London held Monday 25 June, 19:00 – 20:30 Hosted by Praxis Community Projects, Bethnal Green, London
After a gap of six weeks, when Kabul airport was closed for security reasons, the secret night-time mass deportation flights have resumed from the UK to Kabul. Flights had stopped in May when several bombings and alerts closed Kabul airport. The UN Refugee Agency admits it is unable to provide for further refugees, saying its programme in Afghanistan has been "the biggest mistake UNHCR ever made".
The 25 June public meeting in London was an opportunity to share concerns about enforced removals to Afghanistan and build an inclusive, cooperative campaigning network.
Please contact [email protected] for any queries relating to the meeting.
What happens to young returnees?

Do they survive?

And how?

Who do they become?

Sue Clayton's new film, Hamedullah:The Road Home, answers these questions… and the answers are both moving and surprising…


-------------------------------
Anti-Raids campaign: Solidarity with migrants checked on the street!
What can you do if you witness UK BA and police coordinated checks and raids of migrant workers in the streets and workplaces of London and other UK cities? As part of the anti-raids campaign we have produced an info leaflet on the law and practicalities. Download the LEAFLET here (it is included in both BUST CARD packs): http://london.noborders.org.uk/node/606
The anti-raids campaign is supported by a growing coalition of groups: Lawas, Precarious Workers Brigade, Stop Deportations and Southwark Action, The Prisma, No Borders, South London Solidarity Federation. More info here.
Get in touch if you, your community or your organisation would like to support the campaign!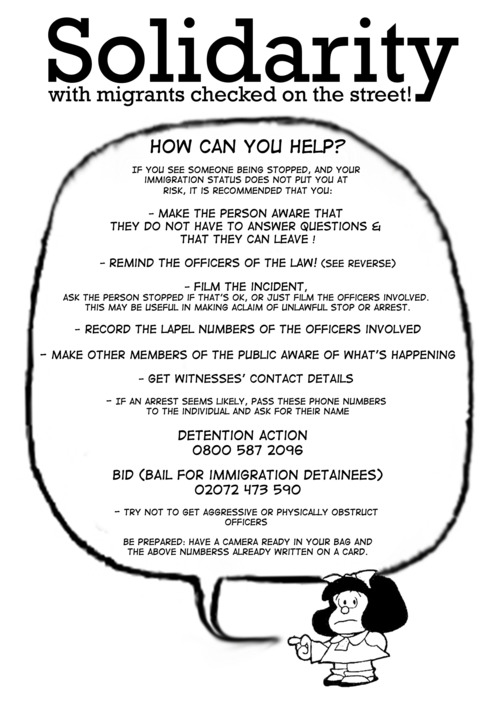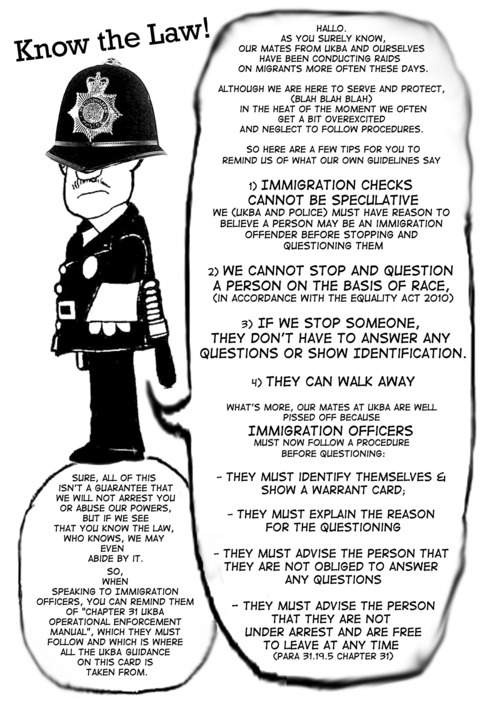 ------------------------------------
Did Liam Fox plan deportations to hide Tamil genocide?
Phil Miller, Stop Deportation Blog,



5th July 2012: In June 2011 the UK Border Agency (UKBA) resumed chartering aircraft to deport Tamil refugees en masse to Sri Lanka. This policy had been suspended in April 2009 at the height of the civilian massacres by the Sri Lankan Armed Forces.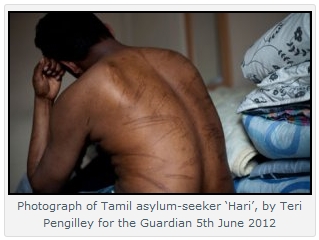 Human rights groups have repeatedly condemned UKBA's decision as evidence mounted that Tamil deportees were being tortured on return.
The controversy culminated in June 2012 when the front-page of the Guardian exposed how a man was tortured for 17 days by Sri Lankan security forces after being deported with 24 others on the first in this series of five charter flights.
This shameful charter flight program has made a mockery of the UKBA's claim that they only return people to Sri Lanka who have "no international protection needs".
But accusing the UKBA of negligence misses the reason why these flights resumed.
The real story is that Britain's disgraced ex-defence secretary Liam Fox set up these deportations in collusion with the Sri Lankan regime, bolstering its international credibility and silencing dissent in the Tamil diaspora to hide their ongoing genocide, war crimes and crimes against humanity......more