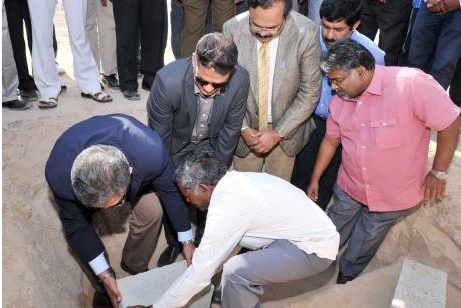 The Indian consul general Sanjay Verma (from left) and the Indian Association Sharjah members lay the foundation stone for the new crematorium in Sharjah.
COURTESY PIX SUPPLIED BY KVA SHUKUR FROM THE INDIAN ASSOCIATION SHARJAH
Dec 28, 2011-DUBAI // Hindus in Sharjah will be able to observe last rites for their dead when the emirate's first crematorium is completed by the end of 2012.
This is the fourth crematorium to be built for Hindus and Sikhs. However, expatriates had not been allowed to cremate or bury their dead at facilities in emirates where they did not have a residency visa. That restriction has now been partially lifted in Dubai.
"A crematorium has been a longstanding need," said Nissar Thalangara, secretary of the Indian Association Sharjah. "Earlier a dumping yard was used in the emirate for burning and we strongly felt the need for a better place for families to cremate bodies in a more dignified manner."
Officials estimate that more than 350,000 expatriate Indians live in the emirate. In 2010, 1,332 Indians died in the UAE. This year, between January and October, 1,053 died.
Ten acres of land in an industrial area were gifted to the Indian Association Sharjah by Dr Sheikh Sultan bin Mohammed, Ruler of Sharjah, for the purpose of building the crematorium. Although land was gifted to the community three years ago, officials say approvals and permits only came through recently, and the first phase of building began last month.
Known as the Hindu Sikh Crematorium, it will cost more than Dh9.5 million to build. When complete, it will house two incinerators that each can cremate up to three bodies a day.
A separate burial ground will also be allotted within the facility for children below the age of five to be buried according to Hindu customs.
Mr Thalangara said funeral grounds in the UAE were used mostly by Indians who had lived in the country for several years and had family here, and blue-collar workers whose relatives could not afford to repatriate bodies home. In case of accidents, where the body is disfigured and cannot be shipped back, cremation must be completed here.
The oldest crematoriumis in Dubai. It opened more than 65 years ago, followed by a second in Abu Dhabi a decade ago and another multi-faith facility set up earlier this year in Al Ain.
Cremation in Dubai initially took place in Bur Dubai. It was then moved to three other locations before being established in Jebel Ali almost a decade ago, said Vasu Shroff, a committee member of the New Sonapur Hindu Cremation Ground in Jebel Ali. Other communities also use the facility, he said.
Between eight to 12 cremations - mostly of Hindus - take place every month at the Dubai facility.
Cremation costs about Dh3,500, whereas shipping the body back can be twice as expensive. This includes the cost of a ticket for the accompanying passenger.
"It is definitely cheaper to cremate here," said Vivian Albertyn, managing partner of Middle East Assistance. His company facilitates cremation in Dubai and repatriation to different countries including India after completing local formalities, at an additional cost of about Dh3,500.
"Repatriation charges largely depend on the weight of the person and the coffin used," said Mr Albertyn, adding that the cause of the death also determined rates, as it would mean completing more formalities.
When a body is cremated here, the time spent obtaining clearances from various government departments is also considerably reduced. The committee that overlooks the Dubai facility often reduces or waives charges for workers. But social workers say the exorbitant repatriation costs may not always be a deterrent.
"People want to be buried or cremated wherever they have relatives, that is the most important thing for them," said Sarvotham Shetty, former president of the India Social Centre. "It's not a question of money or whether it's more expensive to cremate here or send the body to India. If the person has relatives in India, they will want the body back at any cost but when the entire family is here, then the UAE will be their choice."
Contacts:

[email protected]
[email protected]