Turban Inc.: Enterprising Sikhs design goods to embrace contemporary culture, stay true to religion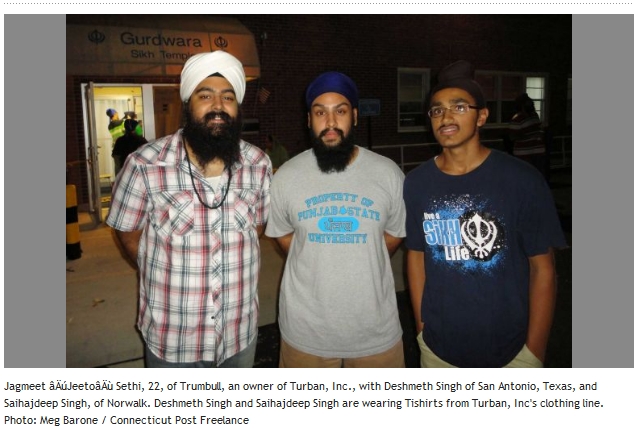 August 15, 2012 :
Followers of Sikhism, the world's fifth-largest religion, have no ability to blend into American society. From their teen years, males wear turbans, which are often incorrectly associated with Islam.
Three enterprising Sikhs came up with a line of clothing and accessories that allow young Sikhs, which originated in northern India, to embrace their religion while still fitting in to contemporary culture. Jagmeet "Jeeto" Sethi, 22, of Trumbull, Karandeep Singh, 21, and Jasjeet Singh, both of Seymour, established Turban Inc., in 2008. Karandeep and Jasjeet share a last name, but are not related.
They take pop culture references and give them a Punjabi twist for their products. Turban Inc. started with T-shirts but Sethi and the Singhs have expanded the line to include hoodies, jackets, sweatpants, shorts, turbans, iPhone cases, posters, necklaces and wrist bands, that latter of which are emblazoned with the message "I (heart) turbans."
Ninety-nine percent of its business is online. They opened an office in Ansonia recently to ship orders.
Several motivating factors led them to establish Turban Inc.
"We need a company that portrays our religion in a positive way, especially after 9/11," Sethi said. "A lot of Sikh boys and men were discriminated against after 9/11 because people thought they were Muslim or terrorists. Even without the discrimination, Sikhs often struggle with identity. We are first-generation Sikhs in America. We're like a lost generation. Anyone here says I'm Indian, but in India people say I'm American. We're trying to make something so that Sikh boys and girls can show that they are proud of being Sikh, and give those kids an identity ... We're trying to blend into (American) society without losing our roots."
There's a small Sikh population in Connecticut, only about 60 families, Sethi said, but worldwide 25 million follow the faith.
"There is a need to identify with their faith and culture, and feel comfortable with who they are ... They are saying to the world around them `This is who we are.' It's empowering children," said Inni Dhingra, a Sikh poet and diversity trainer from Fairfield.
Turban Inc. also includes www.myprintingbuddy.com. People can bring their own ideas to the company for printing.
Turban Inc. is on Facebook, Twitter, Instagram and YouTube.