13 Dec 2010, AMRITSAR: First time in the period of more than two and half decades Chief of the Army Staff General Vijay Kumar Singh today along with his entire family members reached in the holy city to pay obeisance in the sanctum Sanctorum of Harmandhar Sahib popularly know as Golden Temple a well renowned Sikh shrine located in the northern city of Amritsar.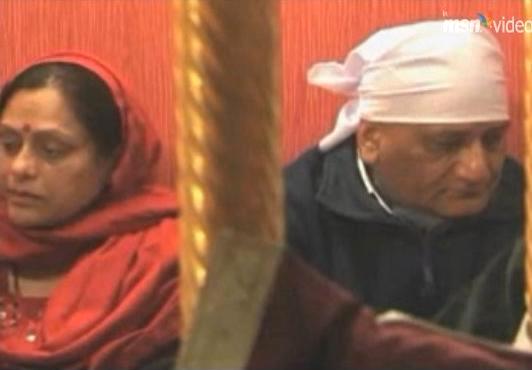 General Vijay Kumar Singh during his visit has given his personal remarks in the visitor book of the Golden Temple as "A visit to express faith and for thanks giving. May this Grace showers His blessings overall. My sincere thanks to all who looked after us during this visit".
Talking to media General said, "I was here to pray before the Almighty for the well being of Indian Nation and Indian Army. To come in this holiest Place Golden Temple was long pending wish of my and my family", said adding that Youth of Indian nation should love to their nation in order to enhance devotion towards Indian Nation.
General also paid obeisance at the holy Akal Takht (highest Sikh temporal seat) which was once in 1984 was raised to ground during the 'Operation Blue Star' when Indian army attacked to flush out the hiding militants inside the Golden Temple premises.
General before his visit, on Friday in the Golden Temple had organized Akhand Path (uninterrupted recitation of holy Sikh Book Guru Granth Sahib) and today it was a bhog ceremony (concluded day of the holy recitation).
General was here along with his wife, daughter, son -in-law and her family to attend the Bhog ceremony of Akhand Path.
According to the Information officer of Golden Temple Gurbachan Singh, General had organized Akhand Path for thanks to Almighty after assuming his office as Chief of the Army Staff. The visit of the Singh was here in Golden Temple was purely personal visit, stated Gurbachan Singh.
Gurbachan Singh said that General has spent almost one hour in the Golden Temple. During his visit General was given Siropa (robe of honour), set of Sikh religious books and replica of Golden Temple in the Information Centre of Golden Temple.
According to Army Authority General after the Golden Temple visit left the city and went back along with his family members.
Visit of General Vijay Kumar Singh was kept secret, only top police officers and army authority was aware of his visit in the city.
Earlier, General A. S. Vaidya the then chief of the Army Staff has visited in the Golden Temple with the then former Indian Prime Minister Indra Gandhi in 1984 after the few days of Operation Blue Star at Golden Temple to take stock of the situation.
After the visit of General A. S. Vaidya, no chief of the Army Staff had visited Golden Temple.
However, on June 1984 Indian Army was ordered to remove Sikh separatists from the Golden Temple in Amritsar. The separatists led by Jarnail Singh Bhindranwale were accused of amassing weapons in bulk quantity in the premises of Golden Temple.