Cheapest tablet Aakash-2 to be made in Amritsar
Amritsar, September 10: The first manufacturing unit of Aakash, the world's cheapest net access and computing tablet device, as well as the headquarters of Datawind, the maker of the device, in India will be established in Amritsar. This was revealed by Datawind CEO Suneet Singh Tuli during his recent visit to the holy city.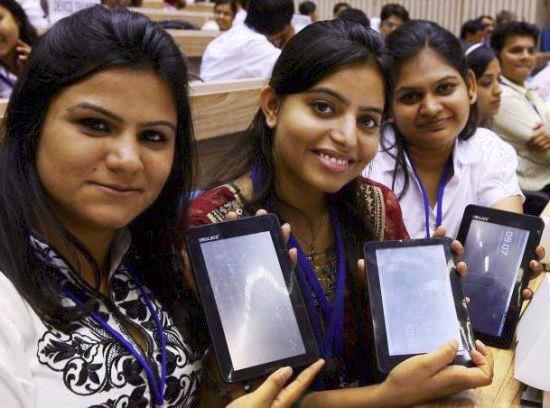 Tuli said he had decided to set up the first unit in Amritsar as it was the holiest place for Sikhs across the world. He said it would be among the company's five manufacturing units in India where Aakash tablet, a slim scanner and other devices would be manufactured.
Tuli also disclosed that the latest version of the tablet Aakash-2 would be launched soon. "It has double the capacity as compared to the earlier version with 512 MB RAM, 4.5 Android OS and 4 GB capacity, besides a camera. It is equipped with applications like science encyclopaedia, Krish Villa for farmers, internet calling, video chat and weather forecast. It will also be used as a mobile phone by inserting a SIM card".
He said the company would be supplying one lakh Aakash tablets to the Union Government by October-November this year at a cost of Rs 2,263 each. Its price in the open market would be Rs 3,700-Rs 4,500 for which the company had already received orders for 38 lakh tablets, he said.
Tuli said countries like Sri Lanka, Thailand and Turkey had also evinced interest in Aakash and talks were on to export the device to these countries. He said with Aakash, people from every section of society would have access to computer and the internet. "As per TRAI figures, 90 crore people in India use mobile phones, but only 1.3 crore have access to the internet. On the contrary, 80 per cent of the US population uses the internet," he said.
The CEO said Datawind had also come out with the smallest scanner which was among the 30 devices invented by the company.
Aakash-2 soon
Will have 512 MB RAM, 4.5 Android OS and 4 GB memory
It will be equipped with applications like science encyclopaedia, Krish Villa for farmers, internet calls, video chat and weather forecast
It will also be used as a mobile phone by inserting a SIM card
Its price in the open market will be Rs 3,700-Rs 4,500