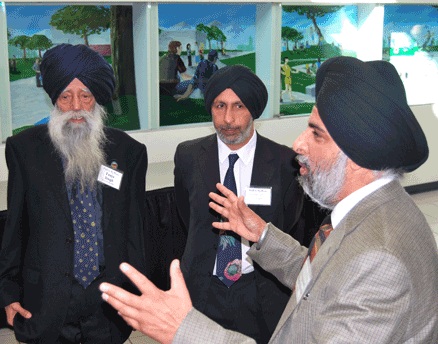 Centenarian runner Fauja Singh (left)

ORANGE COUNTY, Calif.: Two of Orange County's centers of higher learning were on a "tornado" watch as centenarian marathoner Fauja Singh stormed through the campuses of California State University, Fullerton, Nov. 17 and Chapman University Nov. 18-20 to meet with students and his fellow Sikhs.
Affectionately known as the "Turbaned Tornado," Singh arrived in Orange County from London and made his first stop at the Cal State campus in Fullerton, where he served as chief guest and keynote speaker of the OC Human Relations 23rd Annual "Walk In My Shoes" Student Leadership Conference.
The following day, Singh traveled to Orange, where he served as chief guest of the SikhLens Sikh Arts and Film Festival at Chapman University's Dodge College of Film and Media Arts (see separate story).
At both events, Singh, who first laced up his running shoes at the age of 89, told his heartwarming story as the world's oldest marathoner. At age 100, Singh recently completed his ninth 26.2-mile race at the Scotiabank Toronto Waterfront event in Canada. He is also a candidate to be a torchbearer at the 2012 Summer Games in London.
Singh humbly stated that pounding is foot to the ground is a cathartic experience.
"After my wife and one of my sons wife passed away in India, I was kind of lost," Singh explained in Punjabi to India-West through Dr. Gurpreet Singh Ahuja.
"I had come from India to England to settle down with his family. At that point, I started running to start energizing myself and find inspiration. Then, someone suggested I run a marathon…and I decided to do it."
Relocating to live with his other children in Canada and England, Singh finally settled in London. There, he routinely took walks around the neighborhood, but soon walking turned to running.
Singh then used his newfound love for running to raise money for a cancer fund. The rest is history.
"As a centenarian marathon runner, Fauja Singh's infectious enthusiasm for life, running, and healthy living is a model for all of us," Ahuja, an Indian American OC Human Relations board member and medical staff president at Children's Hospital Orange County, stated.
"Sardar Fauja Singh runs because he loves it and because he can add his indomitable spirit is one that we want our youth…to see and emulate as motivation to move beyond barriers in their own lives."
Ahuja added that Singh donates most of his running income to charity and participates in each race for the purity of sport and personal enjoyment.
"His needs are very limited. He is at the gurdwara every day. He eats one roti there, and he eats one roti at home every night. He doesn't drink alcohol or any other vices," Ahuja told India-West. "Whatever money he has of his own, he tends to give away because he has more than he needs."
Singh overcame several barriers en route to becoming an inspirational marathoner. From an inability to walk before the age of five to witnessing the losses of his wife and eldest son later in life, Singh turned to running to maintain health, perspective and positivity.
The records Singh has set includes the world mark for men's over-90 marathon (five hours and 40 minutes) and standards set in runs of 100m, 200m, 400m, 800m, 1500m, one-mile, 3000m and 5000m.
"He's probably my best student," Singh's London-based trainer Harmander Singh told India-West. "He's always keen to learn anything I suggest, running techniques, breathing techniques or even training."
Singh will find out in December whether he will be an official torchbearer for the 2012 Games, his trainer added.
In addition to speaking at the "Walk In My Shoes" Student Leadership Conference, Singh was a central figure at the Sikh Arts and Film Festival in Orange. There, he was the event's opening ceremony chief guest, served on a panel and was the subject of Khushwant Singh's 10-minute biography documentary "Turbaned Tornado" and Nina Dutta Roy's 11-minute portrait "Nothing Is Impossible." ----------------
Rusty Kennedy, Executive Director. OC Human Relations, commented thus:

A hush fell over the crowd of 500 plus middle and high school students when Fauja Singh took the stage. Even through a translator he was able to hold the rapt attention of these young people, enriching their understanding and appreciation for the Sikh community. It was our honor to have Fauja address our 22nd student symposium, Walk In My Shoes.

Rusty Kennedy