Wed Jan 19 2011: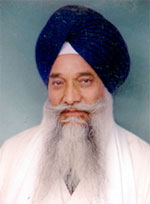 Akal Takht Jathedar Giani Gurbachan Singh today said his predecessor Giani Joginder Singh Vedanti should show restraint on the subject of Nanakshahi Calendar. Gurbachan Singh took exception to Vedanti's remarks about the calendar made on Monday.
The Jathedar said Vedanti himself had been on the supreme 'temporal seat of Sikhs' for long and must be well-versed in the Sikh Maryada (code of conduct) and should abide by the same.
In a written statement issued here, Jathedar Gurbachan Singh said Jathedar Vedanti had violated the Maryada by releasing the Calendar in defiance of the Takht, which does not behove him. "You had been on the post for eight long years and know about the Sikh Maryada," wrote Jathedar Gurbachan Singh, adding that no arbitrary 'amendments' were made in the calendar, only some 'improvements' were made as per the wishes of the Sikh Sangat.
"All decisions from the Takht are taken after consultations with the jathedars of five Sikh Takhts, keeping in mind the larger interests of the Panth," he said, adding that Jathedar Vedanti's statement on the issue that only the original version of the Calendar should be followed has no significance as he is no more on the seat of Jathedar. "After retirement, any judge cannot pass any judgment," Gurbachan Singh said, adding that Vedanti should not give any statement on the matter and create doubts in the minds of the people over the issue.
Jathedar Vedanti had flayed the 'amendments' made in the Calendar yesterday saying the same were leading to confusion over dates of Gurpurabs and other Sikh historical days. He said it was during his tenure as jathedar that the Calendar was adopted in 2003 following prolonged debates within Sikh society and any changes made were 'useless'. Jathedar Gurbachan said that the originality of the Calendar has not been tampered with. "The improvements in the Calendar were made after an 11- member committee of experts made suggestions," said the Jathedar.