May 24, 2012 - AMRITSAR: There seems to be no end to confusion within the Sikh community over observing days with religious importance despite adoption of Nanakshahi Calendar (NC) since 2003 to fix dates of Gurpurabs and other religious festivals, which otherwise used to be celebrated according to traditional Bikrami calendar.
Now the community is widely divided over observing the martyrdom day of Guru Arjan Dev, the fifth Sikh master. While Shiromani Gurdwara Parbandhak Committee (SGPC) has announced to observe the martyrdom day on May 25, other Sikh organizations including those outside India have decided to observe the day on June 16, according to the Nanakshahi calendar.
SGPC president Avtar Singh Makkar told TOI on Wednesday that every Sikh should honour the directives of Akal Takht, according to which the martyrdom day of Guru Arjan Dev should be observed on May 25. He said a few Sikh organizations were bent upon violating directives of Akal Takht for their own political and vested reasons. Other Sikh bodies, including Delhi Sikh Gurdwara Management Committee, Pakistan Sikh Gurdwara Parbandhak Committee (PSGPC), American Gurdwara Parbandhak Committee, and Dal Khalsa among others, would observe the martyrdom day on June 16.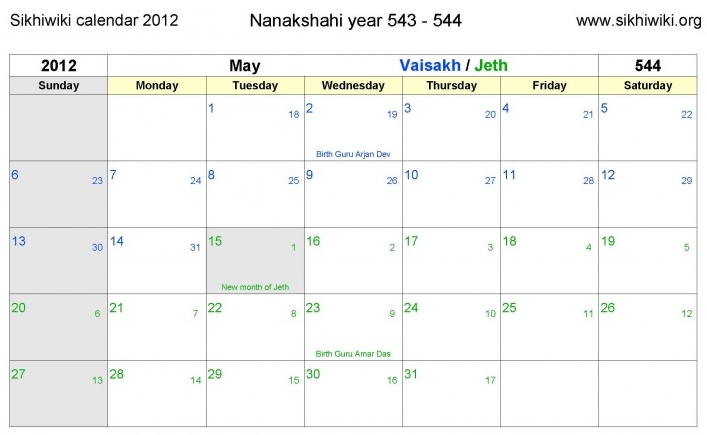 Recently the Pakistan high commission had denied visa to all 320 devotees undertake pilgrimage to Pakistan under the aegis of SGPC to observe the martyrdom day on May 25. Though the Pakistan high commission did not give any reason for denial of visa, it is believed that visas were refused because PSGPC would observe the martyrdom day on June 16 and not on May 25.
Following objections by various Sikh quarters, the Akal Takht In January, 2010, had approved the amendments in the Nanakshahi calendar, giving its stamp to observe certain 'parkash' (birth anniversary) and 'jyoti jyot purabs' (death anniversary) of Gurus according to traditional Bikrami calendar as they used to be observed before 2003.
And the amendments were also published in the 2010-11 Nanakshahi calendar published by SGPC. The amendments were made on the recommendations of a two-member team comprising SGPC president Avtar Singh Makkar and chief of Gurmat Sidhant Parcharak Sant Samaj Harnam Singh Khalsa on the suggestion of a 11-member committee. The two member committee had decided that the birth and martyrdom day of Guru Gobind Singh, death anniversary of Guru Arjan Dev, coronation (Gurta Gaddi Diwas) of Guru Granth Sahib and "sangrand" (beginning of every month) would be observed as per the traditional (Bikrami) calendar.
Dal Khalsa spokesperson Kanwarpal Singh said that the issue would have been resolved had the jathedar of Akal Takht not been party to it. "If the jathedar had maintained neutrality in the issue there would have not been any confusion in the community regarding religious days," he said. He demanded that the Akal Takht should hold a meeting of Sikhs groups favouring and opposing amendments so that the community didn't have to face embarrassment as had happened this time when the Pakistan government hurt religious feelings of Sikhs by denying visas to them.