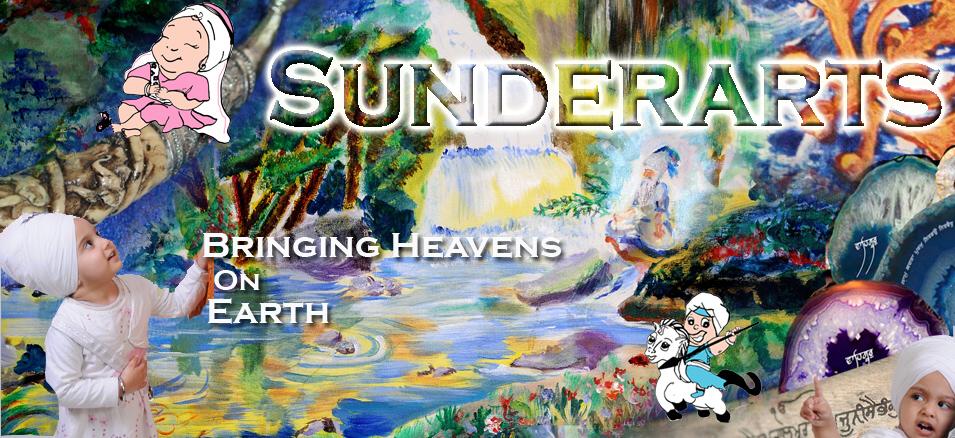 Art is the most beautiful manifestation of the divine, where infinite perceptions and view points are experienced, a reality often unseen by the human eye ...  where illusions end and miracles start.

More and more people are awakening to this magic, because once you start the search for God or better for your true self; you cannot overlook the nature of beauty.

 Where beauty is not? Where Vaheguru is not? It`s a journey of colours, perceptions, shadows and light..... and that`s when we become imbued with the Naam...

Italian born Gursunder Kaur spiritual artist & husband Kulwant Singh digital artist have got together with fellow like minded souls in the UK to set up a very unique and needed niche of craftsmanship.

Their goal is not the end profit or the product, but something very unusual, a deep level of satisfaction that comes with connecting with other souls. This is because the whole process starts from The Creator and it ends to the Creator. Always opting for Fair trade, Sustainable Eco friendly resources, to support and improve humanity and mother Earth.

This was the conceptual birth of Sunder Arts, set to make a revolution of creativity with their paintings, wall art, bespoke engraved items ranging from wooden plaques of Thailand to delightful crystals from Brazil and Madagascar.

Each of their pieces is handled individually and personally with no particular technique.........." just" Love...

To see and experience all this come take a look at their new website and online gallery!