Photos of Bradford's Sikh Unity Camp...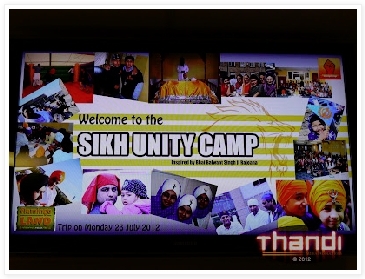 On Saturday 21st July and Sunday 22nd July, Singh Sabha Gurdwara Bradford held a weekend family camp under the banner of 'Sikh Unity Camp'. The inspiration behind organising the camp was Bhai Balwant Singh Rajoana and his call for unity of Sikhs under the Kesri Nishaan Sahib and Sri Guru Granth Sahib jee. Both myself and Bhai Vijay Singh felt that this camp was one of the most enjoyable Gurdwara based weekend camps we have been to. The camp atmosphere was packed of energy, the organisation was done brilliantly and the children behaved exemplary.
There were five zones in the camp in which campers rotated in. The zones were: History Zone, Spiritual Zone, Open Zone, Inspiration Zone and Warrior Zone. Bhai Sahib Bhai Surjit Singh did classes for parents and adults in the main Darbaar Sahib. In the History Zone Bhai Jatinder Singh (Bradford) and another Veer Jee went through Sikh history from 1947 to the present day, summarising key events which impacted on the Sikh nation. In the Spiritual Zone, Bibi Angad Kaur Khalsa (London) and Bibi Sangeet Kaur (Leeds) did relaxation exercises (yoga), Simran and chanting of Gurbani. In the Open Zone, Bhai Vijay Singh (Luton) did an open questions and answers session. In the Inspiration Zone, Daas, Bhenji Kiran Kaur and Bhenji Bulbinder Kaur looked at the power of Mool Mantar and how Gurbani can change people's lives and a reflection on Bhai Balwant Singh Rajoana's Sikhi message.
Below are some photos and videos of the camp:
| | |
| --- | --- |
|      Singh Sabha Gurdwara Bradford |      Keertan |
|      Ardaas |      Hukamnama |
|      Langar Sewadaars |      Langar |
|      Nursery Creche |      Doing Simran |
|      Inspiration Zone |      Spiritual Zone |
|      Nursery Creche |      Group Photo |

Spiritual Zone

Parents Class

Saturday Night Keertan

Sikh Unity Camp 2012, Singh Sabha, Bradford

Khalsa Camp (UK) 2012 Highlights...
Dhan Hai Guru! Dhan Hai Teree Sikhee!