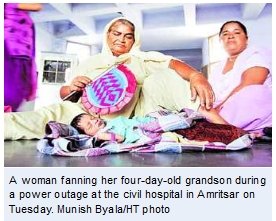 Amritsar, August 01, 2012: With power failure hitting the region for the second consecutive day as more than 20 states in the country suffered a blackout when three power grids collapsed on Tuesday afternoon, the district too bore the brunt of the outage. Though power supply was restored in the evening, several trains running between Delhi and Amritsar were affected.
The Delhi-Amritsar Shatabdi Express, which arrives at Amritsar at 1.10 pm was late by around two hours and reached here at 3.30 pm. It remained stranded near Beas for more than an hour due to power failure.
A diesel engine pulled the train to Amritsar, sources said.
The Shan-e-Punjab, which is one of the most popular train among those travelling on the Amritsar-Delhi route, was stranded between Jalandhar and Amritsar due to power failure. It usually arrives at the Amritsar railway station by 2.20 pm, but was delayed by one-and-a-half-hours on Tuesday. A diesel engine was pressed into service to bring the train to Amritsar. The delay caused a lot of inconvenience to passengers.
Long queues of passengers, most of whom were waiting for Shan-e-Punjab and other trains, were seen at the railway inquiry. A chaotic situation prevailed at the station as passengers were seen whiling away time on platform number one. "We are feeling suffocated as there is no electricity and the heat is unbearable," said Manohar Singh, a passenger.
The power cut also affected services in government hospitals. While the health authorities claimed that the emergency services functioned with the help of generators, a visit to various government hospitals revealed that these services were not up to the mark in the absence of electricity. Only half of the utilities were found operational in the local Civil Hospital.
Services in other government hospitals remained completely non-functional in the absence of power supply. The attendants of patients were seen lolling restlessly in the corridors as fans remained off.
"We are having a tough time in this heat as there is no electricity. We have no choice, but to bear with it. The heat must be hard to bear for patients," said Manjeet Singh, an attendant. Civil surgeon Dr Hardeep Singh Ghai said though a few services were affected due to the power cut, the emergency services remained normal. "The emergency services were not affected in any hospital, though air-conditioners and generators in some wings stopped working. As it was a holiday, major operations remained unaffected," he said.
The blackout also revived locals' fears of going without power for a couple of days. People were again seen making phone calls to their kin urging them to store water to avoid a shortage in case power cuts persist longer. "When electricity goes off, water supply, too, remains suspended. It's advisable to store water in advance to prepare for such a situation," said Maninder Kaur, a city resident.