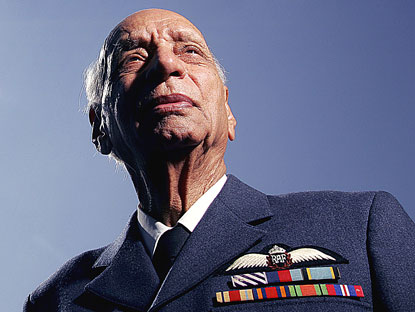 London, 3 Nov: The BBC will be screening an important documentary showing the recent contribution of Sikhs in fighting tyranny in two World Wars and other conflicts. Poignant scenes show the heroism and suffering of Sikhs fighting in the trenches in Europe in World War 1 and Sikh soldiers being welcomed as heroes in France, a country that now denies Sikh children the right to wear a turban in schools.
The Programme is dedicated to the memory of another war hero, the late Squadron Leader Mahinder Singh Pujji whose exploits in the air earned him the Distinguished Flying Cross. Mahinder Singh who was a popular figure in London during the second World War, sadly passed away a few weeks after filming and in his memory, the BBC have provided his family a DVD of his many appearances in the media.
The Sikh obligation to stand up to tyranny comes through strongly in the program as does the love hate relationship between the British and the Sikhs from the Anglo Sikh wars to the partition of the subcontinent. Footage includes a scene from the Jallianwalla Bagh massacre.
The Program, made with advice from the NSO, should be watched by Sikhs and non- Sikhs alike to recognize and appreciate the contribution of Sikhs to fighting tyranny and as inspiration to Sikhs in the world of today.
The Programme will be screened on BBC1 during Remembrance Week on Tuesday 9th November at 11.20 pm.