Amritsar , March 27, 2012: Rejecting Balwant Singh Rajoana's appeal for reviewing the 'zinda shaheed' (living martyr) status, the Akal Takht said the title would stand against the name of the Babbar Khalsa militant.
The decision to reject Rajoana's appeal was taken at a meeting of the Sikh head priests here on Monday. The meeting was attended by Akal Takht Jathedar Giani Gurbachan Singh, Takht Keshgarh Sahib Jathedar Giani Tirlochan Singh, Takht Damdama Sahib Jathedar Balwant Singh Nandgarh, Takht Patna Sahib head Giani Iqbal Singh and head granth of Takht Hazoor Sahib, Nanded, Giani Partap Singh.
Addressing the media later, Giani Gurbachan Singh issued a stern warning to various Panthic groups that have given a call for Punjab bandh on March 28 and have also announced to take out protest marches from the three Takhts in Punjab to Patiala on March 29 and 30.
"The programme issued by the Akal Takht in its March 23 hukamnama (edict) is final. The entire Sikh community must abide by it as Rajoana belongs to the entire community and not to any particular group or party," he added.
He again called upon Sikhs to sport kesri (saffron) turbans or dupattas on March 28 and hoist the kesri flag atop houses or on the front of their vehicles to show their resentment against the denial of justice to the community.
He said members of the community should halt their routine work and offer prayers for the chardi kala of Rajoana on March 28. He again appealed to Sikhs to remain calm and not to disturb the peaceful atmosphere.
"We will issue a fresh schedule of progammes if the hanging is carried out on March 31," said Giani Gurbachan Singh.
For a detailed reading of the Akal Takht's edict issued on the 23rd March 2012 pls visit : Source
---------------------------------

Will Balwant Singh Rajoana be hanged on Saturday? 10 big developments
NDTV Correspondent Source

March 27, 2012 - New Delhi: The Punjab government has said that it will not allow the hanging of Balwant Singh Rajoana on Saturday at a Patiala jail. Mr Rajoana was sentenced to death by a special CBI court in Chandigarh for his role in the assassination of former Punjab Chief Minister, Beant Singh in 1995. Rajoana, as per a court order, is to be hanged on March 31 at Central Jail, Patiala.

Here are 10 big developments in this story:

1) Officials at the Patiala Jail had told the court they could not hang Mr Rajoana on Saturday. They pointed out that a mercy petition for Mr Rajoana, as well as another man convicted in the same case, are pending with the President of the country. However, the court in Chandigarh has ordered the jailor to conduct the execution on Saturday, and has sent a contempt of court notice to the superintendent of the prison.

2) The state government says it will file an appeal in a higher court to stop Saturday's hanging.

3) Mr Rajoana has attacked the Punjab government for trying to save him. In a letter released today from prison, he described the Akali Dal, which is in power in Punjab, as "cheaters." He said the party has not fought to get justice for the Sikhs who were killed in the Delhi riots in 1984 after Indira Gandhi was assassinated by her Sikh bodyguards.

4) Yesterday, the Shiromani Gurdwara Parbandhak Committee or SGPC, which functions as a parliament of Sikhs, sent a mercy petition to President Pratibha Patil for Mr Rajoana. It allegedly cites 11 other similar cases where the death sentence was commuted.

5) The Sikh clergy has said the state government must fight to save Mr Rajoana. The Akal Takht, which is the highest temporal seat of Sikhs, has conferred the title of "zinda shaheed" or living martyr conferred on him by Sikh high priests. Mr Rajoana has said he does not want this title.

6) Mr Rajoana was awarded the death sentence for the assassination of Beant Singh in 2007 by a Central Bureau of Investigation (CBI) special court. Beant Singh who was the Chief Minister of Punjab from 1992 to 1995 was largely credited with wiping out terrorism from Punjab. He was assassinated by a human bomb, Dilawar Singh, at the high security Punjab civil secretariat in Chandigarh in August 1995. Mr Rajoana was to serve as a back-up human bomb.

7) The assassinated Chief Minister's family has also stated that it has forgiven Mr Rajoana and would like his death sentence to be converted to life imprisonment.

8) A man named Jagtar Singh Hawara was described by the court as the mastermind of the assassination plot and was sentenced to death but his punishment was later commuted by a different court.

9) The campaign to prevent Mr Rajoana's execution has turned into an emotional issue in Punjab. As the scheduled date of execution approaches, security in the state has been increased.

10) The execution can be stopped if the President of the country or the Supreme Court intervenes.


Don't plead to save me from gallows, Balwant Singh Rajoana tells Akalis
PTI Source

27 Mar, 2012 - PATIALA: With four days left for his scheduled hanging, death row convict Balwant Singh Rajoana today snubbed the ruling Akali leadership asking them not to save him from the gallows, claiming they were pushing for a pardon out of fear of losing support of Sikhs.

Punjab police and paramilitary forces conducted flag marches across the state apprehending violence if the execution of Rajoana convicted in the assassination of former Chief Minister Beant Singh is carried out.

Various Sikh organizations have given a bandh call in Punjab tomorrow in view of the expected hanging of Rajoana who has neither challenged his conviction nor filed any mercy petition. As per a court order, he is scheduled to be hanged on March 31 in the Patiala Central Jail.

In his latest letter released to Sikhs from the Patiala Jail, Rajoana said, "I don't need any help from blue-turbaned Akali leaders, who have not done anything so far to secure justice for Sikhs. Akali leaders have started speaking up now as they fear that if they don't, they will lose their support." He also called the Akali leaders as "cheaters".

Punjab Chief Minister Parkash Singh Badal yesterday said his government would support the SGPC petition sent yesterday to President seeking conversion of Rajoana's death sentence to a life term. The SAD patron also said he would meet the President and the Prime Minister to seek their intervention in saving Rajoana from the gallows.

The Centre sought to steer clear of the Rajoana clemency issue, appearing unwilling to intervene with Law Minister Salman Khurshid saying neither it nor the state government "can do anything outside the system".

Asked about Akali Dal government's demand for clemency to Rajoana, Khurshid said, "I have also heard it but this is the system, and neither the state government nor the Centre can do anything outside the system that has been put in place. We will have to work according to this."

The copies of Rajoana's letter were distributed by his foster sister Kamaldeep Kaur outside the Central Jail.

Rajoana also wrote that Akali leaders failed to secure justice from Delhi for innocent Sikhs and should not now throw their turbans before Delhi to seek clemency for him.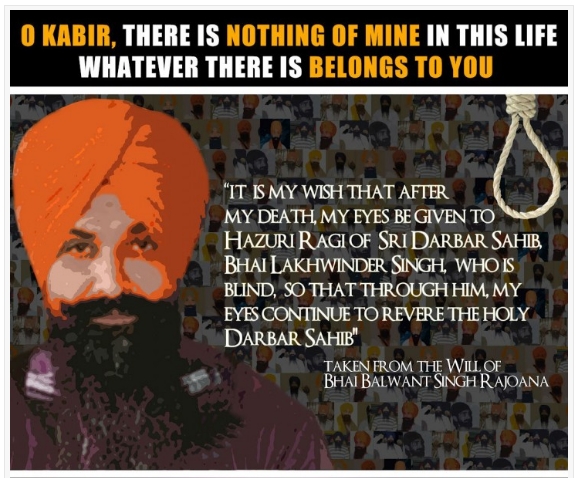 -----------------------
PUNJAB ON HIGH-ALERT AS PARAMILITARY UNITS AGAIN ROLL INTO SIKH HOMELAND
PANTHIC.ORG
http://www.panthic.org/articles/5419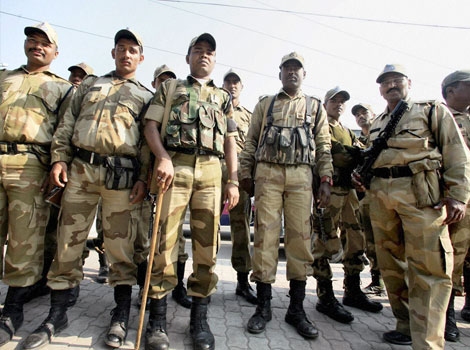 Paramilitary Units Fan Across Punjab
March 27, 2012: CHANDIGARH, PUNJAB (KP) – Security forces across the north Indian state of Punjab have moved into high-alert phase after the ruling Akali-BJP sounded an alarm that 'hard-liners' might try to disrupt peace during the upcoming protests against the execution order for Balwant Singh Rajoanna.
Although the Punjab Government has declined to carry out the execution on the 31st of March, there is still a pending death warrant against Balwant Singh Rajoanna from the Chandigarh and Haryana Courts.
Earlier, an edict in the form of a "sandesh" was issued from Sri Akal Takht Sahib instructing the Punjab Government along with the Shiromani Gurdwara Parbandhak Committee to take all necessary actions including meeting with the President of India to rescind the death warrant and free Rajoanna from prison.
Incidentally, separate parallel programs including marches, and public strikes have been chalked by various Sikh organizations that were not satisfied with the edict issued by the Jathedars on March 23rd.
Punjab Chief Minister Parkash Badal immediately requested several paramilitary units from the central government, stating they were necessary for "law and order purposes."
According to news reports, about 10,000 Punjab Armed Police (PAP) personnel, along with 15 paramilitary companies, have been deployed in various parts of the state.
New report further indicate that following the SOS by the state police to the Ministry of Home Affairs (MHA), 15 companies of CRPF and BSF personnel have been deployed in the state. These armed units have been deployed in Amritsar, Jalandhar, Ludhiana, Patiala and Bathinda. Additionally, 9000 PAP personnel, including commando units have also been assigned.
The Punjab Police, now headed by the notorious DGP Sumedh Saini, who himself is under investigation for kidnapping and murder, stated that they are leaving no stone unturned to ensure that peace is maintained in the state.