Painting Baba Jujhar Singh ji
"I shall die fighting, with my face towards the enemy, with the Naam on my lips and the Guru in my heart." - Baba Jujhar Singh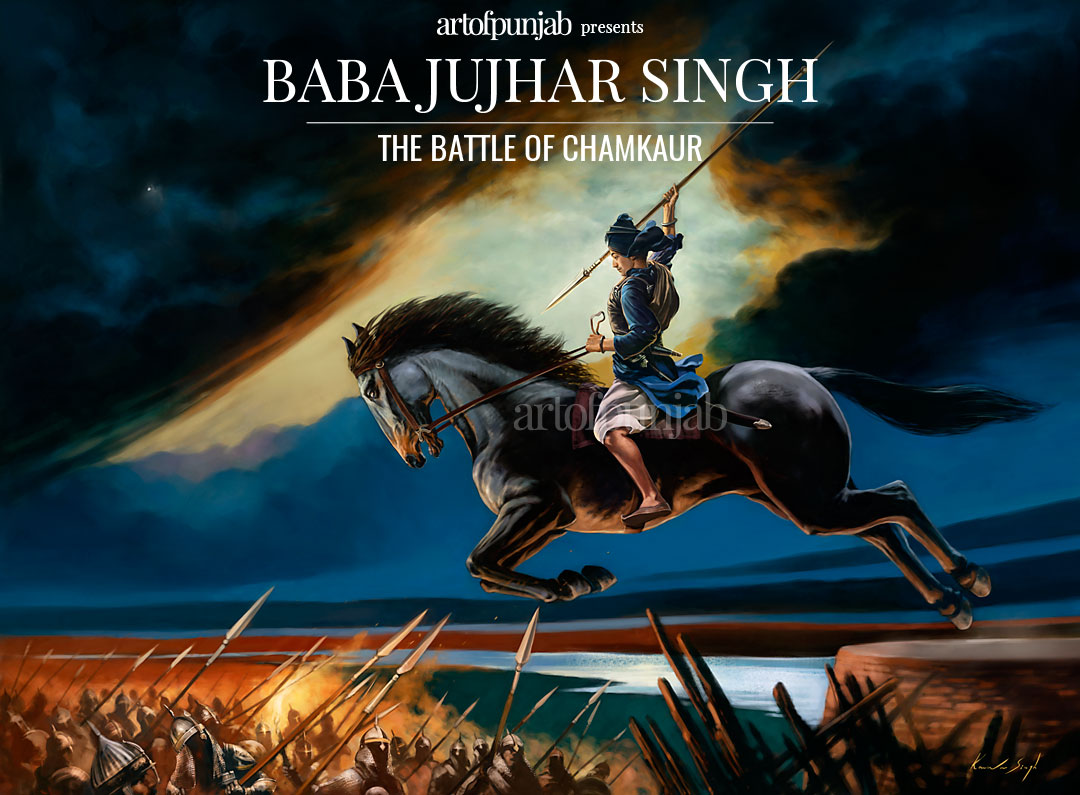 Kanwar Singh, artist of artofpunjab.com is proud to release his latest work, Baba Jujhar Singh at the Battle of Chamkaur. The artist was inspired by these last words Baba Jujhar Singh ji spoke to his father Guru Gobind Singh ji...
On 6 Dec 1705, Guru Gobind Singh, his two son's Baba Ajit Singh and Baba Jujhar Singh and 40 loyal Sikhs defended themselves in a small fort in Chamkaur. A combined army of both Mugal forces and the Hindu Hill Rajas numbering thousands had forced the Guru and his Sikhs to leave Anandpur Sahib. As they ran out of ammunition and arrows, the brave Sikhs inside split themselves into groups of five each and went out one after the other to engage the besiegers in fierce hand to hand combat.
Watching his brother Ajit Singh attain Shaheedi, Jujhar Singh desired to fight in the battlefield as well, even though doing so meant certain death. He asked his father,
"Guru Sahib, permit me, dear father, to go where my brother has gone. Don't say that I am too young. I am your son. I am a Singh, a Lion, of yours. I shall prove worthy of you. I shall die fighting, with my face towards the enemy, with the Naam on my lips and the Guru in my heart."
Guru Gobind Singh embraced him and said, "Go my son and wed the life-giving bride, Death. May the Almighty be with you always." Guru Sahib gave blessings to Baba Jujhar Singh just like a father gives blessings to the bride on the day of her marriage. Guru added,
"I asked my father to give his life for "dharam" (righteousness and justice). Today, what I told my father, I now tell you son."
Baba Jujhar Singh led the last sally towards the end of the day (7 December 1705), and laid down his life fighting near the place where he had earlier seen his elder brother fall. He was just 14 years old when he gave his life for the Sikh faith. Bhai Himmat Singh and Bhai Sahib Singh (two of the original Panj Piarey) along with 3 other Singhs followed Sahibzada Baba Jujhar Singh into battle. The Mughals were shocked at what they saw. It looked as if Ajit Singh had come back.
Creating the Painting
Artist Kanwar Singh painted this image of Baba Jujhar Singh with the singular intension that the solemnity of the words he had spoken to Guru Gobind Singh ji should be reflected in the serenity of his face, imbued with a wisdom which far exceeded his tender age. Amid the clamor of battle, and with death fast approaching, Baba Jujar Singh's face holds neither fear nor rage, simply an aspect of supreme peace which can come only through complete acceptance of Waheguru's will.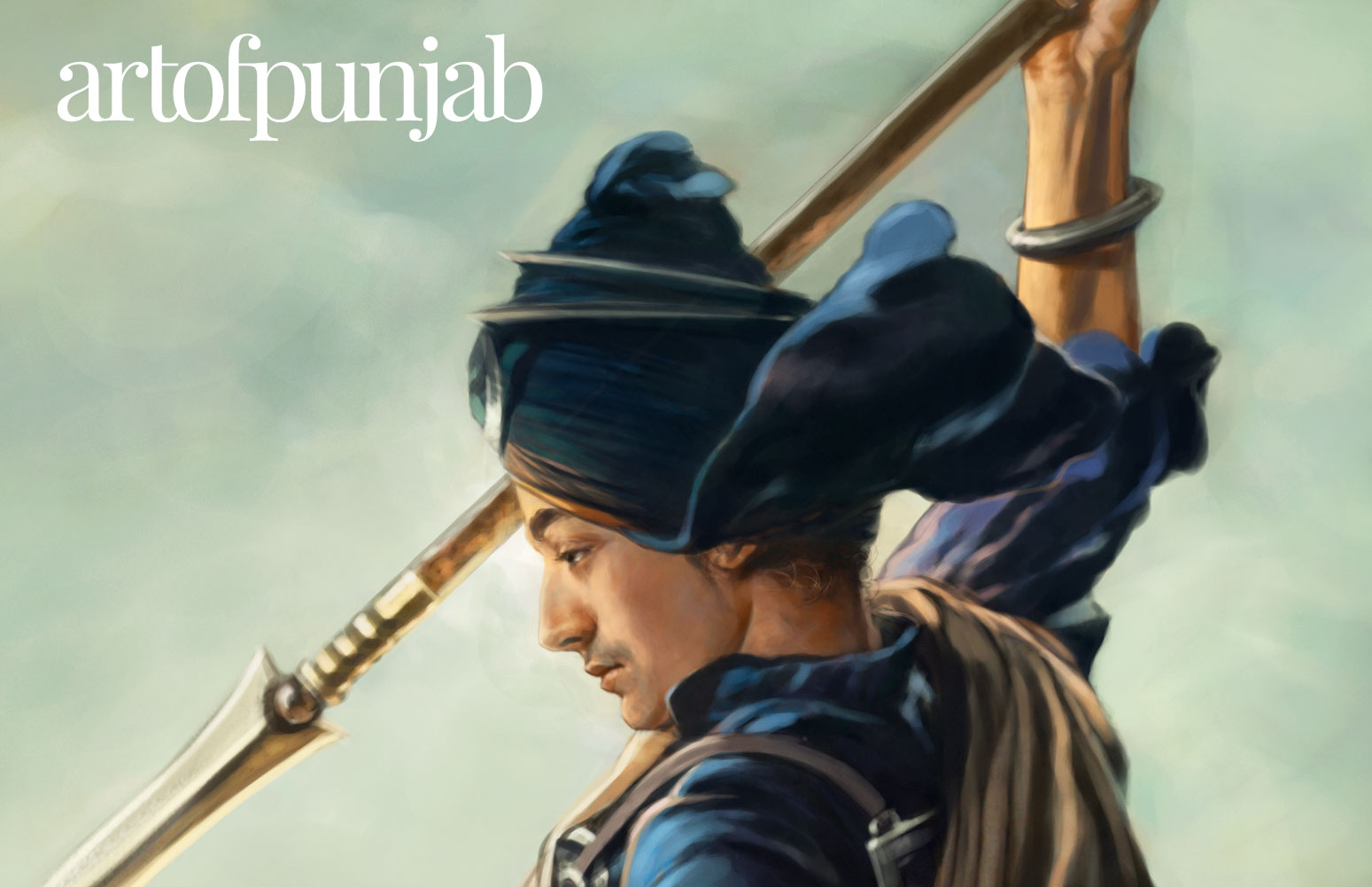 Kanwar Singh created the painting over many months of work, starting with a simple black and white concept which had struck him and slowly shaped this with his gift for envisioning colours and dramatic expression into a painting of epic grandeur. One key feature is the way the moon breaks behind him, shaping the clouds and light in the aspect of the Kirpan. It emphasizes the might of his will and the correctness of his actions, as if nature itself lends strength to his thrust.
The artist is currently working on a year long exhibition titled, Gobind 350 which centers on the life and legacy of Guru Gobind Singh ji and those brave Sikhs he raised to greatness through his inspirational spirit. The new painting of Baba Jujhar Singh is one of four which focus on Guru Gobind Singh's famous battle at Chamkaur. Kanwar Singh has committed himself to unveiling a new painting every month of this year as the world-wide panth celebrates the 350th year of Guru Gobind Singh's birth.