Arming the Weapon of Knowledge
Loading the Weapon of Knowledge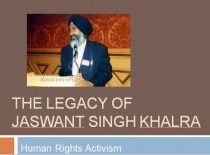 San Antonio— Over the weekend of June 3-5, Sikh Research Institute (SikhRI) staff presented eight events in Ontario and Virginia to commemorate significance of the attacks of 1984 to Sikhs, and to bring Sikh communities together in celebration of their linguistic and cultural heritage, and their future.
In Fairfax, Virginia, Jasmine Kaur, Director of Education, and Harliv Kaur, a curriculum developer for SikhRI, facilitated several workshops for families. In addition to the popular "Getting to Know Vahiguru" workshop with Jasmine Kaur on Saturday, Harliv Kaur led "1984 Ghallughara" which about 50 parents and teens attended. The workshop introduces the timeline and events of June and November 1984, while illustrating the responsibility Sikhs have to stand up against human rights violations everywhere.
Drawing on Jaswant Singh Khalra's efforts to identify the disappeared as a model of courage and purpose, participants were inspired to apply the lessons of Khalra's life in demanding justice for all. Prabhneet Kaur said, "It taught me a lot I didn't know before and it made me proud to be a Sikh. It made me realize how much my ancestors went through and makes me want to do more to raise awareness and help others out."
In addition to the two workshops for families, there was also a workshop designed for Sikh parents, "Nurturing A Sikh Child." Through group discussion and hands-on activities, parents were encouraged to talk about their successes and challenges in raising Sikh children in the US so as to learn and find support from each other. Baljit Kaur Sandhu said that she was very glad to see the Gurduara sangat sitting together as a group to discuss Sikhi. "It is good to hear what they are doing to encourage their children, and I plan on using the 'goal sheets' [passed out during the presentation] with my family and myself," she said.
While Jasmine Kaur and Harliv Kaur were presenting in Virginia, Harinder Singh, SikhRI's Chief Programming Officer, was conducting a schedule of events in Canada. He gave two interviews attempting to explain the confluence of events that lead to the attacks on Sikhs that year, synthesizing the general pattern of non-violence from Sikhs up to that point, as positioned against the discriminatory and violent policies of the Indian state toward Sikhs and the Panjab since the Partitioning of 1947. One interview aired on the Harjinder Thind show on RED FM in Vancouver, and the other was given on Bhakde Masle for Sur Sagar TV in Toronto. He also presented live at two events in Mississauga and Brampton.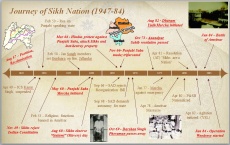 The first engagement, "1984: Attempted Suppression of a Nation," was a seminar hosted by Guru Nanak Mission Centre Brampton and Gursikh Sangat Hamilton-Wentworth, in cooperation with Ontario Sikh & Gurdwara Council on 4 June. Harinder Singh and Dr. Indira Prahst each spoke on the historical, political, and geographic components which led to 1984. In concluding, each suggested productive ways for the Sikh community to move forward from these events, while also educating the world about the atrocities perpetrated against Sikhs at that time.
Hari Singh said that he had never been to a discussion of the events of that year that went into such depth about the history that followed 1984 — as opposed to solely focusing on the events themselves. Others iterated this appreciation for the way the presentation framed the topic in contemporary as well as historical terms, and said they were inspired to take action in their communities. "The program helped me realize more about the Sikh history and the 1984 attacks. [Harinder Singh] touched topics of the present and what we need to do in today's community to create awareness and in turn, change," said Pawandeep Kaur.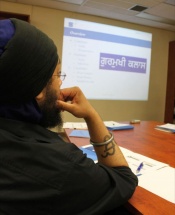 In addition to the seminar, Harinder Singh also led a workshop, "Gurbani Linguistics," co-presented by the Toronto Sikh Retreat. The two-hour workshop was designed to explore the language, grammar and vocabulary of Gurbani, and to lead participants in developing a relationship with Gurbani through a deeper understanding of, and respect for, the complexity of the language of the sabads. H. Singh said that he was inspired by the presentation to do more research on his own to enrich his knowledge of the immense depth and diversity of Gurbani.
SikhRI is constantly striving to refine the resources and programming available to the Sikh community to assist in understanding and interpreting Gurbani. By drawing on these lessons to develop a response to community challenges, and strengthening the individual, the family and the sangat through knowledge, SikhRI works to empower Sikh communities all over the world. " As we pay tribute to those that sacrificed their lives and livelihoods for the Sikh nation in the tragedies of 1984, we must also educate ourselves on what happened, why it happened and what it means for us today," said Kulvir Singh, a member of SikhRI's board of advisors and coordinator for programming in the Greater Toronto Area. "The Sikh Research Institute has developed programming for Sikhs of a wide range of ages and stages of life that provides this much needed historical context and insight into these events."
Contact Person: Shraddha Nembang | info @sikhri.org| 210.757.4555
SikhNet Email Lists:
Over 33,000 Sikhs all over the world enjoy SikhNet emails. Select the emails you would like to receive.