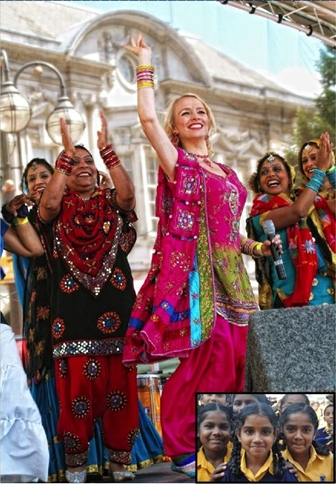 WHEN: Tuesday, December 17 ~ 6:30 pm

WHERE: Cook Theater, Indiana Landmarks Center
1201 Central Avenue, Indianapolis, IN 46202

REGISTER: www.ChristelHouseIndia.eventbrite.com

There is no cost for this event,
but guests are asked to register by December 6

QUESTIONS: Contact Aubrey Merki at 317-464-2327 or


[email protected]
Christel House is a transformative force in global education. A 501(c)(3) organization headquartered in Indianapolis, IN, it serves more than 4,000 students at learning centers located in India (Bangalore and Lavasa), Mexico (Mexico City), South Africa (Cape Town), and the United States (Indianapolis).
Christel House India educates 1,300 students living in Bangalore and Lavasa. The obstacles facing Christel House students are daunting - daily exposure to alcoholism, hunger, abuse, drugs, and negative role models - but every day students come to school, learn, and set their sights on a better tomorrow. They have dreams, and Christel House makes those dreams a reality. In an area where only 7% of students graduate from high school, Christel House India has a 98% graduation rate.
Learn more at: www.christelhouse.org
CO-HOSTS:
Jaswant and Raj Gidda | Hyderabad Sister City Committee | Don and Jen Knebel |
Michael and Mette Køehn Milland | Gail Shiel
#####
KP Singh, one of our regular subscribers, writes to Cheryl Wendling of Christel House Intl.:
Dear Cheryl:

Thank you for bringing this wonderful news about the special concert of Punjabi singer Anita Lerche in Indianapolis on December 17 to our attention. I am familiar with Ms. Lerche's sensational talent and efforts to introduce Sikh sacred music and the robust Punjabi Bhangra music to the Western audiences.

Music and dance is the essence of human spirit and is deeply intertwined in the human consciousness as a divine gift; it transcend faith, culture, ethnicity, gender, nationalities, and familiar temporal and cosmic dimensions.

I am forwarding the information about the concert to the leadership of the central Indiana Sikh community and other friends to attend and help promote this great and unique opportunity. We are pleased to see our own Jaswant Gidda and Don Knebel as sponsors of this concert. I will plan to attend.

We thank you and Ms. Christel DeHaan for undertaking among other imaginative and philanthropic initiatives, the very important work of educating under-privileged young students in India, Indiana, and in other cities around the world.

This is an amazing vision and project of the Christel House in Indianapolis. Just imagine how wonderful and significant such a connection is for Indiana.

Education. learning, and understanding about our opportunities and responsibilities remains the ultimate hope and path to a better world for all humanity. Thank you and our hearty congratulations for this incredible dedication to a cause that aims to nurture the most important facet of life, after food and shelter.

Thank you for the opportunity to enjoy a world-class concert and learn and learn about the all-important work of the "House" that Christel built to serve humanity.

With kind regards,

KP Singh
Indianapolis, Indiana USA
Tel: (317) 849-7340
You can listen to a sample of her music here: http://www.youtube.com/user/AnitaLercheMusic
---------------------------------
Related Articles:

http://www.sikhnet.com/news/anita-lerche-unique-punjabi-singer
http://www.sikhnet.com/news/sikh-film-festival-yuba-city-sikhlens-and-pahs-may-29-2011
http://www.sikhnet.com/news/sikhlens-2010-sikh-art-film-festival-grand-opening-celebration-19th-nov