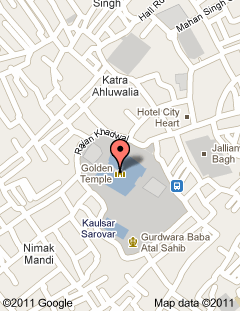 Jun 22, 2011, CHANDIGARH: The holy city of Sikhs, Amritsar, has got a regular non-Sikh deputy commissioner after 34 years as Rajat Aggarwal was given the charge last week.
Aggarwal will be the only regularly posted deputy commissioner to the district having the seat of Sikhism's spiritual and temporal power after 1977 when JD Khanna left office after two years of service during the Emergency between 1975 and 1977. From 1978, Punjab had started seeing violence which continued till mid-1990s.
Khanna was appointed after a gap of 17 years when the district had a non-Sikh deputy commissioner in AN Kashyap between December 3, 1957 and June 8, 1958. His non-Sikh predecessor was ICS Nukul Sen between July 23, 1947 and October 6, 1947. Nukul Sen was father of Union information and broadcasting minister Ambika Soni. Before Partition, Sunder Das was deputy commissioner of the district in 1941.
Another non-Sikh, Rai Saheb Izzat Rai, held the position in 1934. Except for a few days of duty held by Tejveer Singh and Kushi Ram during the 2008 assembly elections on the order of Election Commission of India, Sikhs have dominated this posting.
However, non-Sikh officers like Suresh Arora, now additional director general of police (intelligence), and Izhar Alam, who retired as DG, have held the position of senior superintendent of police of the district. Sources said Sikhs were preferred to non-Sikhs as deputy commissioners of the district under the Sikh Gurdwara Act 1925 as the DC presides over the first meeting of SGPC after the elections as he is the presiding officer for SGPC polls. The deputy commissioner is also protocol officer in the district which sees a large number of dignitaries visiting the Golden Temple. A Sikh comes handy in this situation as he is better aware about the Maryada, they said.
A former DC of the district, Sarabjeet Singh, who has written a book on police entry into Golden Temple at the height of violence, says, "Though there is nothing wrong in having a non-Sikh as DC, yet, protocol and SGPC issues become easy to handle if a Sikh is dealing with them." A former DC, who rose to become chief secretary of the state, Jai Singh Gill expressed surprise over the issue, saying, "I did not know I became DC because of such considerations. But, whenever I made recommendations as chief secretary, Sikh or non-Sikh was not a qualification."
Disclaimer: SikhNet and its associates do not own any responsibility for the correctness or authenticity of the map.