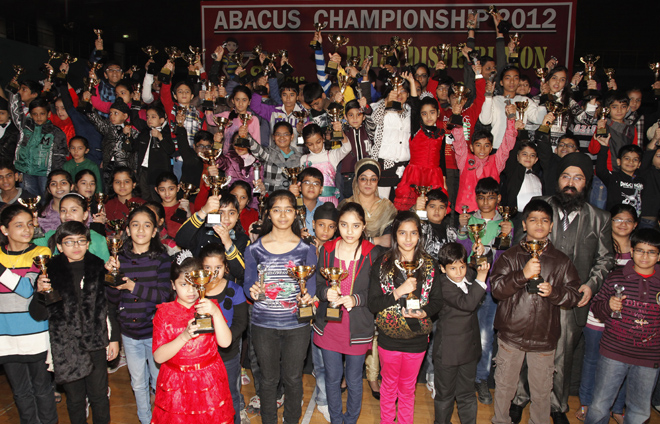 ABACUS CHAMPIONSHIP 2012 held on 2nd Dec 2012 at Tyagraj Stadium, New Delhi, witnessed a enthralled audience of students and parents likewise.

More than 300 students received awards for Accuracy, Speed and Best performer category held under the ABACUS CHAMPIONSHIP 2012.

The programme began with the recitation of the holy mool mantr by Rishika Baweja, followed by a group performance in a spectacular dance by our tiny tots. This followed the much awaited moment of Award ceremony.

Tell me something about the company?
We are a team of entrepreneurs who got trained and started this academy with a small group of students 3 years back. Ever since the inception, there has been no looking back. Your trust and faith has resulted in ten branches of Abacus Champs Academy in Delhi as of date. (Most of our franchise are Amrithdari too!) Scores of students have passed from our institute and are receiving accolades in respective fields.
What is Abacus?
Abacus, a mental math's concept is a brain development program that originated in Japan. Abacus is modern representation of an ancient art of brain development to increase speed, creativity and memory skills which automatically results in students all over development and solid foundation for children.
Abacus is an amazing technique that assists students to perform basic arithmetic calculations accurately and quickly. This method activates right as well as left side of the brain and helps students in achieving very high calculation speeds. It helps students to improve their concentration, memory power and enhance their creativity and visualization power.
A concept which has been around since centuries, the abacus is becoming a popular mental development tool once again.
How it Help?
It helps all round development for normal children aged 6 to 16.
It helps to develop concentration, listening and creativity in the child.
To eradicate the phobia of mathematics for school going children.
Improving mental calculations.
To master + - x :- % with efficiency.
To enhance imaging skills.
To bring revolution in child's education in india.
Types of Program
Junior champs :- For children aged 6 to 8 years
Senior Champs :- For children aged 8 & above years
Each Level is delivered in approximately 3 to 4 months under standard conditions with once a week classroom coaching of 2 hrs. Followed by every day practice sessions per Level.
The Abacus course duration is for 3 years, you can say it is a Brain Gym. The classes once in a week are for student followed by six days homework which is designed in our books.
Watch videos below


http://www.youtube.com/watch?v=Hn4f4vsinhA&list=UULArh6_SlcVLVJlhPabJ_fg&index=16

http://www.youtube.com/watch?v=5wmR9sLEzQw&list=UULArh6_SlcVLVJlhPabJ_fg&index=22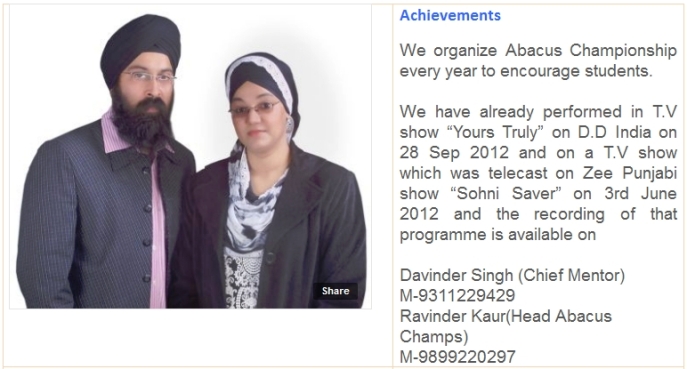 How can ladies sitting at home add value?
For teachers the training schedule is different as we first Train them and then we give them a chance to teach with us at our institute for Practical training. To conduct Abacus classes at home we require at least one class room and a small room for office. Ladies who are enthusiastic enough to start their own Abacus learning center can contribute their weekends.
Have you tied up with some school to hold classes in their premises?
Not yet, presently all the classes are conducted at our centers only
What are your future plans?
We are planning to expand our franchise throughout the Country, so we are planning to join hands as business partners in Delhi and other states.