From a period besieged by civil war, El Salvador's dark history is left as a mere memory for many of its people to stand strong and serve. From 1979 to 1992 El Salvador was under consistent battles on the streets, and guerilla warfare was an everyday occurrence through which many suffered losses; loss of life, loss of family and loss of hope. What was most amazing to us is that we didn't realize that this country had so recently come out of a heavy war and though the country is still getting back on its feet, we saw such a courage and strength of service in the people of El Salvador. One may think of the word 'serve' as serving the country or serving a public government office.

We have seen so much seva through the light of many people in San Salvador (the capital city of El Salvador). The Lord of Miracles Tour is defined by Guru Ram Das Ji's notion of seva: to serve humanity without discrimination whatsoever. Our Gurus have given the world so much in their teachings and the most beautiful part of these teachings is that they are universally available to all.
Arriving on a direct flight from Bogota, we (S.S. Gurubachan Singh, Dr Ardas Singh, Colonel Gloria Ospina and Ram Das Singh) could see the massive clouds that often surround the Central American coast. As we touched down on the tarmac of the airport we could immediately see the thick vegetation and jungle which spreads across the entire country, end to end. Our drive was nearly 30 minutes to the city while the elevation rose from sea level to about 2,500 feet. San Salvador is not necessarily vast but consists of roughly 2.5 million inhabitants and is beautifully tucked between several active volcanoes.
Though the temperatures are generally hot and humid in San Salvador, hiking up to one of the surrounding volcanoes; temperatures immediately become very cool. The beauty of the landscape and people of this country is a great thing to recognize and experience.
After getting settled at our hotel we soon headed to our first class, the Lord of Miracles Tour Lecture which was free and open to the public. People from around the city attended in search of an experience. Meditation, breath and chanting brought everyone to inner peace and upliftment. As Guru Ji has taught us throughout Sukhmani Sahib; to have peace in this world we must first have peace of mind.
sgl isRsit ko rwjw duKIAw ]
sagal srisatt ko raajaa dhukheeaa |
The rulers of the all the world are unhappy;

hir kw nwmu jpq hoie suKIAw ]
har kaa naam japath hoe sukheeaa |
one who chants the Name of the Lord becomes happy.

lwK krorI bMDu n prY ]
laakh karoree bandh n parai |
Acquiring hundreds of thousands and millions, your desires shall not be contained.

hir kw nwmu jpq insqrY ]
har kaa naam japath nisatharai |
Chanting the Name of the Lord, you shall find release.

Aink mwieAw rMg iqK n buJwvY ]
anik maaeiaa rang thikh n bujhaavai |
By the countless pleasures of Maya, your thirst shall not be quenched.

hir kw nwmu jpq AwGwvY ]
har kaa naam japath aaghaavai |
Chanting the Name of the Lord, you shall be satisfied.

ijh mwrig iehu jwq iekylw ]
jih maarag eihu jaath eikaelaa |
Upon that path where you must go all alone,

qh hir nwmu sMig hoq suhylw ]
theh har naam sang hoth suhaelaa |
there, only the Lord's Name shall go with you to sustain you.

AYsw nwmu mn sdw iDAweIAY ]
aisaa naam man sadhaa dhiaaeeai |
On such a Name, O my mind, meditate forever.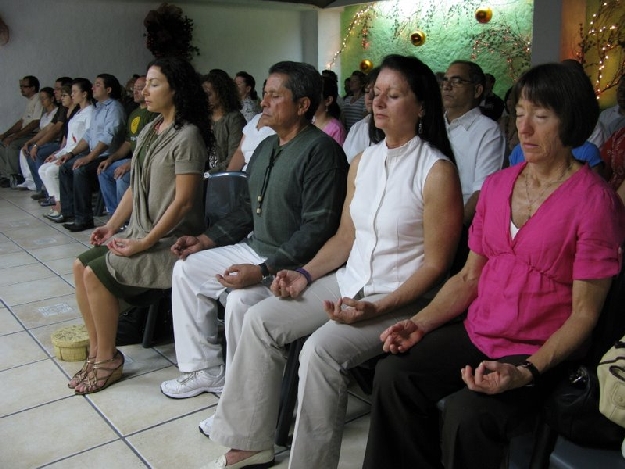 In meditation at The Lord of Miracles Tour Lecture, the day of our arrival.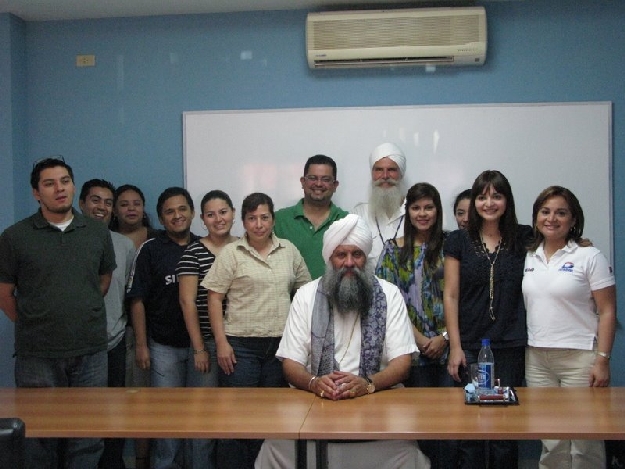 After a meditating seminar with a local car mechanic business, we all took a picture together. During the tour we do a lot of stress workshops with a variety of businesses.
S.S. Gurubachan Singh being interviewed on a national radio show. The talk included Sikh history as well as our purpose of visiting El Salvador.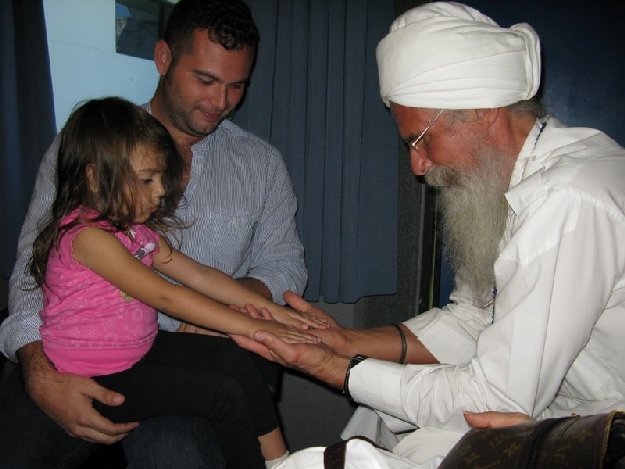 Dr Ardas Singh of Germany (right) with Guru Iqbal Singh (left) and his daughter.
One of our seva projects in San Salvador was visiting a children's cancer hospital. Here Dr Ardas Singh visits with a terminally ill patient. It is touching to witness Guru Ram Das reach so far and bless these children.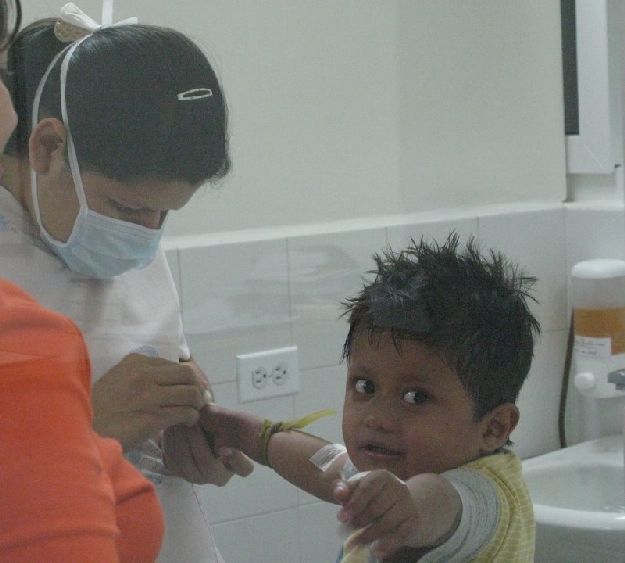 A sweet young cancer patient with tears from being repeatedly stuck by an IV needle has his attention diverted with smiles as he sees us pass by.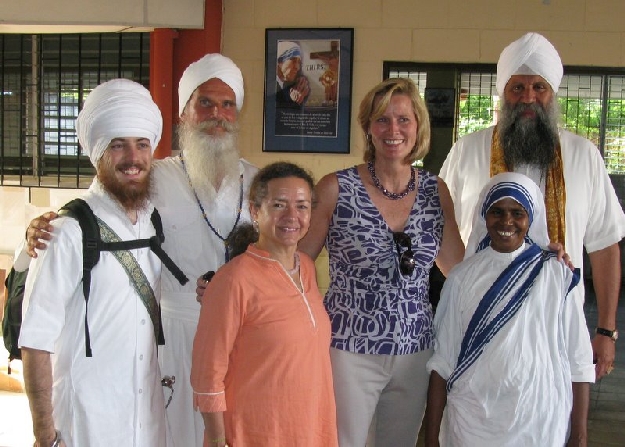 L to R: Ram Das Singh, Dr Ardas Singh, Colonel Gloria Ospina (of Colombia), Anne Ramos and S.S. Gurubachan Singh (far right) with a sister of Mother Teresa's group of Nun's who are devoted to serve. We had the privilege of visiting this inspiring shelter where homeless and mentally ill people are welcomed taken care of. Anne Ramos, a prominent member of the community, leads a group of the community to this shelter twice a month to serve Langar and share some time with all the people who live there.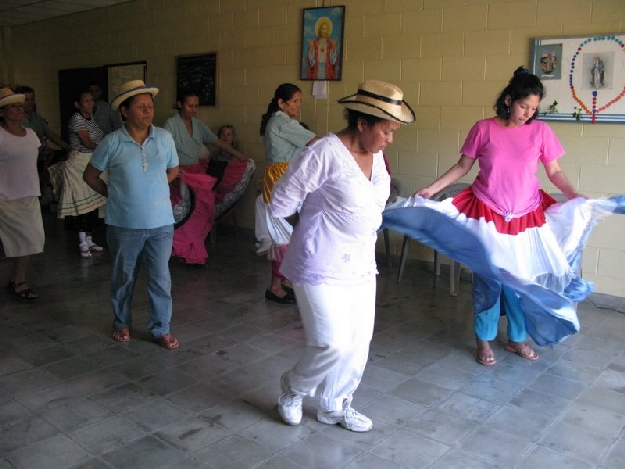 The women of the shelter performed a Salvadorian folkloric dance for us during our visit. Many of the people in this shelter/refuge center come from a background of poverty, drug addiction, mental health and Aids.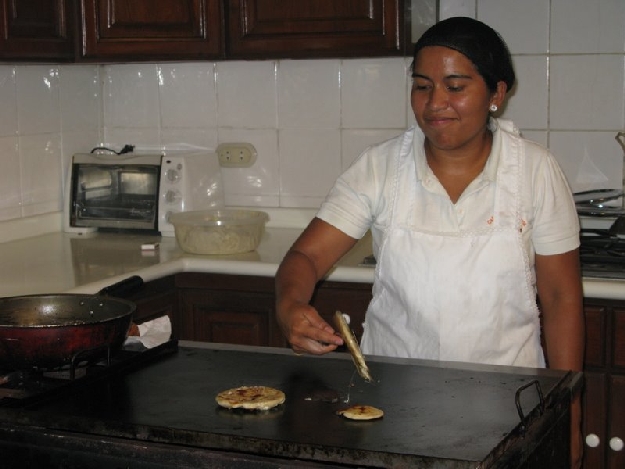 Preparing the famous Salvadorian dish "pupusas" during a lunch at the yoga retreat. The dish is prepared much like a "makhi di roti" because it is made of a special ground corn and then stuffed like a parantha.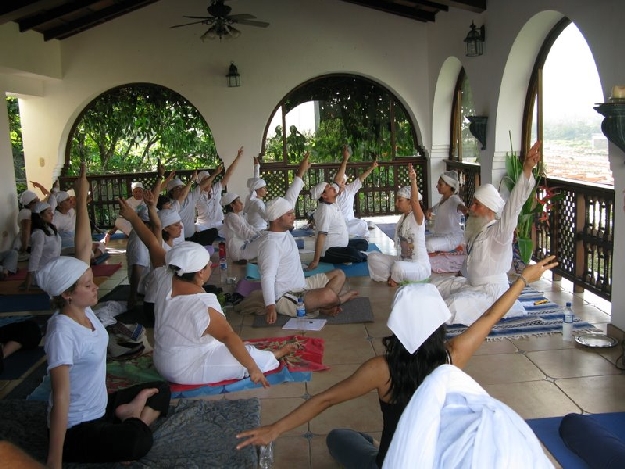 During a day long yoga retreat Dr Ardas Singh teaches the group some great exercises which bring a better understanding of the true self. The day ended with meditating and chanting of "Ik Ongkar Sat Nam Sri Waheguru".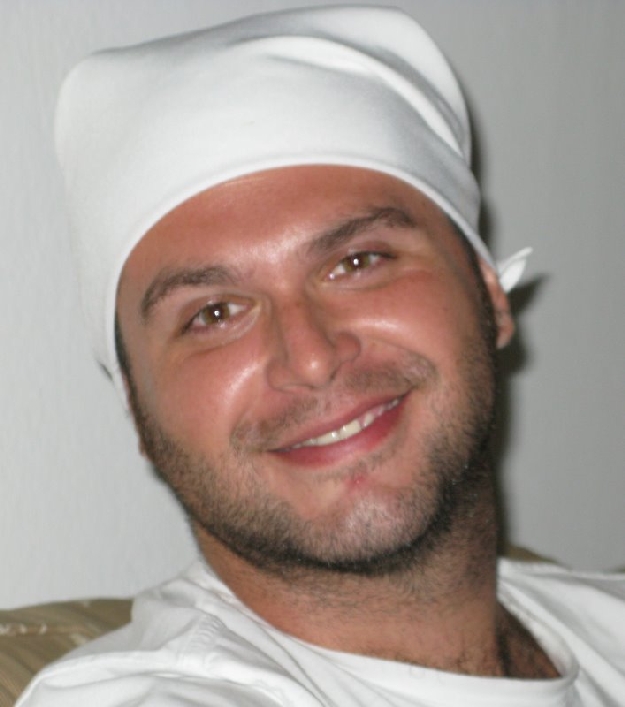 One of the bright and shining faces of El Salvador.
S.S. Gurubachan Singh and Colonel Gloria Ospina (right), from the National Police of Colombia, leading a class to the Police Force of El Salvador. They all learned how to use the breath in meditation and in situations that entail high stress in the field. It was notable to us that the Salvadorian Police are a very well respected Agency by its citizens.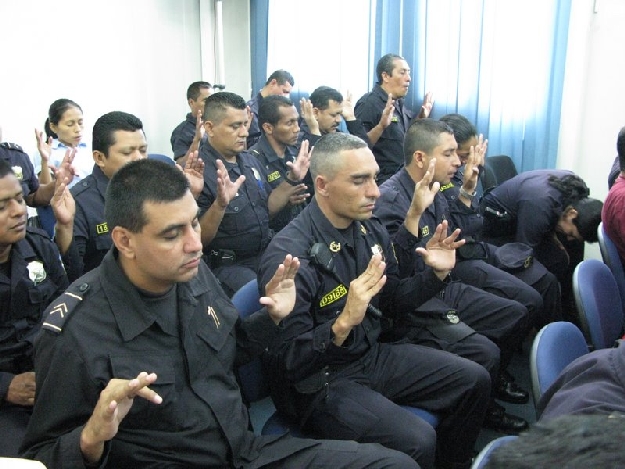 The Salvadorian police meditate by focusing on the breath while meditating on a 'Ek Achhri Chhand' of Jaap Sahib: "Ajai Alai Abhai Abai Abhoo Ajoo Anaas Akaas".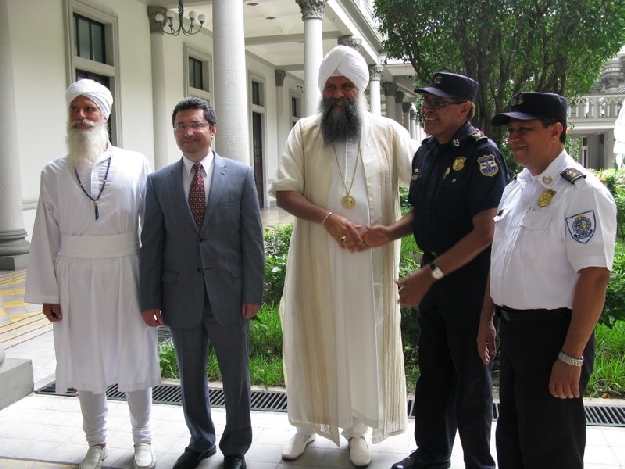 Dr Ardas Singh (left) stands with the Deputy Secretary of Defense of El Salvador while S.S. Gurubachan Singh shakes hands with the Commandant General and the Director of the Police Academy stands to the right.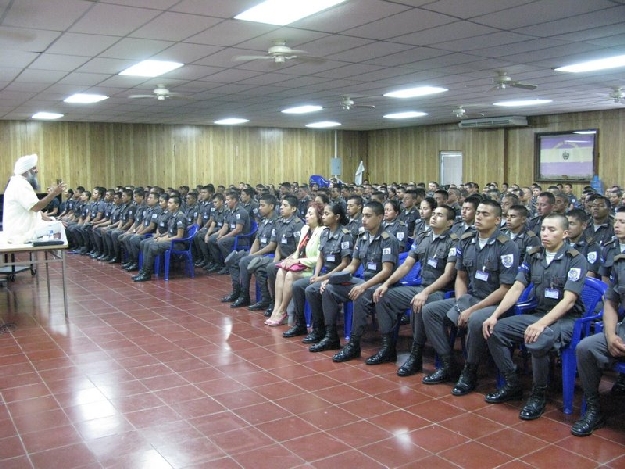 A hall filled with about 300 police cadets sit in meditation as S.S. Gurubachan Singh guides them on. As you can see Gurubachan is sitting on a table since the sound system was not working. Instead he used a little 'improv' so that his speech could reach the ends of the hall.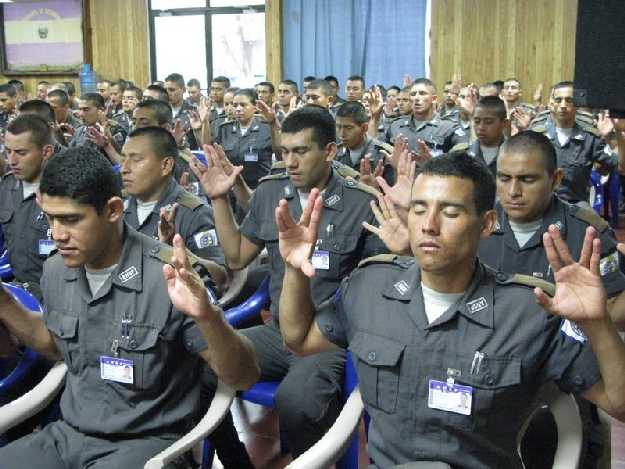 The cadets meditating and learning to use the breath effectively in their life and in their work.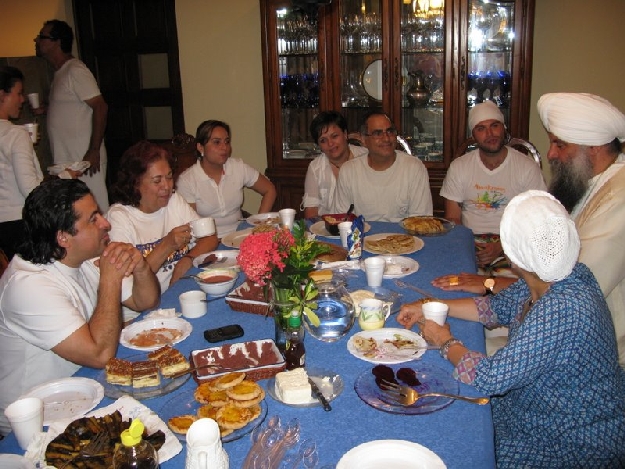 We all sat around together at a farewell dinner at the house of Anne and Mauricio Ramos the night before we left. The evening was filled with great company and great food.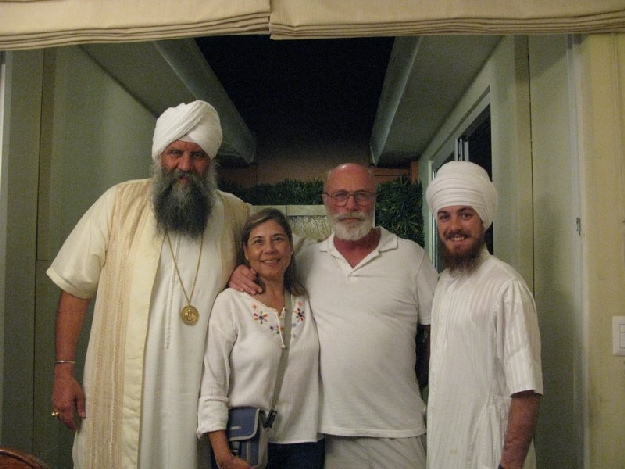 S.S. Gurubachan Singh, Ik Ongkar Singh with his wife Balwant Kaur (two of the Tour's most gracious hosts) and Ram Das Singh all stand together for a picture as we say farewell. Ik Ongkar Singh, for years, trained our youth in survival tactics in Espanola.
Peace of mind can only come from meditating on God, there is no other definition of peace, it is internal and it must be found internally. As Guru Ji has taught us, we try to spread his universal message; without discrimination, without prejudice and to each person that we meet, this is our goal.
Starting our second day, we were invited to teach a class to a local business on the topic of using Kundalini Yoga, breath and meditation as tools in the work place to relieve stress and have a sharp mind. S.S. Gurubachan Singh led the men and women of this company (a car repair franchise) as they sat in meditation listening to Gurbani Kirtan and focusing on their breath. After about one hour of meditating, the class ended with beautiful chanting to Guru Ram Das, The Lord of Miracles. It was a rewarding experience for us all and we all carried on the day fully filled and blessed with the energy of the Guru. The rest of the day consisted of counseling sessions with S.S. Gurubachan Singh and Dr Ardas Singh as well as a another class led by Dr Ardas with some of the local homeopathic doctors of San Salvador. His class taught of the effective and subtle nature of homeopathy in conjunction with his Kundalini Yoga lifestyle which has both served his practice as a doctor in his sensitivity and healing capacity. The class left many of the people with a great deal of knowledge and an elevated consciousness.
Our next day was our first and much needed day off of the entire tour. One of our very sweet hosts, Guru Iqbal Singh, took us all to the beach to learn how to surf! As Dr Ardas Singh and I suited up and got on our surfboards S.S. Gurubachan cheered us on from shore watching take spill after spill on the waves. It was definitely a different experience for us and after about an hour we were spent and headed to the beach house of Anne and Mauricio Ramos. It was a wonderful time right on the beach with about 15 people of the community. We were served a wonderful array of vegetarian food and tea just enjoying the sun and sand.
The day to follow started out with two morning radio shows to promote Kundalini Yoga and the teachings of the Shabd Guru. We covered the topic of Sikhism and our history which was really great, we talked about why we wear bana and put a turban on our head, why we wear the kirpan and the history of Sikhs being defenders of the different faiths of India during the time of Guru Gobind Singh. The topics were captivating and the hosts of the shows were lively and became very inspired by everything which led them all to participate in coming to the lectures over the next couple of days.
After the two radio shows we went to a hospital that treats terminally ill children suffering from cancer. Dr. Adras Singh, S.S. Gurubachan Singh, Ram Das Singh and Guru Iqbal Singh all went to serve the children cookies and juice. While we walked through each hall where children lied in bed with encouraged smiles Dr. Ardas Singh and S.S. Gurubachan Singh blessed each one of them and gave them a healing hand with much love. They were all so glad that we came and each time Ram Das Singh would point the camera at them they would all get a big smile on their face. Though it was difficult to see so many children suffering we felt that it is our duty to serve all in any way that we can, it was a blessing of Guru Ram Das to have this opportunity.
Our next stop was a shelter where Anne Ramos leads the Sangat twice a month to serve langar and share some time with homeless and mentally disabled people which live there. The shelter is run by followers of Mother Theresa, what a beauty and blessing it was to visit these people! Before arriving we had stopped at a local market to bring them beans, rice and vegetables. We delivered the food and though we were unable to cook the food for them and serve it, we got to visit with these people and bless them. During our visit the people of the shelter performed a folkloric dance which was really a sweet treat. It was a great thing to see our Sangat serving these people with such a whole hearted attitude, it brought us inspiration and fulfillment. After visiting the shelter we departed in a hurry to lecture open to the public.
Arriving late and having to juggle fixing the sound system on our own due to it being a holiday S.S. Gurubachan Singh invited everyone to sit a little bit closer so they could hear. The topic of the class was 'Executive Mind.'' people from all different walks of life and executive backgrounds attended in a stadium seated hall. After a short lecture S.S. Gurubachan Singh had everyone do three meditations over the period of an hour. After experiencing the sacredness of breath and meditating on the Naam everyone was in ecstasy. The class was a great success to say the least and all those who attended left with the glow of the Guru, very blessed.
The next morning began with a daylong retreat of Kundalini Yoga and Meditation. In the morning S.S. Gurubachan Singh started with 31 minutes of 'breath of fire' which is a rapid breath through the nose while pumping the navel. Throughout the 31 minutes everyone did stretching and postures in rhythm with the chanting of Jaap Sahib. It was a most powerful way to start and after our senses were awakened and energy charged, we all sat though several meditations to clean the subconscious. The whole class was rewarding and fulfilling. After a lunch break of popusas (the most famous dish of El Salvador) Dr. Ardas Singh led another Kundalini Yoga class. We were reawakened from a lunch that had us all in bliss to do a set of Yoga which brought even more bliss. Following the Yoga we meditated, chanting 'Ik Ongkar Sat Nam Sri Waheguru'. We were taught the sound current and specific way to chant it which brings us closer to God, it was a most effective lesson.
On our second to last day we were invited to teach a class at the National Police Department of El Salvador. The class was filled with many of the ranking officers who face the street with guns and weapons. The reality is that the service of a policeman/woman is something well respected but not always understood. Fighting the violence of gangs, thugs and psychos is an everyday occurrence with these police. Now dealing with the stress as the aftermath or even during a heavy situation is where meditation can be used as a tool to combat being overwhelmed by the 'dirt' of what is faced. Before the class began S.S. Gurubachan Singh honored Colonel Gloria Ospina of the National Police of Colombia who so graciously joined the tour traveling from Colombia with us to participate. The class that S.S. Gurubachan Singh led with the police brought an understanding of the science of breath and awakened the intuition. It was so well received and welcomed, we were surprised that they were so open minded. After the class we were greeted by the Chief of Police, the Director of the Police Academy of San Salvador and the Deputy Secretary of Defense of the country. They were so impressed and happy that we had approached them and offered the class as a service that they asked us to do another class with their Police Academy Cadets in the afternoon.
That afternoon, after a 40 minute drive, we arrived at the Police Academy. One thing we can definitely remember is that it was HOT and humid because we were at sea level again right on the coast. Luckily the hall where S.S. Gurubachan Singh led the class was air conditioned. About 300 cadets filled the hall sitting in meditation as S.S. Gurubachan Singh yelled out words of encouragement to keep everyone focused on their breath. The words (in Spanish) INHALE! EXHALE! FOCUS! CONCENTRATE! vibrated throughout the hall as the Cadets carried on. The class was an amazing success for all those who participated.
In the evening Dr. Ardas Singh led a class to all of the Kundalini Yoga community at the house of Anne Ramos. It was a beautiful evening of chanting the Guru's name followed by a delightful dinner with Yogi Tea (a special tea made of several spices) and popusas. Everyone chatted for a while and S.S. Gurubachan Singh to everyone about creating a solid community to serve those in need. We all felt inspired by each other and left fed well with full bellies.
Our last day in El Salvador commenced with a group breakfast at our hotel. It was a lovely farewell meal sharing smiles and stories of the Siri Singh Sahib (Yogi Bhajan.) Our gracious hosts: Anne Ramos, Ik Ongkar Singh, Balwant Kaur and Guru Iqbal Singh drove us all in a caravan of cars to the airport where we thanked them all for their gracious hospitality and bid them farewell as we passed through security to board our flight back to the U.S, Germany, and Colombia. Though we were sad to have to leave and finish the Tour, it was the highest honor for us to have served the Guru and all of those who we could.
Returning home only gives us time to charge up for the next Lord of Miracles Tour in Honor of Guru Ram Das which will commence in late September 2011, we'll see you then………..Blessings!
Dear Guru Ram Das Ji, thank you for the blessing of allowing us to serve you on this gracious Tour in your honor. May we always and forever serve at your feet in the name of truth and may the sword of Guru Gobind Singh Ji allow us to cut through any barrier and uphold your righteous path. Sat Nam.