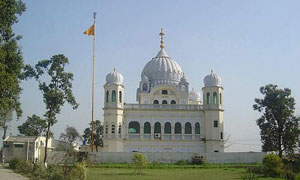 Thousands of devotees, infinite faith, endless devotion, celebrations, festivity and happiness. Amidst queues of devotees and chants of Gurbani, Yuba City witnessed the 300 Gurta Gaddi divas Samagam today. This year, it is once in time, 300 Gurta Gaddi celebrations for devotees all across the world.

TeriSikhi held very successful "20 Million Signature Campaign" to Open Kartarpur Sahib Corridor between Punjab (India) and Pakistan. Sarabjeet Singh Mann thanked all Sikh Community for coming forward and signing up for "20 Million Signature campaign" to open Kartarpur Sahib Corridor. Best things that we saw there was harmony and integrity between Sikh community.

On JusPunjabi TV, Jaspal & Virender Sandhu from TeriSikhi, appealed to Sikhi community, for this nobler motive to come forward to sign up and vote for Kartarpur Sahib Corridor at TeriSikhi.com.

Even so often, there are times when Sikhs must rise to meet a moment. So it has been for the generations that built this great Sikh community. So it must be for us today. This is our moment. This is our time to unite in common purpose, to make this century the next Sikh Nation Century.

Signature campaign was supported enthusiastically by every parade participant regardless of their affiliation with other organizations.

Sikh Community has lined up behind this cause and momentum is picking up in European and Asian countries.

We request India govt. to approve Kartarpur Sahib Marg at the earliest so that long cherished desire of Sikh devotees to visit Kartarpur Sahib once in their life time is fulfilled.

We request all Sikhs throughout the world to visit TeriSikhi.com  and sign the petition for Kartarpur Sahib if they could not do so in person.