Badges in the Eco-Sikh category
Do seva that helps the planet, and learn how to be environmentally conscious in your own life. Then share what you have learned with your friends and family.
Become the first level of Eco-Sikh by doing: picking up trash, turn the shower off while lathering, turn the water off while brushing teeth, turn the lights off when you leave the room, change to flourescent bulbs, hang dry your cloths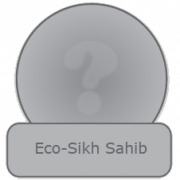 Become a second level Eco-Sikh by doing more habit changing things like regularly recycling, start composting, buying local food, and buying organic.
Please complete the above badges before starting on this one.