United Sikhs Provides relief to villagers after Panjab Flooding.
Jalandhar, Panjab – UNITED SIKHS Sikh Aid team from Punjab distributed food supplies to 250 flood affected families in villages Sambhala, Mandala, Gidderpindi, Daarewal in Lohiyan area. Each family was provided with dry ration Wheat floor, Dal, Chana, Ghee, Sugar, Tea, Salt and milk powder. Villagers whose homes were severely damaged got tarpaulins for roof tops.
Distribution of Supplies:
Wheat Flour - 1000 Kg
Daal – 200 Kgs
Chana – 200 Kgs
Cooking Oil/Ghee – 200 kgs
Salt – 200 kgs
Sugar – 200 kgs
Tea – 100 kgs
Tarpulins – 50
Total 20,000 meals would be served from the ration supplied to villagers. Cash donations were also provided to some needy family in village Sanewal.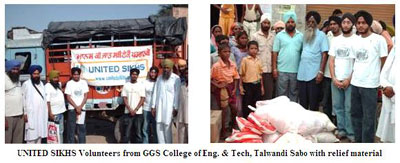 Sarpanch Ranjodh Singh of village Wara Jodh Singh said "On behalf of Panchayat, I thank UNITED SIKHS for providing the villagers with emergency relief and food supply. I request the Sikh community in foreign countries to pay attention to the grim situation and help us"

Sarpanch Premlal village Sambhala said "I thank the Sikh Aid team for providing us the most need tarpaulin for roof top"

Sarpanch Baljeet Singh village Gidderpindi thanked the Sikh Aid relief team and requested Cattle feed for 900 hungry animals in the village. Cattle and other liverstock are hungry with no food.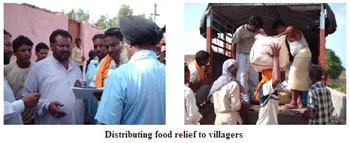 Sarpanch Gyan Singh of Daarewaal village said, "Our villages need tents, tarpaulin, plastic sheets and canvas sheets for temporary roof arrangements. We need food supply and blankets for villagers"

Bhai Amrik Singh, UNITED SIKHS relief coordinator said "Cattle food supply has become more essential in area than ever before. The crisis may leads to severe damage in milk and diary product industry. Thousands of people survive on diary products"

DONATE now to assist the Panjab Flood Relief 2008. To send your contribution to UNITED SIKHS please contact us at 9818096705 or give online.To print a relief poster for your local community center, workplace, or place of worship, please click here.
UNITED SIKHS Base Camp:
Bhai Amrik Singh
Gurudwara Nijamundinpur
Kala Bakra, Jalandhar
Relief Coordinator: Harinder Singh Phone: +91-(0)9463573036
Volunteers, with food and supplies, are continuing to arrive at the disaster affected areas to further support the relief effort.

If you wish to volunteer please email [email protected]


Issued By:
Daljit Singh
Director
UNITED SIKHS, New Delhi
Phone: (0)981 8096 705


SikhNet Email Lists:
Over 33,000 Sikhs all over the world enjoy SikhNet emails. Select the emails you would like to receive.