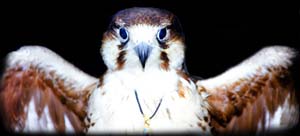 Sword of the Khalsa



[ Back ] [ Home ] [ Next ]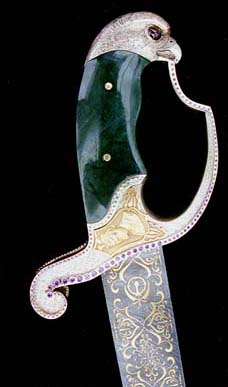 The Sword of the Khalsa is a magnificently built weapon.
The blade of this unique Siri Sahib is made of Damascus steel. The hilt or handgrip is decorated with white gold and diamonds.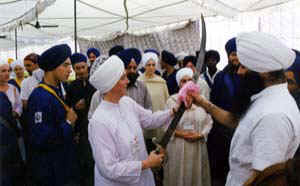 It has

a portrait of the 10th Guru, Guru Gobind Singh forged in yellow gold and the embellished handle of solid jade and white gold is in the shape of Guru Gobind Singh's hawk. The stainless steel scabbard, the sheath that covers the blade, has the entire text of the

10th Master's Jaap Sahib laser-etched in microtype. The Jaap Sahib contains over 3,550 words. Also on the scabbard, spaced evenly apart, are miniature vignettes from the Master's life carved in yellow gold. There are

six vignettes, three on the back and three on the front. Each vignette is set off with white gold, and precious stones (diamonds and amethysts).


Weapons Master Jot Singh Khalsa (Millis, MA) designed, managed, and built the entire sword. Besides forging the blade and metal work, he also supervised the engraving and finishing work. Jot Singh's wife, Harbhajan Kaur, collected the many donations that funded the expense of the sword. These donations came from individuals and sangats throughout the entire western hemisphere. The expense of the materials alone is estimated to be $110,000. This truly unique sword took over a year to make. Many other artisans contributed their talents to the creation of the sword. The

sword's box was hand crafted by Master Carpenter Muktiar Singh (Espanola, NM). The 310 year-old piece of wood used to build the box comes from a Flame Birch tree that was growing at the time of the original Baisakhi in 1699. The box is decorated with

brass plaques that are engraved with the names of the donors who contributed to make the creation of the sword possible.
Siri Singh Sahib comments on the Sword of the Khalsa at Anandpur Sahib.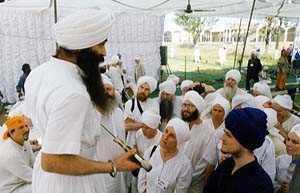 Jot Singh talking about his role in creating the Sword of the Khalsa.
[ Home ] [ Traveling ] [ Yatra Camp ] [ Nagar Kirtan ] [ Baisakhi 1999 Events ] [ Sword of the Khalsa ] [ Sword Vignettes ] [ Presenting the Sword ] [ Yatra Camp Guests ] [ Yatra Photo Album ] [ Baisakhi 300 Resources ] [ Table of Contents ] [ Credits ]
Copyright � 1999
Gurumustuk Singh Khalsa