The Yatra Camp


[ Back ] [ Home ] [ Next ]
Saturday, April 10th We have as our Yatra Base Camp an entire elementary school campus. Our beautiful little elementary school is named The Bhai Nand Lal School and it is only a 5-minute walk from the main road that runs through Anandpur Sahib. It is also only a 20-minute walk from the Takhat Keshgarh Sahib.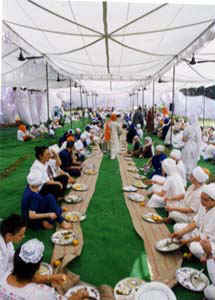 When our buses pulled in last night, many of us were exhausted and disoriented from our many hours of traveling. Our physical camp leader, Gurudhan Singh, climbed aboard each bus and welcomed us. He told us of the showers, toilets, and water tanks that have been specially installed just for us. He gave us directions to the classrooms we would be living in, instructed us to drop our bags off, and then he pointed us towards the back of the school where a huge cloth tent stood complete with an artificial grass flooring. "Welcome to Anandpur Sahib. You've made it. Come, sit down, have some tea and eat some langar. We are ready for you."

Some Yatra Camp Interviews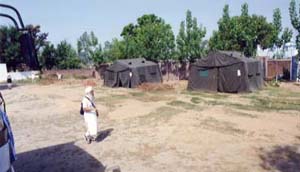 By the time the Miri Piri students and other staff members joined us, our numbers at the camp had swelled to about 400 souls. Many people like

Gurudhan Singh arrived to Anandpur Sahib early. Some people, like Soorya Kaur, Mehtab Singh, and Sarab Dev Kaur arrived months in advance so that we could enjoy such a gracious camp. In case you haven't met Gurudhan Singh, I might describe him as a humble, no-nonsense, businessman from Brooklyn, New York. For the past thirty years he's organized the physical set-up of the rugged

Summer Solstice Retreat Camps in the mountains of New Mexico. Anyone who knows him, realizes that his motto is, "Actions speak louder than words." Which means, if his Yatra Camp set-up team has to haul the desks, benches, and chairs out of each and every classroom themselves they would. I believe in fact, they did. I have also heard they drove 10 hours each direction by truck to personally purchase cots and mattresses for all of us. Having cots I've quickly realized is the greatest luxury here, especially in comparison to the accommodations many others travelers have.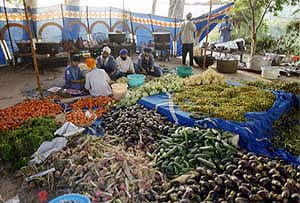 Army style field tents
had been erected to house the overflow of people here as well. The men's and women's toilets have been constructed of corrugated steel. The shower houses are simple, long brick walls, with spigots, and firmed pressed clay floors. Outside each shower house is a convenient canvas tent for dressing within.
The huge cloth "Big Top" tent at the back of the school, is very multi-functional. It's serving as a central camp meeting area for sadhana, Gurdwara, evening programs and most importantly langar. An all-camp Akhand Path began in the attached Gurudwara tent today.
The morning tea is feisty hot. I think it is the spiciest, best tasting Yogi tea that I've ever tasted! It hasn't taken much time for all of us to fall in love with our camp langar. Sardar Raja Singh from Miri Piri Academy commandeers the langar kitchen. He and his more than able staff of cooks and sevadars produce meal after delicious meal for our little army of yatra travelers. There is nothing more healthy and delicious than "Made-In-The-Punjab" subji, daal, yogurt and roti.
This morning, as a group we did our

sadhana. We read Japji Sahib, then stretched our tired bodies with yoga and breath. We then enjoyed chanting our group Nam Simran, all on the land where Guru Gobind Singh walked. Everyone is so happy to be here, we are feeling quite blissful in "The City of Bliss." Singing the
Song of the Khalsa
while being in Anandpur Sahib, caused many eyes to flow with tears this morning. This morning we could hear beyond our own sadhana, the soothing cacophony of sound being produced by all the other sangats here. I heard in the Gurdwaras next door and in the tents of other groups the chanting of Sukhmani Sahib, Jaap Sahib, Asa Di Var, and Gurbani kirtan. It's nearly impossible to describe the awe and amazing reality of this experience.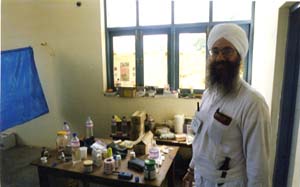 Viewing TIP: All the photographs have captions describing what is happening within the picture. In order to view the caption hold your cursor over a photograph and a description will pop-up next to the cursor. (Only some newer web browsers support this feature like Netscape & Internet Explorer). Navigation: You can navigate through the whole web site either by clicking on the "Back - Next" links at the top of every page or you can follow the links at the bottom of the page which are in order. There are also some links to pages that are not listed on the home page (eg. Baisakhi resources, Table of contents, Web site Credits).
Link Legend


= Link to another web site giving additional information.


= Photograph that you can look at.

= Video/Audio Clip that you can watch. (Download Free Software to Watch Video Clips)
[ Home ] [ Traveling ] [ Yatra Camp ] [ Nagar Kirtan ] [ Baisakhi 1999 Events ] [ Sword of the Khalsa ] [ Sword Vignettes ] [ Presenting the Sword ] [ Yatra Camp Guests ] [ Yatra Photo Album ] [ Baisakhi 300 Resources ] [ Table of Contents ] [ Credits ]
Copyright © 1999
Gurumustuk Singh Khalsa