Traveling to Anandpur


[ Home ] [ Next ]
Friday, April 9th The 300th anniversary of the birth of the Khalsa is being celebrated around the world, but I've been given a special opportunity. I am part of a pilgrimage traveling as an international group to the actual birthplace of the Khalsa; our destination within the nation of India, the state called

Punjab , the city of

Anandpur Sahib (

Map 1 -

Map 2).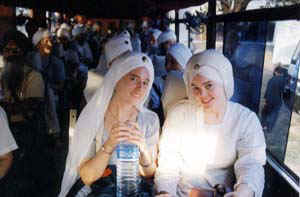 People and faces from all over the world have arrived in Delhi over the past few days. All shapes, colors, sizes, and ages of people are pouring into the city. I see our group is but one of many international and national groups traveling to Anandpur Sahib. Our six huge buses are festively dressed in the spirit of the holiday, with beautiful blue banners that say: "Anandpur Sahib Yatra 1999 - Sikh Dharma of the Western Hemisphere".

Looking around at our collection of 280 Yatra travelers I notice that there are people on this trip that are from all over the Western Hemisphere and in fact the greater Diaspora. I see and hear people talking who are from the United States, Mexico, Spain, Germany, Italy, Norway, South Africa, Australia and even Japan. Some of our group are seasoned travelers, young adults who have lived many years in India, others on this trip have lived the Sikh life for more than thirty years and find this their first opportunity to be present in the land of the Gurus.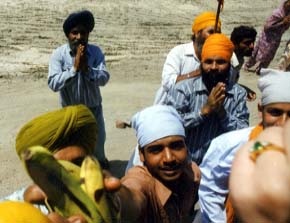 With our buses loaded, we roll North to Punjab, the radio on the bus blares an up-tempo punjabi song with a chorus that repeats, "Chalia Anandpur, Chalia Anandpur" (Hurry to Anandpur, Hurry to Anandpur). The number of bright yellow 300th Anniversary banners and decorations are increasing as we near the Punjab border. As we cross the border, cheers rise up inside and outside the bus as Sikhs along the roadside yell out festive, spirited cries of "Bole So Nihal! Sat Siri Akal!"

Several times within the Punjab, our
buses are literally flagged down
by crowds of cheering Sikhs outside their town gurdwara. To my surprise and amazement I find the local sangats wait throughout the day in 100º plus weather for Anandpur Sahib travelers to pass by. In the grand tradition of the gurus langar they temporarily seize the bus.

Climbing on board, chanting Wahe Guru Ji Ka Khalsa, Wahe Guru Ji Ke Fateh! biscuits, and pakoras are thrown left and right to each and every one of us. With the greatest glee everyone is fed and taken care of. The passing of handfuls of oranges, bunches of bananas, and steaming hot cups of tea through the bus windows is a wild, humorous adventure for all of us.

The nearer we get to Anandpur Sahib, the more the roads become congested with people, carts, cars, buses and trucks of all kinds. Each vehicle is filled to overflowing with enthusiastic Sikhs.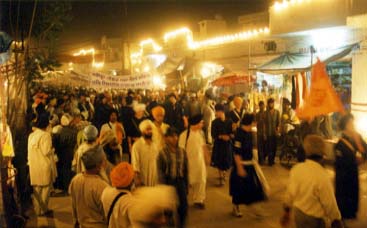 As the evening light is settling in on Anandpur Sahib, our buses pass into the city through a series of beautifully constructed white arched gateways. Every single building has been meticulously painted bright white. Thousands of festive holiday lights and slivers of delicate foil streamers hang and flicker everywhere. I thought Anandpur had a few historical Gurdwaras, but am overwhelmed to find that there are many more. Later in our trip, I find there are well over forty gurdwaras. Tonight, each and every one is aglow and broadcasting live Gurbani. The sound of the hundreds of loudspeakers from different Gurdwaras is almost overwhelming. The city streets are filled with garlanded trucks carrying kirtan jathas, and all the many other pilgrims arriving from all over the Punjab and the world.

Little do I realize that this crowd is nothing in comparison to those that are to come. This is April 9th and the main celebrations are nearly a week away on April 14th. The crowd that is to arrive will increase daily until the streets become all but impassable. A crowd so large that it simply fills every available space.
Miri Piri Students arrive at the Anandpur Sahib Yatra Camp
Viewing TIP: All the photographs have captions describing what is happening within the picture. In order to view the caption hold your cursor over a photograph and a description will pop-up next to the cursor. (Only some newer web browsers support this feature like Netscape & Internet Explorer). Navigation: You can navigate through the whole web site either by clicking on the "Back - Next" links at the top of every page or you can follow the links at the bottom of the page which are in order. There are also some links to pages that are not listed on the home page (eg. Baisakhi resources, Table of contents, Web site Credits).
Link Legend


= Link to another web site giving additional information.


= Photograph that you can look at.

= Video/Audio Clip that you can watch. (Download Free Software to Watch Video Clips)
[ Home ] [ Traveling ] [ Yatra Camp ] [ Nagar Kirtan ] [ Baisakhi 1999 Events ] [ Sword of the Khalsa ] [ Sword Vignettes ] [ Presenting the Sword ] [ Yatra Camp Guests ] [ Yatra Photo Album ] [ Baisakhi 300 Resources ] [ Table of Contents ] [ Credits ]
Copyright © 1999
Gurumustuk Singh Khalsa