2nd place competition winner in 2011
for Junior age group (11-17)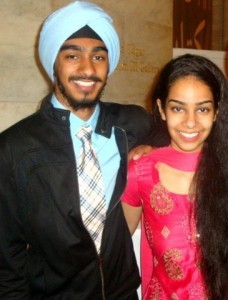 This video is a visual representation of the journey we all take as Sikhs on the path to Waheguru. It is broken up into 3 parts, each coinciding with a quote chosen from the Sri Guru Granth Sahib.
The first piece, entitled "Wake" is meant to show that although our physical bodies might be awake, our minds are often focused on Maya, sleeping.
The second piece, entitled "Walk" shows an abstract representation of the journey each Sikh must take on the path to reach Waheguru. This journey does not happen overnight.
The final piece, entitled "Win", is what we all strive for. Although as film-makers and Sikhs, we have not reached this level in our journey, we tried to imagine what it would be like. We decided to combine regular activities (living the life of a householder) with Sikhi related activities such as doing paat and keertan. At this state, a Sikh has reached anand.
We hope you enjoy our film! 🙂
Directed by:

Harnek Singh and Rasna Kaur (

Age:

17

)

Location:

Troy, Michigan – USA


Length:

5 min 
This is their second year submitting to the SikhNet Film Festival. In 2010 they won 1st place in the junior division for their film "iz yu ignant bout Sikhi?"
What did you think of the video? Leave a comment...