Sign Up to Read in Global Sahej Path 
Reading Options - Comments & Questions 
This is a time to be with Guru ji....
I know, every time is good to be with Guru ji. Yes, that's true. There is a common saying among Sikhs "Sukh vele shukrana, dukh vele ardas, har vele simran." In times of peace, give thanks, in times of difficulty pray, at all times meditate."
This is a time for Sikhs to pray. This is a time to be with Guru ji.
We are all mostly familiar with the current situation in the Punjab. There is great upset and upheaval. As Harijot Singh wrote in the article "Pray For Punjab"
Yes, I know the unrest in Punjab cannot be answered with prayer alone. Everyone wants a change, and it is indeed time for a change. In reaction to what is happening, some will rally for local protests, some will blog, some will call for gatherings, some make declarations, some committees will make news statements and some will create media coverage, and I respect all these things. I will help and participate in any way I know I can. All of this will continue to happen and I'm sure people will continue to mobilize. I simply want to remind people of why. No, I don't assume that we all don't know why but I do think we can always use reminders.
This is all because of Guru ji.
This is all out of respect for Guru ji.
So it is important that we be with the Guru at this time.
This is when we need Guru ji's presence the most.
In this spirit the SikhNet team is inspired to offer a worldwide virtual Sehaj Paath.
What is a Sehaj Paath? It is the complete recitation of Siri Guru Granth Sahib usually done by an individual with no set time of completion.
We felt that this is a good community bonding experience in which we can all participate during this sacred season when we celebrate the birthday of Guru Ram Das as well as Guru Gaddee (the anniversary of the day that the Siri Guru Granth Sahib was bestowed the Guruship by Guru Gobind Singh). What could be a more appropriate time for people around the world to recite Guru ji together?!
Whoever would like to participate is welcome to join from anywhere in the world. You would commit to read a section of Siri Guru Granth Sahib ji by the deadline date given for each Sahej Paath group.
Sign up To Read in the Global Sahej Paath
If you would like to participate here is what you need to know
You can sign up for a longer or shorter section depending on how much you want to read from the Guru. You can also sign up for multiple sections, though we suggest that you wait till you complete one first before signing up for another.

Each Sahej Paath will have a deadline by which everyone needs to have completed his or her reading section. If you are unable to complete your section after signing on, please tell us or get a friend to read for you.

While reading, please respectfully be showered and clean, cover your head and set your intention with a personal prayer for the purpose of peace.

If you do not have the ability to read from a full saroop of Guru ji, there are alternatives (apps, web pages, download files etc) so that anyone can participate (provided they are instructed in respectful protocol). View the reading options.

To sign up choose an available section of the Siri Guru Granth Sahib below by clicking on the button to the right of each slot. The slots vary in number of Siri Guru Granth Sahib Angs to read, so make sure you pick a section that you are able to complete before the deadline date.
After these Sehaj Paaths are completed, SikhNet will organize another group of Sehaj Paaths and keep the prayer going. THANK YOU FOR YOUR PARTICIPATION IN THIS SEVA.
Reading Options
Read on a Computer (web browser)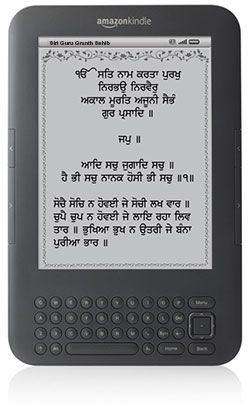 iPhone/iPad
Android
Kindle/eBook Readers
Other Formats
By Guru's grace may we complete these Sahaj Paaths with the purest intention of creating chardi kalaa, a bright and beautiful future and the well being of all. Guru ji, may we have your presence that you may truly guide us, your body, to spread your presence on this earth.
#PrayForPunjab
Wahiguru ji ka Khalsa Wahiguru ji ki Fateh