November 3, 2021, Washington, DC:  Washington based environmental organization EcoSikh successfully completed 365 sacred forests ahead of United Nations Climate Summit CoP26. On Sunday, EcoSikh planted its 366th sacred forest of 950 trees in the heart of India's capital city - New Delhi which also faces severe ecological issues. EcoSikh will be presenting its progress and the action plan in a meeting of various stakeholders in Glasgow. 
EcoSikh's global president, Dr. Rajwant Singh will be showcasing the Sacred Forest initiative as an effective climate solution for ecological restoration and will offer collaboration with governmental organizations and faith groups. A global meeting by FaithInvest will be addressed by EcoSikh in Glasgow.  
EcoSikh plants Sacred Forests throughout India using Miyawaki methodology. These sacred forests are named after 'Guru Nanak', the founder of Sikh faith. They attract biodiversity within months and helps restore the local ecological imbalance. 
Sharing this milestone by the EcoSikh, Dr. Rajwant Singh said "We had two options either to sit back or to take action and we are proud as a team that we chose the latter.
As of now, EcoSikh has planted over 195,250 trees in India and 20,000 trees worldwide.
Last month, in October 2021, Dr. Rajwant Singh was among the faith representatives who joined an Interfaith meeting hosted by Pope Francis ahead of COP26 at the Vatican. The faith leaders, including Dr. Singh signed a joint appeal directed at the political leaders gathering in Glasgow to take major steps to reduce the effects of climate change. 
"This COP26 holds immense significance given the massive ecological crisis looming over the Earth 

and the humanity

. If the world does not take action today, we may not have any other chance to avert the disaster that is coming upon us". Said Dr. Singh. 
Charan Singh, EcoSikh's Forest Convener said, "the strategy to fight climate change should not only be focused on emissions reduction. We need to remove carbon from the atmosphere. These sacred forests are carbon sinks and will help us stay below 1.5 degree by reducing the temperature in that area."
"This project has galvanised the youth of Punjab, volunteers at grassroots levels are growing each day for achieving an ever green revolution for the state. Everyone can plant a forest in their backyard, school, college or at their own religious place. This is a collective and a solid step to fight climate change. EcoSikh offers this knowledge and handholding to everyone. We are open to collaborate with all the faith groups to create more sacred forests." 
Charan Singh further petitions, "Join this movement to create thousands of sacred carbon sinks and ensure the 1.5 degree goal is achieved by 2050."
According to experts, for our Earth to sustain, the world is required to keep the global temperature 'well below' 1.5 degrees above the pre industrial levels. For that to happen it must achieve the net zero global emissions target by 2050 or sooner and switch to an eco-friendly way of life.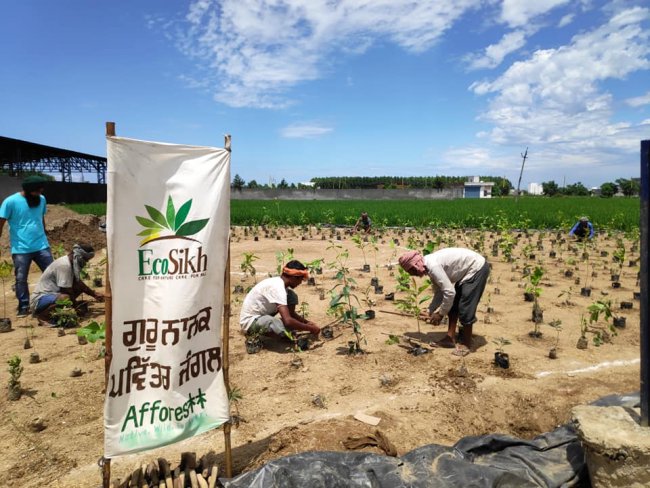 EcoSikh was founded in 2009 in collaboration with United Nations Development Program as the Sikh community's response to climate change. For over a decade, EcoSikh has been working on environmental issues in Punjab, India, and North America. It has represented Sikh community on various national and international platforms on climate change and sustainable development. It has been invited by the White House, United Nations and is working with the World Economic Forum
in 2019, as a way to celebrate the 550th birth anniversary of 'Guru Nanak', EcoSikh pledged to plant 1 million trees. As of now, EcoSikh has planted over 195,250 trees in India and 20,000 trees worldwide.