Australia's multiculturalism was on display as a group of celebrity chefs - each from a different religion and culture - got down to cooking a free community meal at a Melbourne Sikh temple.
Watching former contestants of Masterchef Australia cook langar (free community meal) in a gurdwara (Sikh temple) can invite curious glances, while whipping up appetites of those who come there to pray.
Monica Mignone, Sandeep Pandit and Waleed Rasheed – all now eliminated from the current season – are former contestants of the undisputed world leader of cooking competitions for amateur chefs, MasterChef Australia, and they recently took to the kitchen of Sri Guru Singh Sabha Gurdwara, in Melbourne's northern suburb of Craigieburn.
This Sunday dinner also told a beautiful story of Australian multiculturalism: a Hindu from India, a Muslim from Egypt and a Christian who's half Australian, half Italian, volunteering to cook for a largely Sikh congregation in their temple.
This group, representing a kaleidoscope of cultures and beliefs, rustled up a delicious (and humongous) dinner for the gurdwara's sangat (devotees). They drew not only curious glances but also thousands of excited fans and foodies alike...
..."Wasting food burdened my soul, so I thought of doing voluntary community cooking to redeem myself," he said. 
Sandeep Pandit, who hails from the troubled Indian-administered Jammu and Kashmir, has been featured on SBS Punjabi earlier.
"When I asked my friends from MasterChef if they'd like to join me in the gurdwara, I was pleasantly surprised to see so many of them say yes, even though they were from a non-Indian religious and cultural background.
"This is the unifying power of food," he adds...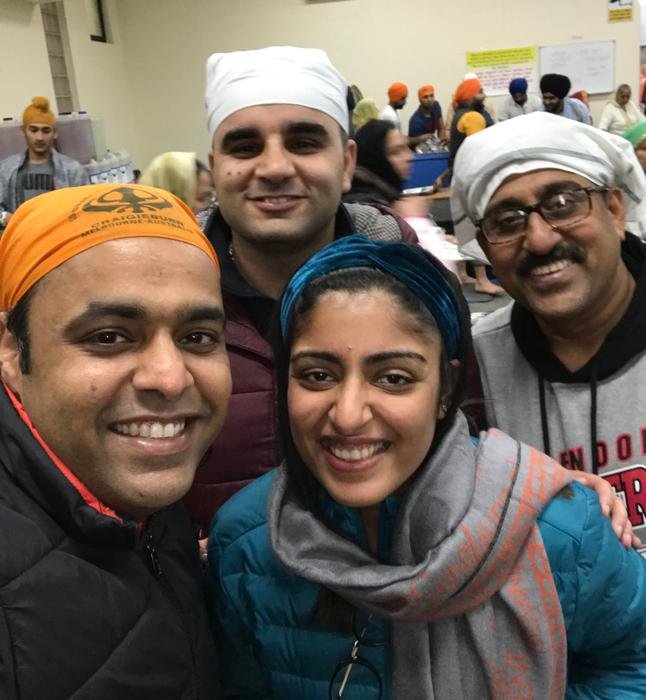 ...Yasmeen, who studies in Year 3, could even tell you that Sandeep and Monica are her favourite chefs from the current season of Masterchef Australia.
Together, this group's menu featured:
60 kg rajmah (red kidney beans),
85 kg matar-paneer (peas and cottage cheese),
200 kg kheer (rice and milk pudding with dry fruit),
50 kg raita (spiced yoghurt with chopped vegetables),
100 kg rice and over 6,000 parshada (flatbread as they are called in gurdwaras).
These celebrity chefs along with the gurdwara's army of nearly a dozen sewadars (volunteers) were busy from 3 pm till 7 pm, as they laboured in the temple's well-equipped kitchen to serve dinner to 1,000 people.
It's another story that those numbers swelled to 3,000, after fans of these chefs read about their gurdwara plans on Facebook...
...Melbourne-based marketing professional, Waleed Rasheed, originally from Egypt, is known for his Middle Eastern and North African-inspired desserts but was eliminated at the Top 14 stage in the contest.
"I cooked the dry fruit in ghee for the kheer, because I was in the company of Punjabis who love it," he said.
"I also gave it an Egyptian touch by adding walnuts and cinnamon. Indian kheer calls for cardamoms and almonds instead.
"I'm known for my baklava, and I'll let you in on a secret: I use ghee to make it instead of butter," he said, laughing.  
G.S. Pangly, president of the Sri Guru Singh Sabha Gurdwara, had nothing but praise for the group.
"Gurdwaras are open to people from all religions. Everyone is welcome to eat or cook here. It was a matter of great pride for us that MasterChef Australia's contestants graced our kitchen. We usually serve around 1,000 devotees on Sunday."
"But when people came to know about them, the numbers multiplied. But there's never any dearth of food here," he told SBS Punjabi.