Jasjit Singh, an Army Reserve Combat Engineer has experienced an Anzac Day many in the Australian Defence Force would envy.
He was the first and only turban-wearing sapper who formed part of the Catafalque Party that slow-marched inside the historic Melbourne Cricket Ground ahead of the annual Anzac Day match on April 25.
As per the tradition, every year, a party of specially trained servicemen marches on to the MCG ahead of the Essendon vs Collingwood AFL match, a service performed to honour the Anzac soldiers who served and sacrificed in the Gallipoli campaign.
"It was an honour and an incredible opportunity to have been formed part of the Catafalque Party that allowed me to represent the Australian Army and the Sikhs at the same time," Sapper Jasjit Singh said in an interview with SBS Punjabi.
This year it was even more special as the Bombers v Magpies Anzac Day fixture entered its 25th year.
"The reason I tried so hard to get on the MCG catafalque party was so I could be seen as a Sikh on the international stage and spark curiosity and in time understanding and acceptance of the differences between a Sikh and non-Sikh," he said.
"The aim was to highlight the diversity and the cohesion in The Australian Army which is incredibly important to make visible in the wider community. With all the terrible things happening around the world it is a pivotal time in history to either unite different communities or let them live in ignorance and fear," he added...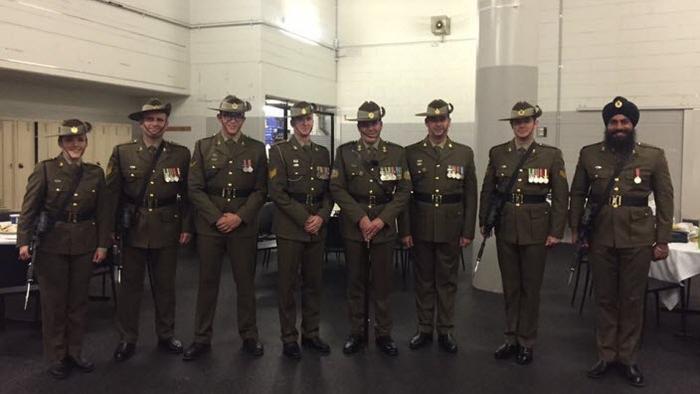 ...
Jasjit Singh's Background:
Born and brought up in Amritsar in the northern Indian state of Punjab, Mr Singh arrived in Australia along with his family when he was eight years old.
He joined the Defence Reserves in 2013 and is now looking forward to getting his promotional courses and helping the communities in need, as part of the Army's part-time personnel.
"I want to help and support the local community facing hardships. This is what the Australian Reserve Force represents and is also the core value of Sikhi," said Jasjit Singh.