Fifty years ago, Sikhs working on Wolverhampton's buses won the right to wear the turban at work. It followed a long-running dispute during which one Sikh man threatened to set himself on fire.
It was a time when racial tensions there were high, with the city's most famous MP Enoch Powell saying the country was "heaping up its own funeral pyre" by permitting mass immigration.
The Express and Star newspaper reported the turban dispute "could bring chaos to the town's bus services", but it was not just public transport that faced upheaval.
Refusing to remove his turban or shave his beard, Tarsem Singh Sandhu sparked a row that spread across the world and saw the nation's racial tensions and identity politics played out on Black Country double-deckers...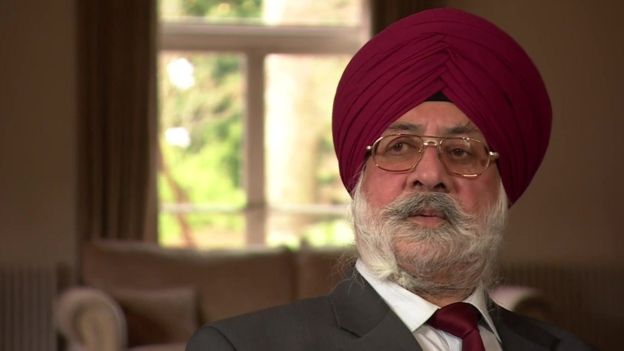 ...After a short illness in 1967, Mr Sandhu returned to work complete with turban and beard.
Hair is one of the five Sikh articles of faith for the Khalsa - it must not be cut and is maintained in a turban - and Mr Sandhu decided he could not forgo his religion for the sake of a bus driver uniform.
After one round trip, he was sent home to shave. He refused.
"I never thought it would be as big a dispute as it was," Mr Sandhu said, "because there was nothing wrong with what I was doing."...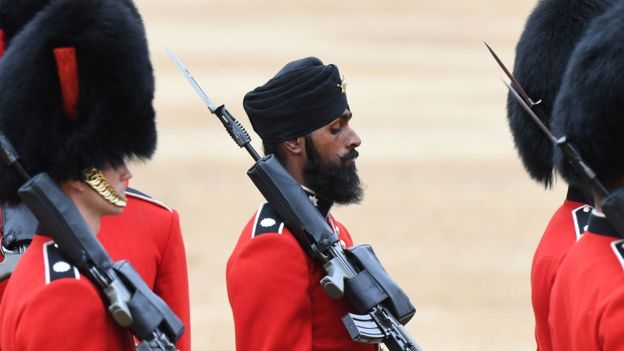 ...Famously, in June last year, Charanpreet Singh Lall became the first Sikh guardsman to wear a turban during the Trooping the Colour parade.
"Before, everyone used to cut their hair," Mr Singh said, but he now runs a business fitting turbans for special occasions.
"If someone says 'go to work without your leg', would you?" he asked. "Turbans are part of us - you can't leave part of yourself behind."
What Mr Sandhu did, according to Opinderjit Takhar, director of the centre for Sikh and Panjabi Studies at the University of Wolverhampton, "is so significant to the lives of Sikhs here in the UK".
The former bus driver, who still lives in Wolverhampton, modestly said his actions, which went on to change legislation about religious expression at work, were "natural".
"He showed religion shouldn't take a back seat," Dr Takhar said. "As people realised they were here to stay, they realised they no longer had to compromise on their identity."...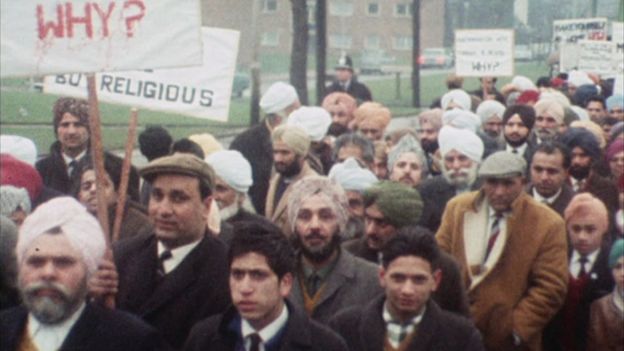 ...When nothing happened, Mr Jolly heaped pressure by making the ultimate threat.
"He said he would burn himself to death," Mr Sandhu said, "because it's not worth living in this country where the discrimination is that much."
Mr Jolly set a deadline of 30 April 1969 - the Sikh new year - for Wolverhampton Transport Committee to lift the ban on turbans.
"I am not frightened for anything," he said at the time. "I find it my privilege to sacrifice for the Sikh community."...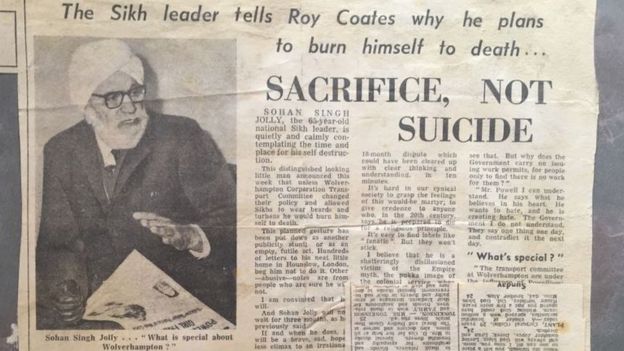 ...In 1968, its chairman Ron Gough told BBC News turbans were never likely to be seen on a Wolverhampton bus.
However, as Mr Jolly's deadline drew ever nearer, the pressure became intense and the ban was lifted on 9 April 1969.
The following day, an editorial in the Express and Star said the end of the dispute was "hardly a victory for anyone".
The argument, the paper said, had "made the name of Wolverhampton a sad by word for racial injustice and intolerance"...
...Dr Takhar said Mr Sandhu "really put Sikh identity on the map" and made a "huge difference" in raising awareness of the turban's significance.
"It's thanks to him we have so many educated people, young people and women wearing turbans," she said.
Wolverhampton is now home to the UK's second largest Sikh population.
"Somebody has to take a stand whenever something is not being done right and put it right," Mr Sandhu said. "I was proud I did that."