Three million soldiers and labourers from British Empire boosted British Army
Foreign soldiers had own regiments but some served within British regiments
It follows criticism over 'incongruous' inclusion of a Sikh soldier in new film 1917
Laurence Fox questioned inclusive of Sepoy Jondalar, played by Nabhaan Rizwan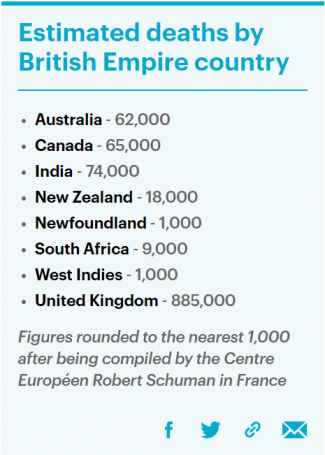 Soldiers from foreign countries served shoulder-to-shoulder alongside British forces in the same regiments during the First World War, military experts said today.
More than three million soldiers and labourers from across the British Empire joined the British Army in their own regiments during the conflict from 1914 to 1918.
But other foreign soldiers also fought within British regiments, it emerged after actor Laurence Fox criticised the 'incongruous' inclusion of a Sikh soldier in the film 1917.
Sikh historian Peter Singh Bance said Sikhs and other Indians fought with the British Army corps, such as the 1st Manchesters and the 47th Sikhs fighting as one. 
Mr Bance today told Fox to 'check his facts', saying: 'Laurence Fox is incorrect with his facts as Sikhs did fight with British forces, not just with their own regiments.'
He told MailOnline: 'There were definitely Sikhs and other Indian soldiers who fought among the British Army corps, and they wore the same uniform.'
...The details come after Fox questioned the storyline of 1917 over Sikh soldier Sepoy Jondalar, played by Nabhaan Rizwan, being in the ranks of British forces.
Fox, 41, told writer James Delingpole's podcast that it causes 'a very heightened awareness of the colour of someone's skin' because of 'the oddness of the casting'....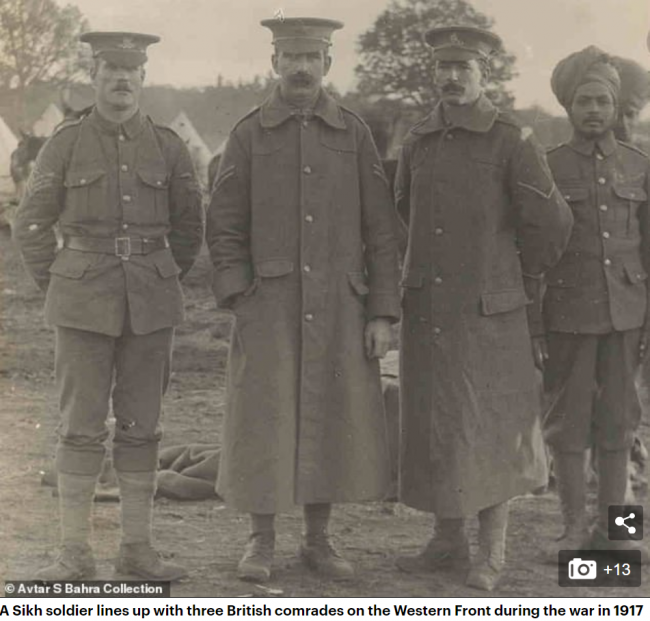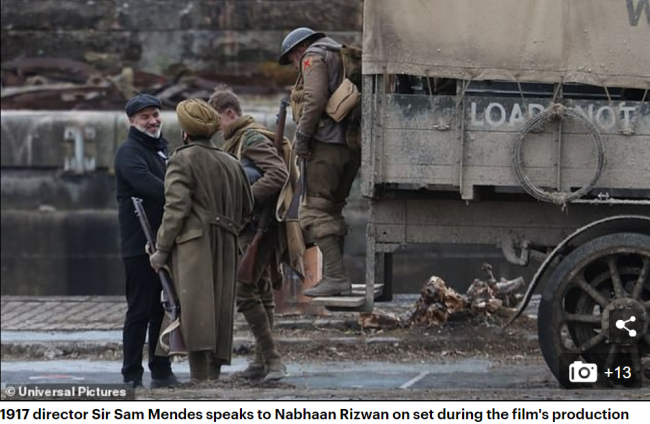 ...Mr Bance said of Fox's comments: 'This has nothing to do with diversity, history is history and we can't distort it for a film. Over 1.5million Indians fought in World War One, over 80,000 Indians died.
'Sam Mendes should be commended as finally World War One films are becoming historically accurate, as earlier films totally ignored the presence of Sikh and other colonial soldiers who fought for the Empire alongside the British
'Laurence's comments are totally out of context as the presence of one Sikh is not to distract the audience but to give historical accuracy which most World War One films lack.
'When over 1.5 million Indian soldiers fought in this campaign, how can showing one Sikh soldier be distracting?'
Mr Bance added: 'There were definitely Sikhs and other Indian soldiers who fought among the British Army corps, and they wore the same uniform.
'For example The 1st Manchesters were fighting with members of the 47th Sikhs brigade as one.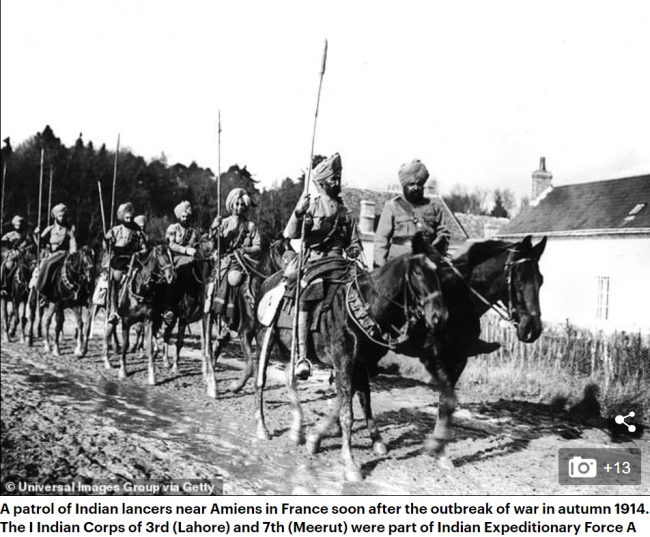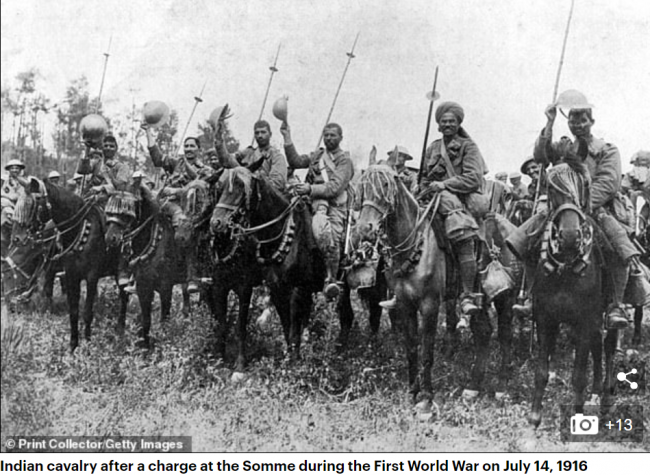 'And the 7th Ferozepur Brigade consisted of 47th Sikhs and the London Brigade.
'Sikhs not only fought from within their own Sikh regiments but they were also in the Punjabi Regiments, cavalry, sappers and miners regiments as well.
'There was also Sikhs and other Indian soldiers who were present in British Army service corps working as labourers too.'
MailOnline has approached Sir Sam Mendes's representatives for a comment...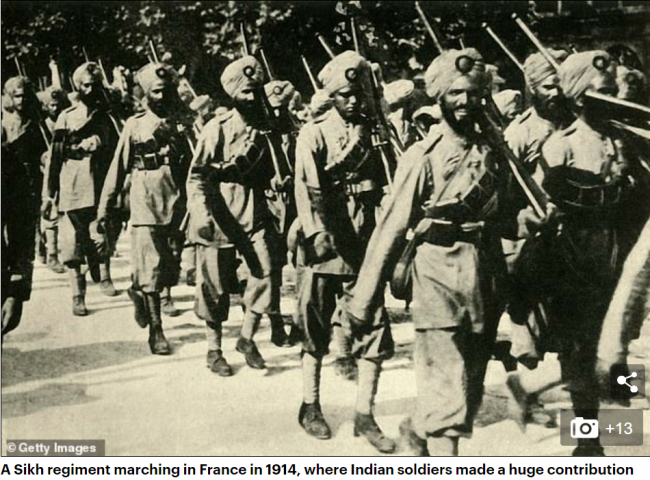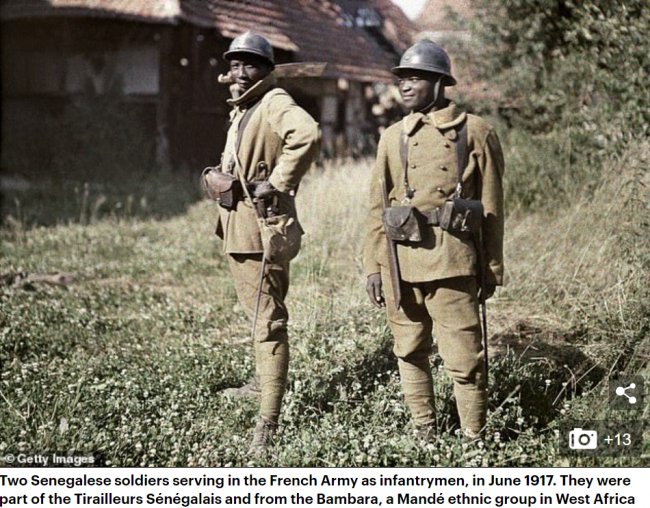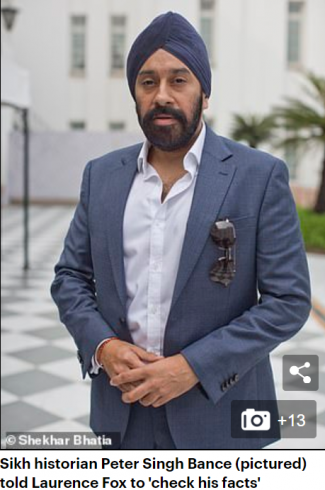 ...Dr Simon Walker, a military historian at the University of Strathclyde, said: 'The remarks by Fox are very much ill informed.'
He said more than 74,000 Indian soldiers died in service in the First World War, and claimed they were of 'paramount importance' at key battles including Ypres in 1914, Neuve Chappelle and Gallipoli.
The expert said soldiers from different races were mainly separate at the start of the war, but this changed as huge losses meant men were transferred around the various battle grounds.
Dr Walker added: 'Therefore by the middle of the war it would not be unusual for sikh soldiers to serve side by side with their British comrades, as was necessitated by the demands of the war and losses.
'This was visible in Britain, as burial practices were briefly changed to allow open air cremation for such soldiers.'
And Gurharpal Singh, professor of Sikh and Punjab Studies at SOAS University of London, told MailOnline: 'My understanding is that most Indian troops were kept apart from British troops and had specific functions, for example logistical support, or in areas of combat. 
'These troops were of course officered by British and were closely monitored for any signs of disaffection.
'However, it is not inconceivable that on occasions, and in particular actions, Indian troops were involved in joint actions with the British troops.'...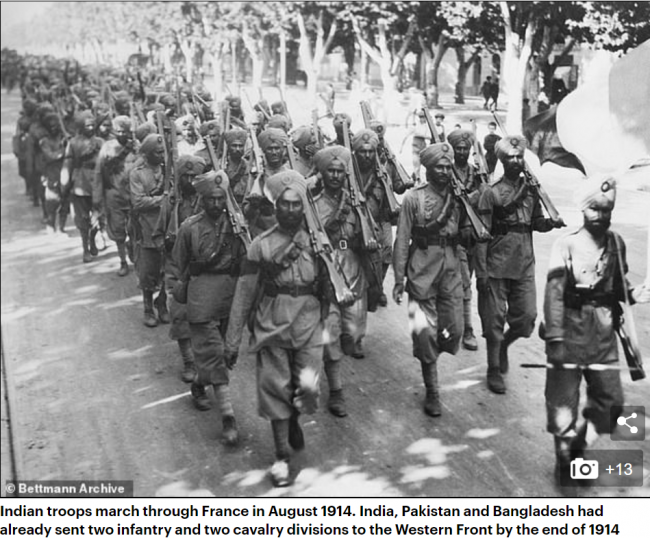 ...The Sikh Network, a collective of Sikh activists and professionals in Britain, also hit out at Fox - saying his remarks were 'offensive' and needed retraction.
Manvir Bhogal from the organisation told MailOnline: 'Thousands of Sikhs saw battle at the front line and many died. It is highly offensive and inappropriate for Laurence Fox to term the inclusion of a single Sikh soldier in Sam Mendes' production in order to at least represent the extent of war with a microcosm of diversity of historic fact as 'incongruous' .
'It is outrageous and of deep hurt to Sikhs not just in the UK but throughout the world and to the rest of those whose communities were forcibly sent to war.
'His comments should be retracted with an apology immediately.'
'Where this doesn't take place, it marginalizes entire communities that, in this case, made a huge sacrifice and contribution to the welfare and protection of freedoms for all mankind despite the oppression being faced due to European imperialism itself back home.'
Earlier this week, Fox told Mr Delingpole's podcast that the Sikh character distracted from what the story was about.
He questioned the credibility of the storyline and said the casting of Rizwan caused 'a very heightened awareness of the colour of someone's skin' because of 'the oddness of the casting'.
He praised the performance of Rizwan himself, saying it was 'great', adding that the inclusion of a Sikh soldier in the ranks 'didn't bother me particularly'.
But he added that the inclusion 'did sort of flick me out of what is essentially a one-shot film [because] it's just incongruous with the story'.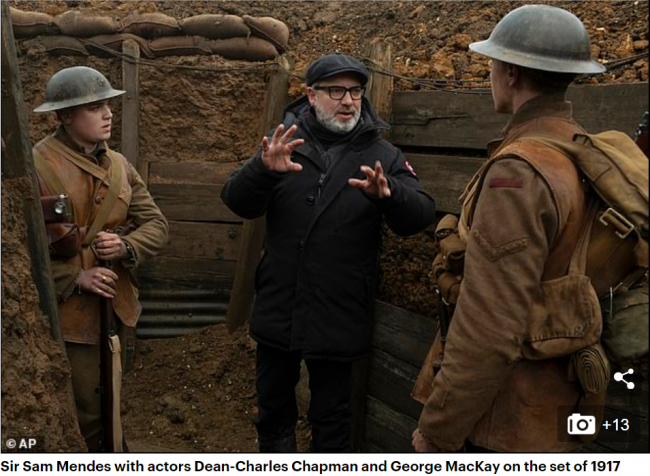 Sikh soldiers were present at some of the conflict's bloodiest battles, including Ypres and the Somme.

Mr Bance added: 'Laurence's comments about having a Sikh presence in the film as institutionally racist 'is absurd'. 
'We can't rearrange history to suit individuals or cinema goers. How can showing historical facts and the reality of the First World War be 'forcing diversity'?
'Many thousands of SIkhs gave their lives on the Western Front, thousands of miles away from their homeland and families for the freedom of Europe which had no bearing on them.  Calling their sacrifice as 'forcing diversity' is shameful.'
Among the most famous Indian soldiers involved in the First World War was former Tottenham Hotspur and Northampton Town footballer Walter Tull.
His father had arrived in Britain from Barbados in 1876. Kent-born Mr Tull played in front of tens of thousands of fans at White Hart Lane, but died in combat near Arras aged 29.
In his 2011 book Race, Empire and First World War Writing, Oxford University expert Santanu Das wrote: 'Among the various colonies of the British Empire, India contributed the largest number of men, with approximately 1.5 million recruited during the war up to December 1919.
'The dominions (self-governing nations within the British Commonwealth) – including Canada, South Africa, Australia, New Zealand and Newfoundland – contributed a further 1.3 million men.
'New Zealand's mobilisation of more than 100,000 men may seem relatively small compared to India's, but in proportionate terms New Zealand made one of the largest contributions to the British empire, with 5 per cent of its men aged 15-49 killed.
'Indian and New Zealand troops fought together in Gallipoli, where out of a total of 3,000 Indian combatants, some 1,624 were killed, a loss rate of more than 50 per cent.'
Fox told the podcast: 'It's like, 'There were Sikhs fighting in this war' . . . OK, you're now diverting me away from what the story is. There is something institutionally racist about forcing diversity on people in that way.'
Fox emphasised that his observations are no reflection on the quality of Rizwan's performance.
'He's great in it,' he said, before arguing that having a Sikh appear in the British Army 'did sort of flick me out of what is essentially a one-shot film [because] it's just incongruous with the story'.
Asked if he would be offered 'more, better roles' if he espoused 'different views', Fox agreed that was the case, but added: 'What's the point? You don't want to go into a work environment and have someone thought-police you.'...
...The first-hand accounts revealed how the soldiers suffered racial segregation and discrimination while showing bravery and a desire for independence.