Arminder Singh was at Tir Prince Fun Park, Towyn, with Prabjot Singh and their families when staff saw Prabjot with a kirpan and called police.
He said despite officers realising it was legal to carry a kirpan, they were made to leave the park by the owner.
The park has been asked to comment.
"We couldn't explain what had happened to everybody [in the fair], and it causes pain, it was a very bad experience for us," Arminder Singh said.
While carrying a knife or sword is illegal, the kirpan can be carried by Sikhs for religious reasons as it is one of five symbols, called Kakars, initiated or baptised Sikhs wear.
Mr Singh, from Birmingham, said the group, which included small children, had been left "embarrassed and shocked" after the incident at the funfair on 30 July.
He said a member of staff told Prabjot Singh he had to leave while they were queuing for the bumper rides, saying he was "carrying a knife".
"[The member of staff] thought he was following his duty that there was a sharp object... but it was in a wooden cover, and it isn't even sharp," he said.
Mr Singh said despite them trying to explain their religion, the police were called and they handcuffed his friend shortly after they got off the ride.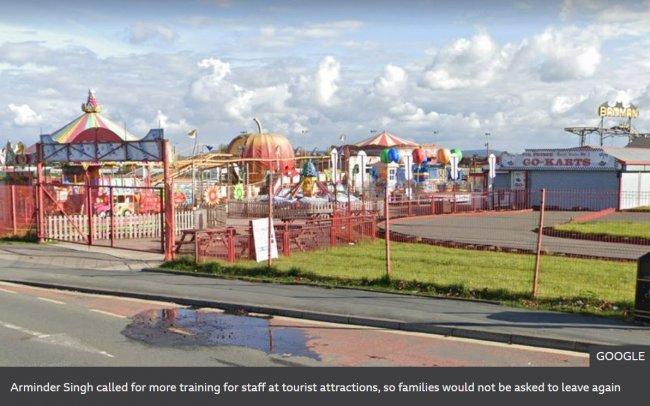 "His kid was crying, he saw his dad handcuffed," he said. "He's only been in the country three months, he is on a work permit, he was very scared."
Mr Singh said that after he spoke with officers his friend was released, but a man claiming to be the park owner told them they had to either take off the knives or leave, and escorted them outside.
"I told him we were not going to take it off, we want to have a fun day out with the kids, we carry it day and night... we even wear it in the shower, there's nothing to worry about," he said....
...'Extensive training'
North Wales Police confirmed officers had been called to the "busy amusement park" after a report of a man with two knives.
The force said the man was handcuffed to ensure the "safety of officers, the man, and the public", adding it was a compliant handcuffing technique.
"Once the circumstances were understood the handcuffs were removed and he was provided with an official record of the stop search. In any circumstance where a weapon is suspected, the use of handcuffs would be a consideration," the force said.
In a statement, North Wales Police said it worked with diverse communities, and "constantly seeks to engage over culturally sensitive issues".
"Our officers receive extensive training on these issues, but we will always look to maximise any learning opportunities from each and every incident," they said.
"The force is in the process of trying to contact the gentleman concerned, to address any ongoing concerns he may have."
The BBC contacted the park for comment, but had no response.
...